How-To
Don't Forget the Blocks
Blocking makes a house more stable and makes it easier to install drywall, plumbing, and siding.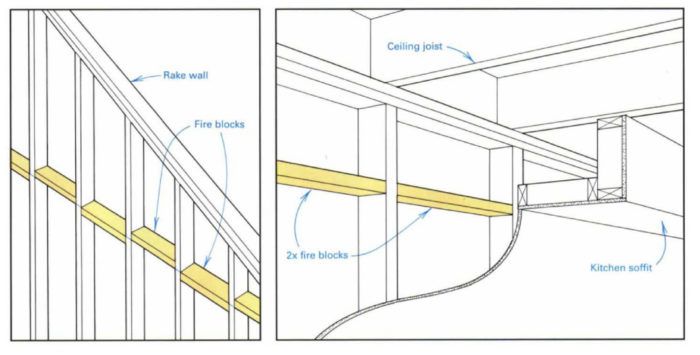 Synopsis: Adding short pieces of dimensional lumber to strategic locations during rough framing aids the many construction steps that follow. This article shows 10 places where blocks should be located, including those for siding, towel bars, hand rails, shower pans, and kitchen soffits.
---
Along with a mortgage, homeowners sometimes get an unwelcome riddle or two not long after they move in to their new house. Why, for instance, did the handrail on the staircase loosen up so quickly? And what caused the towel bar in the bathroom to fall off? These are telltale signs that something was forgotten when the house was framed: Backing and blocking that should have been included as the house was built almost certainly were overlooked by the framing crew. Blocking aids the installation of everything from bathtubs and handrails to siding and wainscoting, and it ensures that things will stay put. And forgotten blocks can be more than an inconvenience. Some blocking used in construction is important structurally, such as edge blocks used under floor sheathing. Still other blocks, fire stops for instance, are safety features. The trick is to know when blocking is needed and where to nail it.
Blocks for safety
Fire stops (or blocks) were important in balloon-framed walls, when uninterrupted stud cavities rose two stories instead of just one. When fires started, those spaces acted just like flues, creating drafts that spread flames quickly. With the introduction of platform framing, fire blocks in standard-height walls became history. But many of today's codes do require fire blocks in walls that are more than 10 ft. high, like rake walls.
When they are needed, cut the blocks to length and nail them between the studs while framing the wall on the floor. One 16d common nail on one end and two nails on the other end provide plenty of support. Snap a chalkline on the wall and alternately nail the blocks above and below the line. There are two good reasons to stagger the blocks like this: It makes it easier to nail them, and a plaster wall won't crack when applied over them. Cracks can develop in plaster if the blocks are nailed in a straight line.
Fire blocks are also used to close off one framed area from another. A dropped ceiling in a hallway, for example, or a kitchen soffit should be closed off from the framed walls by a row of fire blocks. If a fire did get started in one of these places, blocks would help contain it. Codes in my area call for 2x fire blocks, which provide more protection than 1x material.
If you do use fire blocks, be careful not to nail them in at head height. Someone may get hurt as they go from room to room through a stud wall. There's nothing like having your eyes crossed by walking into a fire block that catches you squarely in the forehead.
To learn more about different types of blocks, and blocking for different rooms, click the View PDF button below. 
From Fine Homebuilding #60
View PDF
Previous:
Where Do You Want the Blocking?
Next:
7 Common Fireblocking Locations