Design
An Engineered Floor That Takes Wood out of the Walls
This floor-framing system saves lumber and is faster to frame.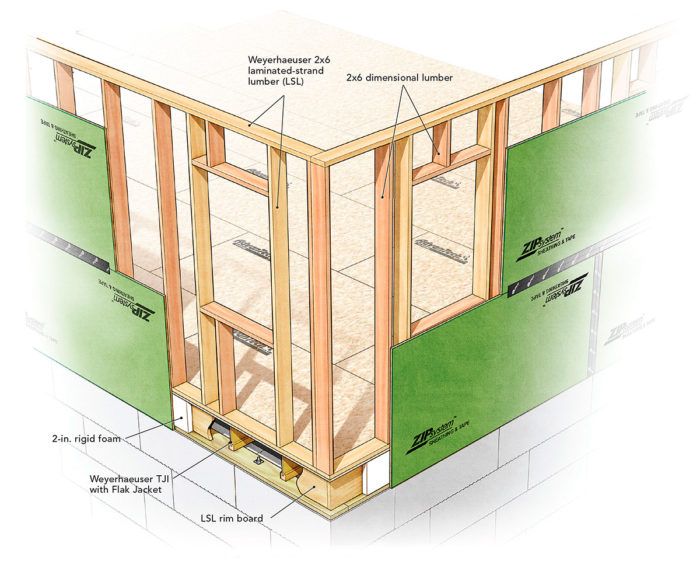 The FHB House framing package is a mix of engineered and dimensional lumber. The goal was to reduce the amount of framing lumber in order to improve thermal performance and to save on resources and construction time.
The basement is a key part of the house's flexible nature. This unfinished space can be used to address the occupants' future needs. Because it's unfinished, the engineered first-floor framing system will be exposed. Here it made sense to use TJIs with Flak Jacket by Weyerhaeuser to provide the fire protection for floors required by section R501.3 (2012) and section R302.13 (2015) of the International Residential Code. The Flak Jacket coating is engineered to provide up to an hour of burn protection without adding a gypsum or mineral-wool barrier.
The second-floor framing is also TJIs, but without Flak Jacket. Both first and second floors have a 11⁄4-in. by 117⁄8-in. LSL rim board as a continuous rim joist that functions as the primary in-floor header for openings in the load-bearing walls. In many cases, this eliminates the need for additional headers. For wide openings—ganged windows and double doors, for instance—a flush LVL header is nailed to the inside of the rim board. This approach saves lumber and is faster to frame. To improve thermal performance along the rim joist, Guertin places the rim board 2 in. inboard of the outside edge of the mudsill and top plate. This creates space for 2 in. of rigid insulation behind the sheathing and still leaves room for the 13⁄4-in. LVL flush header where it's needed. Combined with the 2 in. of rigid insulation outside the sheathing, there's R-18 at the rim joist before any insulation is added on the inside of the rim board—a traditionally weak thermal spot.
Guertin chose Huber's 3⁄4-in. tongue-and-groove AdvanTech subfloor because he has found that it spans the 24-in.-on-center floor joists better than commodity OSB panels. Gluing the panels to the TJIs with a polyurethane foam adhesive makes a stronger floor assembly.
Previous:
Exploring the Benefits of Engineered Floor Joists
Next:
Frame a Strong, Stable Floor With I-Joists