How-To
Engineered Lumber
Dramatic strength combined with zero shrinkage puts engineered beams and headers on more and more job sites.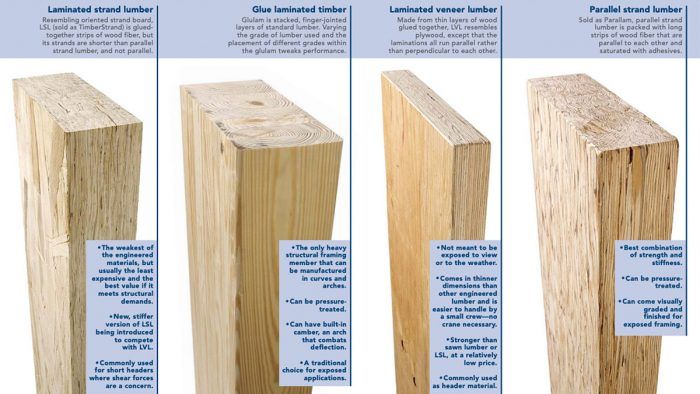 Synopsis: A general discussion of laminated strand lumber (LSL), glue laminated timber (glulam), laminated veneer lumber (LVL), and parallel strand lumber (Parallam), including a brief background of each material, a comparison of the costs, strength, appearance, and availability of each, and a description of how each is best utilized on the job site. 
---
Engineered structural beams made their North American debut in 1934 in Peshtigo, Wisconsin, just north of Green Bay. Glue laminated timber (or glulam) had been widely used in Europe for decades, but when Max Hanisch, a German immigrant, suggested glulam for the new gymnasium at Peshtigo High School, building traditionalists balked. The Wisconsin State Industrial Commission demanded steel reinforcements, but Hanisch prevailed. He and his partners supplied arched glulam beams that are still in service over 70 years later.
That was then. Now manufacturers combine relatively small pieces of wood with adhesives to form a variety of structural members that can be three times as strong as the sawn timbers they replace. Glulam was followed in 1970 by laminated veneer lumber (LVL). Later, MacMillan Bloedel, the Canadian forest-products giant, invented two other engineered framing materials: parallel strand lumber (PSL), sold as Parallam, and laminated strand lumber (LSL), sold as Timber Strand. On the horizon are structural members that combine wood fiber with more exotic materials such as Kevlar or carbon filament for even better performance
Despite a higher cost, engineered beams are in demand
Builders and manufacturers both are reaping the rewards of engineered beams and headers. Engineered lumber supports much heavier loads than sawn timbers of the same size. Unlike sawn lumber, engineered lumber shows little if any shrinkage (reducing problems like sagging floors and cracked drywall) and has consistent design values. The downside: Engineered beams may cost three times as much as Douglas-fir dimensional lumber.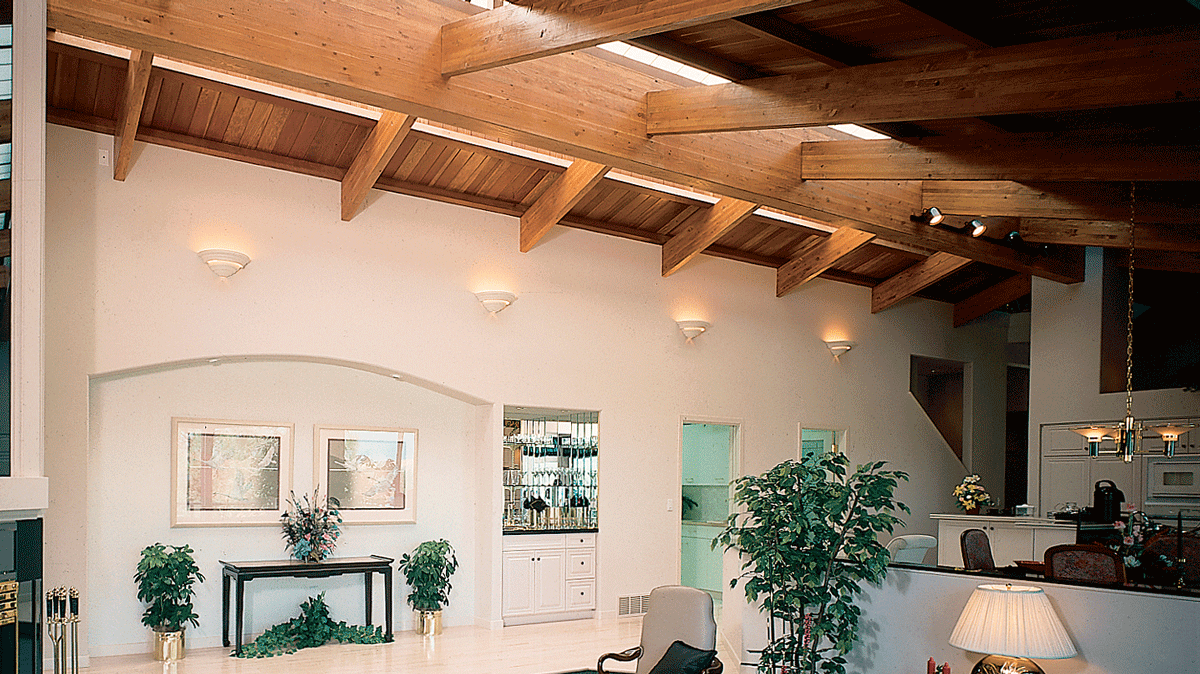 For manufacturers, engineered lumber represents a market opportunity just as supplies of tight-grained, old-growth timber dwindle and complaints about inferior fast-growth timber increase. Engineered wood turns spindly second- and third-growth timber—the very stuff many builders have learned to hate—into reliable framing material. Although not all green builders embrace the trend, high-tech manufacturing and materials make it possible to conserve timber by using species that are otherwise unsuitable for framing.
A variety of wood species can go into engineered framing lumber. But because it's manufactured with specific design values in mind, the particular species doesn't matter much to the builder. Dan Harris, director of a Trus Joist training center, compares it to buying Kentucky Fried Chicken: "It's like the Colonel. You're buying that piece of chicken, and it better taste the same every time. All the manufacturers test their stuff. Regardless of the species, the strength is there."
Glulam: High strength in a decorative package
Glulam is stacks of dimensional lumber glued together like a wood sandwich. Where boards of one lamination meet end to end, manufacturers use finger joints for added strength. In the eastern United States, glulam usually is made of southern yellow pine, which is stiff, strong and plentiful. In the West, Douglas fir and larch often are used, but other species also can be ordered. Glulam is graded for appearance and strength, and it can be pressure-treated for exterior use.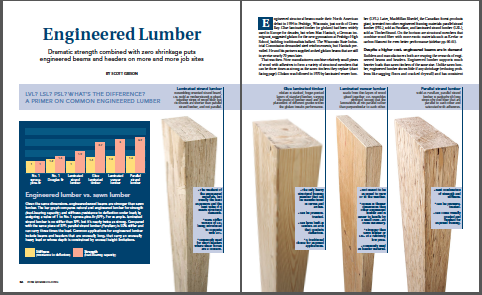 For photos and to learn about the two new kinds of engineered beams, click the View PDF button below. 
From Fine Homebuilding #150
View PDF
Previous:
Weatherproof Laminated Lumber
Next:
Framing Super Straight Walls with LSL Studs