Weatherproof Laminated Lumber
These pressure-treated engineered beams for exterior use open up options for decks and other outdoor framing.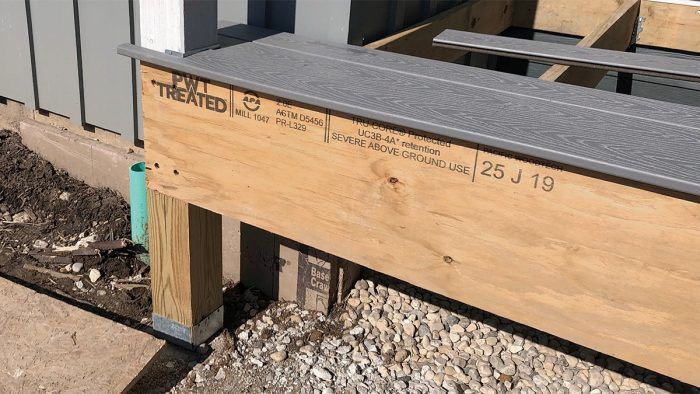 Deck builders wanted it. Some major manufacturers said it couldn't be done. But here it is: a pressure-treated LVL. Produced by Pacific Woodtech and introduced in November 2019, the PWT Treated LVL is made by treating the veneers before they're pressed. The heat from pressing the veneers into laminated veneer lumber drives the preservative chemicals into the thin plies of wood, creating a product that's treated evenly throughout—in other words, better than the vast majority of conventional treated lumber. There's no reduction in strength from the process, so their treated LVLs perform the same as their standard products. The chemicals used for treatment are rated as safe for indoor use, though the real game-changer here is that these can be used in exterior above-ground applications (American Wood Protection Association category UC3B) for structural components that are difficult to maintain, repair, or replace, and are critical to the performance and safety of the structure. PWT Treated LVLs are available in beams, columns, and joists. The beams come as small as 1-3/4 in. by 9-1/2 in. up to as large as 5-1/4 in. by 18 in. The joists, all 1-1/2 in. wide, come in depths from 3-1/2 in. to 11-1/4 in. (in other words, the same as nominal lumber sizes 2×6 through 2×12).
— Matthew Millham, deputy editor
From Fine Homebuilding #293
Previous:
Lumber Grade Stamps
Next:
Engineered Lumber