Framing Walls with 8-ft. Studs
When pre-cut studs aren't available, frame a taller wall and reduce drywall waste in the process.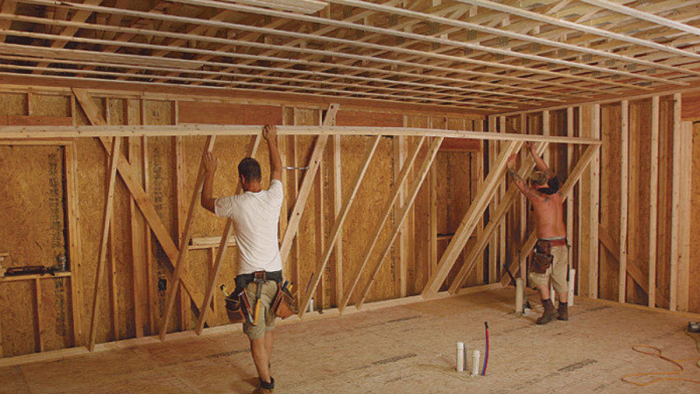 Wall framing is fundamental skill and necessary understanding for a home builder or remodeler. The builder has to know how to layout and raise walls. Remodelers, who may not build new walls, at least need to understand how a stud wall works, so they can modify them without compromising the structure. These days, it's not enough to know traditional stick framing methods with solid wood lumber, but builders need to know about advanced framing techniques and engineered lumber. Even simple precut studs cause a lot of confusion for new framers. There are good reasons to use precut studs. Though they are not always available.
I usually use precut studs to frame 8-ft.- and 9-ft.-tall walls. Precut studs are shorter than the finished height of the wall to allow for the thickness of the bottom and top plates (the precut stud for an 8-ft. wall is actually 92-5/8 in.).
A couple of years ago, precut studs were scarce locally, so I ordered a unit of ordinary 8-ft. studs. While pondering cutting 3-3/8 in. off each one, it occurred to me just to use full uncut 8-footers. The main drawback would be for the drywall installers. The walls would be 8 ft. 4-1/2 in. tall, requiring a 4-in.-wide strip to fill the resulting gap. But after thinking about it a while, I figured the strip could be inserted at the bottom of the wall rather than in the middle, as is usually the case when boarding. The more I thought about it, I realized there would be no need to tape the joint; the 5-1/4-in. baseboard I ordinarily install would cover the seam. In fact, when we boarded the walls, we just used scraps of drywall from door and window openings to fill the gap — and discovered an unforeseen benefit of the taller walls: Less drywall ends up in the trash container. Plus, the client gets a taller ceiling with no appreciable extra cost.
Previous:
Framing Basics: 6 Tips for Spreading Wall Plates on a Subfloor
Next:
Tips for Setting Up a Cutting Station for Wall Framing