How-To
LVLs: A Strong Backbone for Floor Framing
Laminated-veneer lumber lets you assemble big beams without a big crew.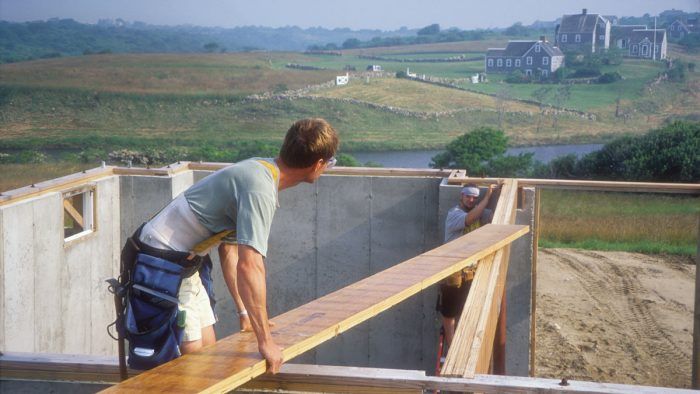 Synopsis: Laminated-veneer lumber (LVL) combines the versatility of sawn lumber with the strength of engineered beams, according to John Spier. In this article, Spier talks about how to build up center carrying beams and two different ways they can support a floor frame (flush beam or dropped beam). A sidebar illustrates the different engineered beam choices (LVL, LSL, PSL and GluLam) in addition to the old standbys (sawn lumber and steel) to give readers a "best-use" application for each type. A photo sidebar shows how to support the beam ends and middle.
---
In the bad old days, we used solid lumber for everything. It wasn't long or light enough, but it was versatile. We could "site-engineer" a beam for almost any application. In the past 15 years, engineered-lumber beams have made it possible to build floors flatter, stronger, and more stable than ever before. Selecting the best type of engineered lumber, however, can be a confusing process. I frequently have to slow down my thinking when I am calling the folks at the lumberyard to order LVLs, PSLs, LSLs, or glulams.
For the central bearing beam of a floor system — the back-bone of a wood-frame floor — I prefer to use laminated-veneer lumber (LVL) over other types of engineered lumber. With LVLs, I can build up several pieces into a beam large enough to carry almost any load. LVLs combine the versatility of solid lumber with the strength, stability, and uniformity of engineered material.
Dropped beams for basements
Carrying beams can be dropped beams (installed under floor joists) or flush beams (installed in plane with floor joists).
Dropped beams make floor framing faster because the joists run over the beam in continuous lengths. Rather than sitting on the mudsills, a dropped beam typically requires a pocket in the foundation wall to support each beam end. Dropped beams are nice because the bays between joists are open, which makes running utilities easier; the exception is where a long sewer line or HVAC trunk line needs to run under the joists and cross the beams. Another drawback to dropped beams is that they reduce the overhead clearance, which may be a code issue if you're planning to turn the basement into living space.
Flush beams make flat ceilings
Flush beams are both labor- and hardware-intensive, but they preserve headroom and the plane of the ceiling below. Flush beams can be built and installed using most of the same techniques used for dropped beams. There are a few extra considerations and opportunities, though.
Flush beams often can be set in place with the hangers already installed, which eliminates a lot of overhead nailing. On big, heavy beams, though, I don't like to preinstall joist hangers. If the beam slips while being lifted into place, an attached joist hanger could hurt somebody.
From Fine Homebuilding #173
For more photos, illustrations, and details, click the View PDF button below:
View PDF
Previous:
Frame a Strong, Stable Floor With I-Joists
Next:
Save Time with Factory-Framed Floors