Asian-Inspired Kitchen and Bathroom Remodel in a Craftsman Bungalow
A balance of form and function was key for creating better flow, more storage, and a sleek, cohesive design in this whole-house remodel in Bethesda, Maryland.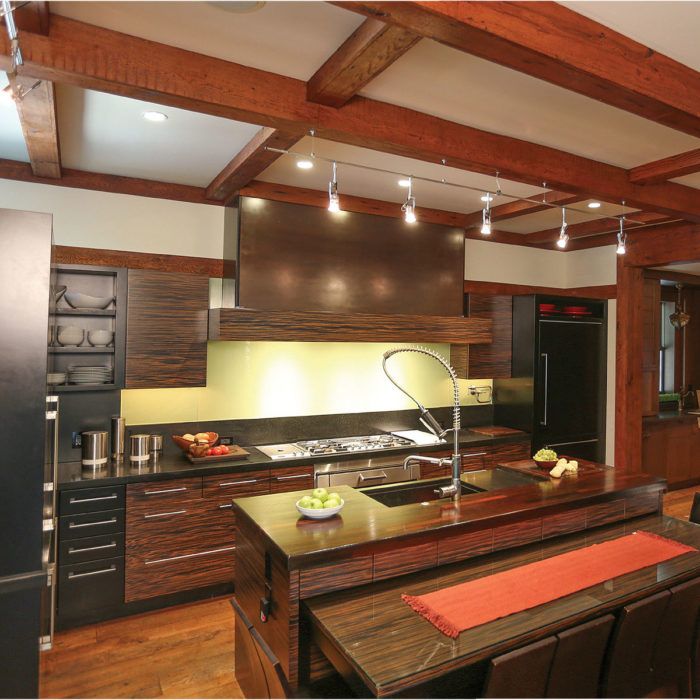 Synopsis: An architect and kitchen and bath designer recount a whole-house remodel that honors the house's original Crafsman style while incorporating a modern Asian aesthetic. The kitchen includes a number of savvy storage and design techniques, including a table on casters that tucks into the kitchen island, cabinets with rollout shelves, an appliance garage, and lighted cabinets under the stairs adjacent to the kitchen. The bathroom is laid out as one large room with reclaimed oak flooring and a stepped-up shower opposite a tub, and incorporates various types of tile and stone. The article includes details of the materials and storage features used in the house.
---
Located in Bethesda, Maryland, this wholehouse remodel has ties to a renovation that occurred 10 years ago, when the house was under different ownership. That job involved creating a legitimate stair to replace an access hatch with a ladder used to reach the basement. Back then, we ended up moving the "stair" out of the kitchen and locating it elsewhere in the house, which required adding new structure from the basement up to the attic floor. We didn't know it then, but that change in infrastructure helped set us up for this project.
This time, we added a second floor and a rear addition to the existing 35-ft. by 39-ft. one-story house. We aimed to honor the original Craftsmanstyle bungalow while accommodating a modern Asian aesthetic throughout. Part of the goal was to design a modestly sized, hardworking, and userfriendly kitchen. Because it was sited at the back of the house, the original kitchen didn't work well within the new layout. The solution was to turn it into a transitional zone to connect the old and new spaces. It now serves as a single-nook pantry and is also where we put the stairs to the second floor. We customized storage solutions to maximum effect and selected materials that spoke to the dual styles. In the bathroom, we were looking for a streamlined and airy feel, which we achieved using an open-room approach.
See a "Coachhouse" remodeling project by Gardner Architects and Jennifer Gilmer Kitchen & Bath.
---
To view the entire article, please click the View PDF button below.
View PDF
Previous:
Old-World Honesty: Modern Remodel of a French-Tudor Home
Next:
Creative Solution for a Corner Kitchen Cabinet