How-To
Install Your Own Seamless Gutters
Looking to save money? Have custom lengths of aluminum gutters rolled out on site, and get out the ladders.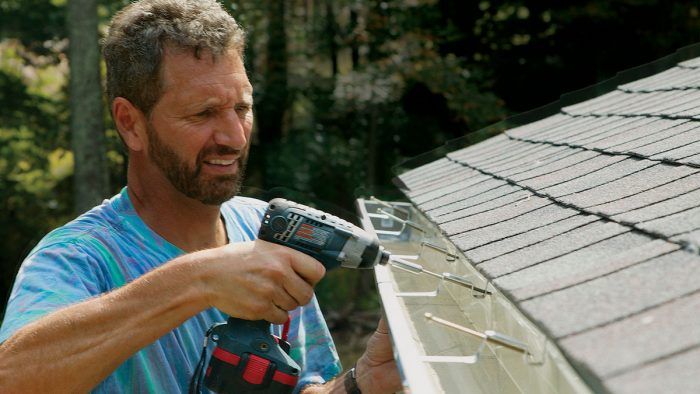 Synopsis: Gutters are easy to take for granted, but they shoulder an important responsibility on a house: They collect rainfall and direct it away from the house, reducing the moisture load on siding and windows and protecting the basement from moisture intrusion. Contributing editor Mike Guertin says that you can install your own gutters, and he offers a straightforward procedure for tackling the project. He includes information on purchasing gutters and gutter parts, cutting the gutters, planning a gutter layout, and deciding when it's OK to work alone (for gutter runs less than 20 ft.) and when it's important to have a helper. 
---
Magazine extra: To learn how curtain drains can protect your basement from groundwater, read Eric Nelson's article "Keep Your Basement Dry With a Curtain Drain" from Fine Homebuilding issue #189 (Aug/Sept 2007), pp. 52-53.
A house needs a roof and siding to keep the furniture dry. A house also needs rain gutters to keep slabs, basements, and crawlspaces drier by directing water away from the structure. Gutters reduce the moisture load on siding, windows, and doors, which in turn increases the life span of exterior finishes.
If you need gutters and want to save money by installing them yourself, you can buy stock sizes. Ten-ft. lengths are common at home centers or lumberyards. However, I prefer to have gutters roll-formed on site into the exact lengths I need. This way, I don't have to join several short lengths together. Splices have the potential to leak, and they take more time to hang than a single long gutter.
Gutter fabricators who roll on site arrive with coil stock and a forming machine that can roll out any length of gutter you want. They'll also sell you the parts for the gutter system for your house; it's a good idea to get everything you need from one source. Some companies sell gutters by the foot and discount for quantity orders, while others charge a base setup/delivery fee plus a per-foot price. (Figure on about $2 per running foot if you buy the parts; double that if you have someone else install them.)
I typically work with K-style gutters that have an ogee profile on the face that mimics traditional wood gutters, but the installation steps are common to other gutter styles, too. Have gutters cut a few inches longer than you need. The cutting shear on the roll-former sometimes puts a small kink near the end of the gutter, but this and other defects can be trimmed away when you cut the gutters to their final length. After that, the outlets and any miters can be attached, and you can hang the gutter sections.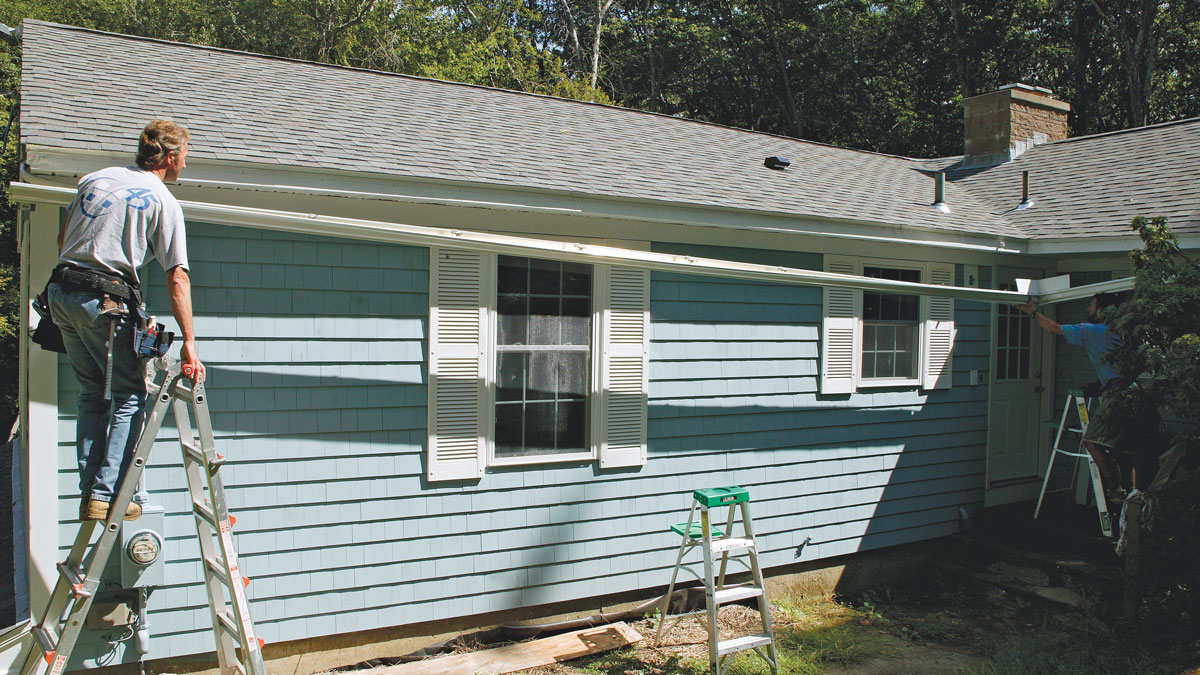 Gutters not only drain water, but they also store it temporarily. A heavy rain can overwhelm even 3-in. by 4-in. downspouts, causing the gutter to overflow. For this reason, it is important to choose the right size (typically 5 in. or 6 in., measured across the top). Five-in. gutters hold about 1-1⁄4 gal. per ft., while 6-in. gutters hold about 2 gal. per ft.; obviously, the larger size can retain more water from a downpour until it can drain. (For more information on gutters, see "All About Rain Gutters" in FHB #125.)
Lengths and downspouts drive the layout
Planning the layout of gutters and downspouts helps you to avoid misplaced outlets and miscut gutter lengths. Begin by establishing downspout locations. Corner boards are the natural place for downspouts; they're less obtrusive and are mounted more simply than over lap siding. On any longer length of gutter (20 ft. or more), two downspouts are always better than one. They can handle more water volume, and in the event that one clogs, the other can keep water moving.
In most cases, downspouts are easiest to mount to the same wall as the gutter. Sometimes, though, because of obstructions or other complications, it makes sense to extend the gutter beyond the corner and run the downspout on the adjacent wall. Where you decide to end the gutter is an aesthetic choice. I usually cut gutters even with the rake boards rather than leave them sticking out.
From Fine Homebuilding #198
View PDF
Previous:
How to Hang Half-Round Gutters
Next:
Sloping and Placing Gutters