Installing Asphalt Shingles over an Existing Shingle Roof
It's not ideal to install new shingles without removing the old ones, but follow this pro advice if you do.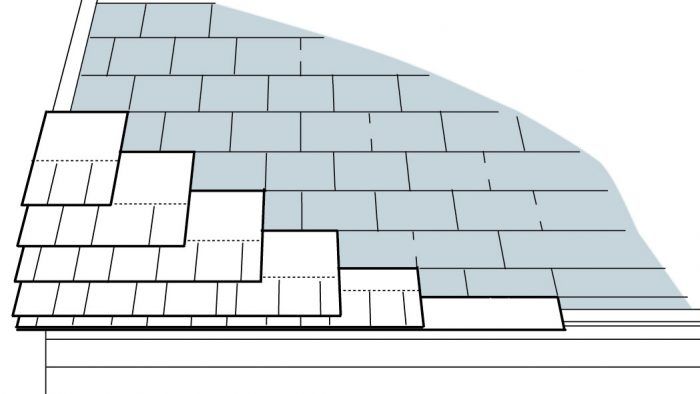 Although placing new roofing over old may be allowed by some codes, "roofovers" tend to be inferior and won't last as long as a roof installed over stripped sheathing. If you must do a roofover, check with your local building department first—codes typically require that you strip a roof if there are two or more layers or if existing shingles are curling.
Before beginning, replace or flash over old flashing as follows:
Use aviation snips to cut away flashing around plumbing vents.
Use a cold chisel to remove chimney counterflashing.
Along the eaves, install a new drip-edge over the butt ends of existing shingles.
Along the rakes, install a new J-channel drip-edge, which wraps around the old rake flashing and starter courses.
Leave the old valley flashing in place, and install new over it.
To level out an existing asphalt-shingle roof, rip down (reduce the height of) two courses of shingles, as shown in the drawing below. Because asphalt shingles are routinely exposed 5 in., rip down the first strip (the starter course) so that it is 5 in. high. Then lay it over the original (old) first course so that the strip is flush against the butts of the original second course above. Next, rip down a second strip (second course) 10 in. high, and put it flush against the butts of the original third course. You now have a flat surface along the eaves. The third course of new shingles—and all subsequent shingles—need not be cut down, just butted to an original course above and nailed down. Use 1-1/2-in. roofing nails for roofovers—or whatever length is necessary to reach the sheathing.
Previous:
A New Roof Over the Old One
Next:
How to Install Drip Edge When Replacing a Roof