Making Shed Dormers Work
A shed dormer can be the best way to add space to a one-and-a-half-story house, but you have to get the details right if you want it to be an asset and not an eyesore.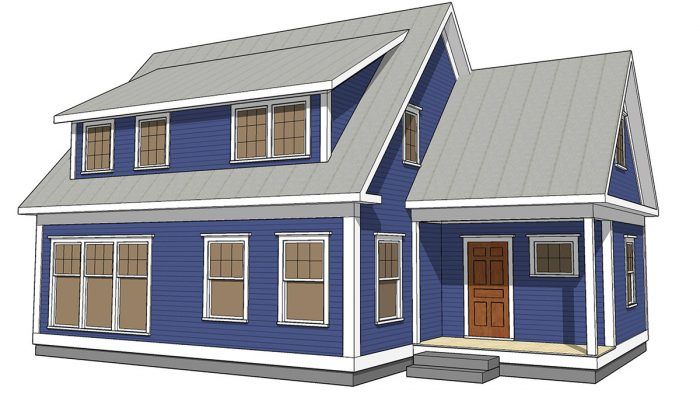 Shed dormers get a bad rap for being ugly. While they offer a practical solution for adding square footage to the second floor of a 1-1/2-story home, shed dormers are often oversize, creating an awkwardly large mass on the roof. When designed with care, intent, and an eye for scale and proportion, however, shed dormers can enhance a home's exterior while providing valuable space inside.
Shed dormers (also called dustpan dormers) are defined by their single-slope, or monopitch, roofs. Although gable dormers seem to be more common, a well-designed shed dormer is sometimes a better choice. (You can find my tips in "Designing Gable Dormers" in FHB #245.)
Shed dormers are an efficient way to gain more space
Because they can be much wider than gable dormers, shed dormers can provide more headroom and therefore more usable space. They also give you more bang for the buck. Building a 20-ft.-wide shed dormer doesn't take much more effort than building a 4-ft.- wide version. In contrast, the wider a gable dormer is, the longer and larger the rafters have to be, and the harder it is to keep it looking in scale with the house.
Good shed dormers don't draw attention to themselves
Finally, unlike gable dormers, which tend to be focal points, well-designed shed dormers are visually low-key, allowing the overall architecture of the house to be the star. But this is only if you get the details right. Unfortunately a lot of builders and remodelers don't. I'll go into some of the ways you can design a shed dormer that's and asset and not an eyesore.
The illustration below demonstrates some fundamental design suggestions for creating shed dormers that will work with the architecture of the house. These are generic tips for relatively traditional 1-1/2-story homes; like other design rules, though, once you understand the basics, you can get creative and play with the rules. Some popular variations on the shed dormer are illustrated and explained on the following page. Whether building new or renovating, if you're looking for additional square footage, chances are there's a shed dormer that will work for you.
---
Guidelines for shed dormers
To illustrate general design concepts for shed dormers, I've drawn what I call a fully supported dormer—where the main roof continues around all four sides of the dormer. The dormer should look like a section of the main roof was hinged up just enough to provide headroom and space for windows, while minimizing the total volume of the dormer above the main roof. This common style works best when you want to make sure that the dormer does not appear too massive and that the architectural lines of the house remain primary.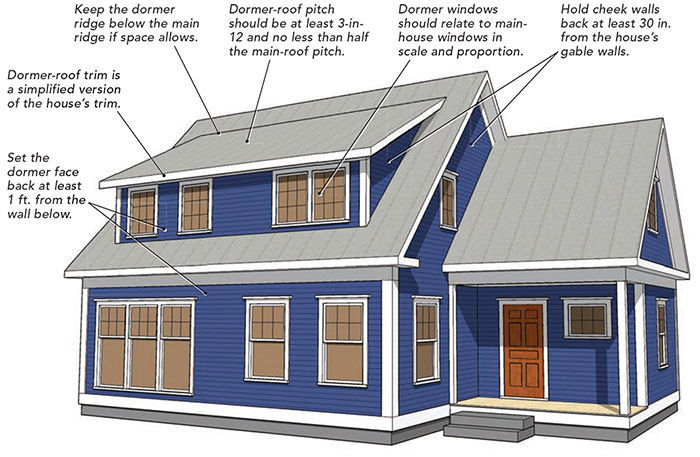 ---
Shed-dormer variations
One of the best things about shed dormers is their versatility. Here are brief descriptions of some design options.
Flush dormer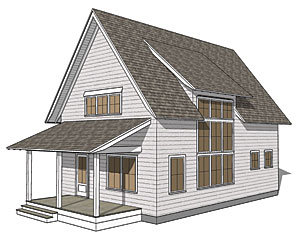 A flush dormer (also called a wall or open-face dormer) has a face wall that's flush with the wall below, with no main-roof eave running across it. As a result, a flush dormer can be used to punctuate a horizontal wall with a vertical element, or to allow for taller windows than would be possible with another type of dormer. Although dormer windows generally should not exceed the size of the first-floor windows, a flush dormer can contain a bank of windows that can be used to enclose a stairway or sunspace. It's best to keep the ridge on this dormer well below the main ridge so that the main roof appears to be continuous and visually grounded. The dormer's roof slope should be at least 4-in-12; flush dormers tend to look boxy, and flatter roof pitches make them appear even boxier.
Recessed dormer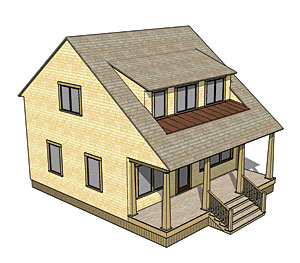 Set into the roof, a recessed dormer (I like to call it a sugar scoop) maximizes the height of the dormer face while minimizing the projection of the dormer roof above the main-roof plane. The recess can range from a slight indentation—creating just enough wall height to squeeze in an egress window—to a carve-out large enough for an inset deck. The scoop surface should be pitched as flat as practical—from 1⁄4-in-12 to 2-in-12 is typical—to keep it from becoming a design element. It may be covered with metal roofing, a membrane (EPDM, PVC, or TPO), or liquid-applied waterproofing, especially if it will support a deck. While a sugar scoop keeps the dormer's visual mass to a minimum, the interior floor space it offers is limited.
Nantucket dormer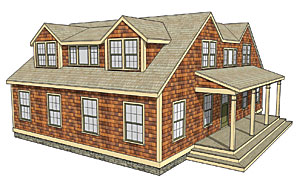 Shed dormers also can be designed to incorporate one or more gables, bump-outs, or turns. These hybrid designs can look or function better than a typical fully supported shed dormer. One example is known as a Nantucket dormer, which is funny, because I used to live on Nantucket and don't recall seeing a single example there. These usually look best as a variant on the fully supported dormer, with eaves running across the base. The undulating roof shape breaks up what would otherwise be a long, straight dormer eave. The center, shed portion is sometimes set back from the gable faces to further articulate the facade.
Drawings: Michael Maines
Previous:
Cape Dormer Eave
Next:
Attaching a Shed-Dormer Roof