Pyramid Pattern for Three-Tab Shingles
Follow these layout and installation guidelines when shingling with the pyramid pattern.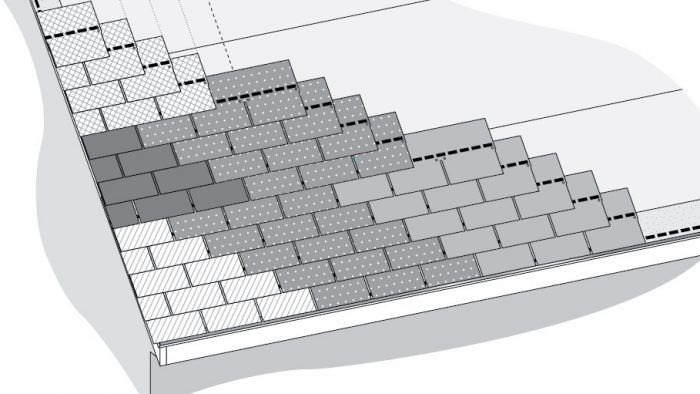 You'll probably find that shingling a roof using the pyramid pattern is faster and easier than the racking pattern in most instances. You don't have to lift the loose end of every other shingle to slip a new one beneath. There are a couple of installation techniques you can use.
The main drawback to using the pyramid pattern with three-tab shingles is cutout-slot control. Although the pyramid pattern is the preferred method for installing random-style laminated shingles, it isn't as precise for controlling the slots in three-tab shingles.
If you are using three-tab shingles, follow the steps below.
Starting a Pyramid
Establish control lines. If you are using three-tab shingles, snap a ­primary control chalkline just inside of a rake edge for the end of a 3-ft. shingle and additional offset control lines for the 6-in. or 4-in. course offsets.
Install the first starter kit. Install the longest shingle in your starter kit with the top edge aligned to a horizontal control line and the factory edge flush to the vertical control line. For the first kit in a 6-in. offset pattern, this will be a full shingle. Then install the next-longest shingle in the kit to its vertical and horizontal control lines and so on until you've exhausted your first set of starter shingles. As you are fastening each shingle along the rake edge, remember that about 3/4 in. to 1-1/2 in. of the shingle extends beyond the inside edge of the rake board. Hold back the end fastener at least 3/4 in. inside the edge of the rake board to prevent it from breaking through the surface of the trim.
Add full shingles. When you reach the top of the first starter kit, install a full shingle against the end of each starter shingle.
Add additional starter kits. Return back to the eaves and apply the longest shingle in your next starter kit against the appropriate control line. In the case of a 6-in. offset pattern, this shingle will be 30 in. long. When you finish the second kit, add the full shingles against them and continue up the roof. You can see in the illustration how the pyramid develops and extends diagonally across the roof as you continue installing shingles.
Previous:
Keeping Things Aligned
Next:
Preparing Vertical Lines on Hip Roofs