How-To
Retrofitting a Curbed Skylight
Get the flashing right to ensure leak-free skylights.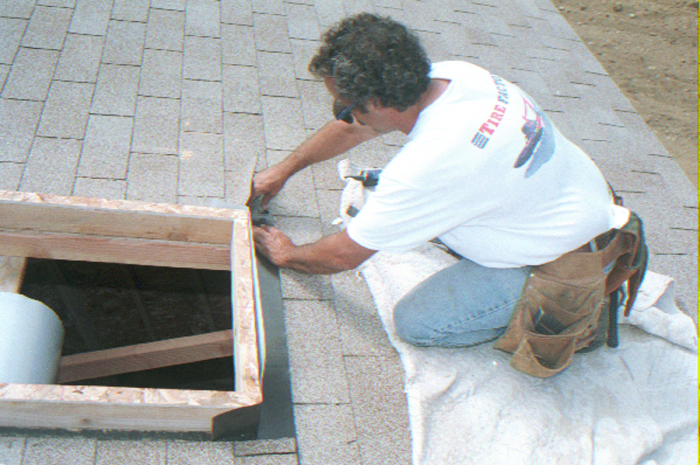 Synopsis: Step-by-step instructions for installing a curbed skylight in an existing roof, with an emphasis on flashing details that keep water out.
I can count on two things to happen every spring. April 15 will roll around, and my phone will ring with customers wanting skylights cut into their roofs. Adding a skylight can turn a dark, gloomy room into a warm, inviting space.
Here in the Northwest, we usually mount skylights on site-built curbs. I'm told that in some regions of the country, skylights with integral curbs are commonly used, but I've never installed one like that. Part of the reason is doubtlessly regional tradition, but economics plays into it, too.
Cutting the opening, building and flashing the curb, and mounting a skylight in an asphalt-shingled roof, using stock materials, takes me less than a day.
The skylight in this article is a standard unit built to fit in a roof whose trusses or rafters are spaced 24 in. o. c. You might want a different-size skylight, or your house framing may be spaced differently. In these cases, reframing is called for.
Nails driven through the roof mark the opening
To mark the four corners of the inside of the curb, I drive nails through the roof sheathing from below, about where I want the skylight's corners to be. I may have to move the curb's location up or down a few inches from these nails. It's important that there be a full course of shingles 2 in. above the skylight curb; I'll explain why later. I snap lines on the shingles 2 in. to the outside of these nails. When the shingles are cut back to these lines, the extra 2 in. allows for the 2×4 curb, plus 1/2 in. to leave room for water to flow freely along the flashing between the curb and the edges of the shingles.
Using a hook blade in a utility knife, I cut through the shingles one layer at a time until I get to the tar paper, which is left in place as an added layer of protection. I then snap lines from nail to nail and cut the tar paper on these lines. With the four corner nails driven back through it, I cut the sheathing to the inner lines, leaving the hole for the skylight.
Washington's building code requires skylight curbs to be 4 in. higher than the surrounding roof. To achieve this height, I build the curbs from 2x4s capped with 1/2-in. sheathing. This 2-ft. by 4-ft. skylight required a 25 1/2-in. by 49 1/2-in. curb. These outside dimensions allow the curb to bear directly over framing members on 24-in. centers.
For more photos, illustrations, and details, click the View PDF button below:
View PDF
Previous:
Installing a Tubular Skylight: Step 3
Next:
Skylights in a Flat Roof