How-To
What Is the Right Amount of Roof Membrane?
A single row of 36 in. of protection is what roofers most often put down, but that may not be enough.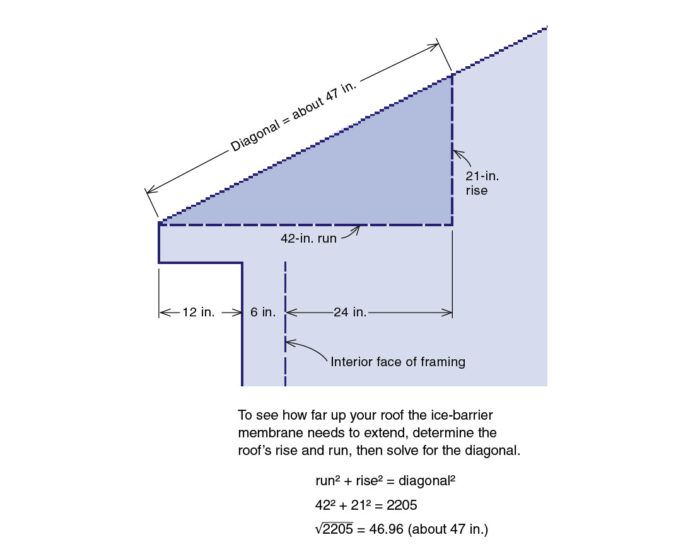 Q:
I just bought an old house and I'm getting quotes to have the worn-out roof stripped and re-­shingled. I don't know what problems the existing roof may have had in terms of leaks — if any — but thinking back on some heavy winters with ice dam problems, I want to be sure the new roof is protected. Is this just as simple as putting membrane on the eaves?
— Dave Peterson, via email
A:
Justin Fink: You're on the right track, Dave. Ice-barrier membrane adhered along the roof eaves is not only good insurance, it's actually required by the building code for houses located in the upper half of the United States (wherever the January average temperature is 25°F or lower or where there is a possibility of ice forming on the roof eaves).
One thing to be aware of that many people misunderstand­ — even some professional roofers — is how far up the roof the membrane is supposed to extend. Most of these products are sold in 36-in.-wide rolls, so a single row of 36 in. of protection is what roofers most often put down. But according to section R905 of the International Residential Code, ice barriers must "extend from the lowest edges of all roof surfaces to a point not less than 24 inches inside the exterior wall line of the building."
This is an important distinction, because roof overhangs, wall thickness, and roof pitches will all be factors when determining how far up the roof deck the membrane is supposed to extend. For example, if you have a 9-pitch roof with 12-in. overhangs set atop sheathed 2×6 exterior walls, that means the membrane will need to extend just shy of 4 ft. up the slope of the roof deck (see drawing) to meet the letter of the code. Steeper roofs will require more membrane. For a 12-pitch roof with the same details, the membrane will need to extend almost 5 ft. up the roof.
To figure out how far the membrane must extend on your roof, go up to your attic and measure 24 in. horizontally inward from the point where the inside plane of your exterior wall meets the roof sheathing. Add to that your wall thickness and overhang and you have the run. Next, find the rise by measuring from the point you just established straight up to the underside of your roof deck. Then, use the Pythagorean theorem (a² + b² = c²) to solve for the diagonal.
Previous:
Ice-Dam Protection: Over or Under Eave Drip Edge?
Next:
Stormproof Your Roof