How-To
Roofing with Slate
With the right fasteners and flashings, you'll get a roof that can last a hundred years.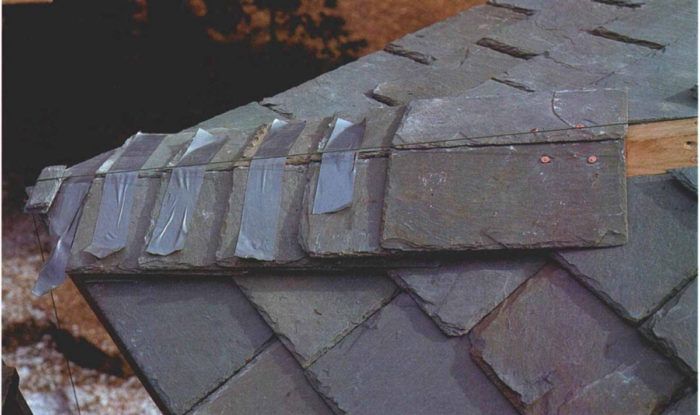 Synopsis: A slate roof can last a century, if it's installed and flashed properly. This article explains how to do it, with helpful information on special tools that slate roofers use plus some tips on capping ridges and hips.
I worked on my first slate roof when I was 14 years old. The farmer whose house we were remodelling also had a huge barn, and several roof slates were missing. He asked my grandfather if we could replace the slates, and because I was the lightest and the most agile, I was recruited. Ten years later, a customer I was installing a slate floor for asked if I'd be interested in installing a slate roof. By then, I'd worked with a lot of slate and was ready to give a whole roof a try. I called the supplier from whom I'd gotten flooring slate, and he sent me a copy of Slate Roofs, first published by the now-defunct National Slate Association in 1926. Everything worked out fine, and since then I've put on many slate roofs from Pennsylvania to Arizona (Slate Roofs has been reprinted by Vermont Structural Slate Co. Inc.).
Slate is the ideal roofing material. It won't corrode or burn, and for the most part it won't wear out. I'm not saying that a slate roof will never need replacement or repair. But it is important to keep in mind that a roof is a system of its materials, and a slate roof is made up of more than just pieces of sedimentary rock pulled from a quarry, split by hand and cut into rectangles. The integrity of a slate-roof system comes from all its components the slate itself, the flashings, the fasteners and the underlayment acting in concert, and the failure of any component can result in the failure of the whole system and leaks in the living room.
A slate roof is expensive; slate can cost between $250 and $600 per square (100 sq. ft.), and depending on the complexity of the roof, my labor costs can run as high as $450 per square. Given the high cost of the slate, it's foolish to scrimp on the quality of the other components. Using second-rate materials for any part of a slate-roof system is akin to running recapped tires on a Rolls-Royce.
I use 16-oz. copper for all flashings, copper nails, bituminous membrane at all the eaves, silicone caulk and 30-lb. felt or roll roofing under the slate. Although some people use standard, galvanized drip edge, a metalsmith makes my drip edge for me out of 16-oz. copper. I have a standard drip-edge profile, which I adjust to fit the house and roof design. It covers at least 1 1/2 in. of the fascia and runs up the roof a minimum of 4 in. I run it along the eaves and up all the rakes. I bend my own step flashings, but there isn't any reason why your tin knocker couldn't make these pieces for you as well.
For more photos and details, click the View PDF button below:
View PDF
Previous:
Secrets of Slate Roofing
Next:
Slate Roofing Techniques with John Mahan