Choosing Gutters
Vinyl and aluminum are popular choices for gutters, but they're not the only options.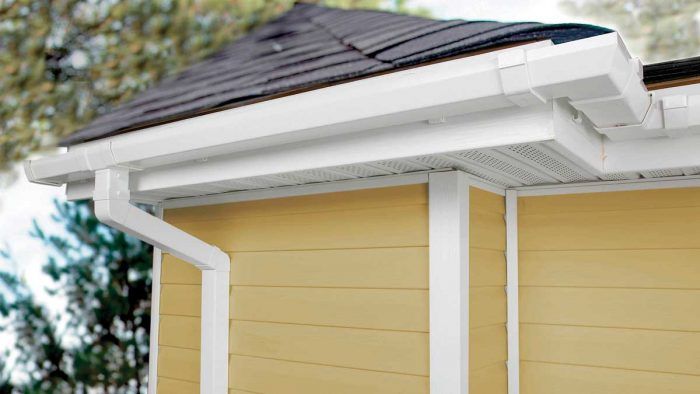 Gutters are kind of like baseboard heaters. They serve a useful function but can present a design challenge for homeowners who don't like the way they look. By building deep overhangs and observing proper drainage practices around a house's foundation, it's possible in many areas to make do without gutters. In fact, three of the six winners of Fine Homebuilding's 2012 Houses awards—homes in Northern California, Massachusetts, and North Carolina—have no gutters.
Still, most houses in most climates have gutters, and the choice of materials is wide enough so that gutters don't have to intrude on a house's aesthetics. In some cases, gutters can even enhance a house's appearance. Gutters made from the materials featured here are available in the two most common profiles: half-round and ogee, or K-style. To determine what kind of gutters work best on a particular house, it's important to know the differences between the materials.
Vinyl
Vinyl gutters are the easiest to install, so they are popular with DIYers. Only a few basic tools are required, and parts fit together without sealants. Joints in gutters from some manufacturers are sealed with neoprene gaskets, while in others, pieces are joined permanently with PVC cement. Of all the gutter materials, vinyl expands and contracts the most. To account for this movement, the inside of the downspout connector is marked with various temperatures. When installing gutters, you cut the piece that ends at the downspout connector to a length that corresponds to the current temperature. Vinyl gutters are attached to the fascia with either one-piece or two-piece hidden brackets.
Vinyl gutters are widely available in white and brown, although some manufacturers offer gray and various shades of brown. They are easy to clean and never need to be painted, although they can be.
Over time, vinyl gutters can become brittle, particularly in cold climates. In areas prone to snow or ice storms or even heavy rainfall, vinyl gutters will likely not hold up as well as metal gutters, in part because their brackets typically are attached with screws much shorter than those used to attach metal gutters. These screws often aren't long enough to reach the rafters or trusses behind the fascia. Vinyl gutters also are unlikely to support the weight of a person on a ladder.
Aluminum
Aluminum is the most common material used for gutters, and for good reason: It is widely available, lightweight, rustproof, durable, and relatively inexpensive. It is made from stock ranging in thickness from 0.018 in. to 0.032 in., with the thickest stock providing the greatest resistance to damage from snow, ice, falling tree branches, and ladders. The aluminum gutters sold in most home centers are painted white or brown, but they can be found elsewhere in other colors; of course, they can be repainted in any color. Traditional aluminum gutters carried by home centers come in 10-ft. sections that can be joined by slip-joint connectors and sealant.
Aluminum gutters can be installed in several ways, including strap hangers that attach to the roof sheathing, hidden brackets, exterior brackets, or 7-in. screws or spikes with ferrules. Aluminum expands and contracts with temperature changes, but expansion joints in long runs can prevent wrinkling or seam failure.
Aluminum gutters should not be used where the roof is covered with algae-resistant shingles, whose granules are covered in a thin coating of copper. In areas with little rainfall or in coastal areas with frequent salt fog, runoff from the shingles can remain in the gutters and lead to galvanic corrosion.
Copper
Georgia Roofing & Repair
Copper gutters have practical advantages: They are naturally rust resistant, they experience minimal expansion and contraction, and they last a century or more under normal conditions. It's their distinctive appearance, however, that is the primary reason why some homeowners are willing to spend a lot of extra money to have them on their house. Individual pieces of copper gutter are soldered together and also may be popriveted prior to soldering. Copper gutters are held in place with strap hangers, hidden brackets, or exterior brackets; decorative exterior brackets add to the cost. Over time, copper develops a greenish patina that many people find attractive. Those who wish to maintain the shiny appearance of their gutters must treat them periodically with a sealant to prevent the copper from oxidizing.
Steel
The strongest residential gutters are made of steel. Stainless-steel gutters are expensive and rare. Steel gutters most often are made from galvanized steel or painted steel, and as with copper, individual pieces are soldered together and also may be pop-riveted. These gutters are held in place by strap hangers, hidden brackets, or exterior brackets. They are better than aluminum and vinyl at resisting damage from hail, ice, snow, and falling branches, and they also provide more sup – port for ladders. Of the gutter materials profiled here, steel expands and contracts the least; still, in areas with big temperature variations, long runs of steel gutters may need expansion joints. Whether made from galvanized or painted material, steel gutters eventually rust. If you're looking for the strength of steel but want a higher degree of corrosion resistance, consider Galvalume gutters, which are made from steel and are coated with an aluminum-zinc layer.
Seamless Gutters
Aluminum, steel, and copper gutters can be fabricated on site by running metal coil through an extruder that spits out gutters in seamless lengths much longer than the 10-ft. sections available in home centers. Fewer seams, of course, mean fewer places where leaks can develop. Seamless-gutter companies can handle the entire job, or they can leave custom-cut lengths at the site if you want to do the installation yourself.
Previous:
Chimney Flashing
Next:
Gutter Hangers