Tools & Materials
From Large Format to Small Details
A huge cast-porcelain wall tile and an intricately etched stone mosaic illustrate the diversity of today's tile trends.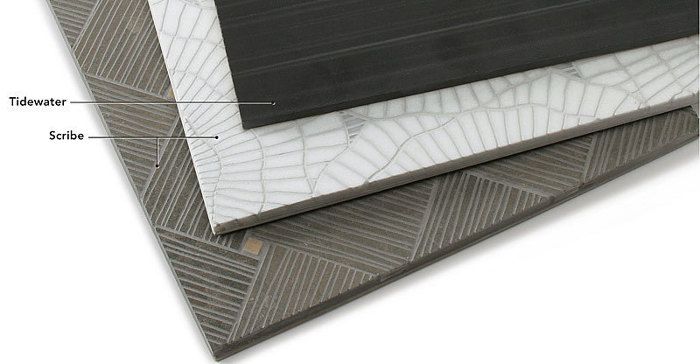 Two new tile designs from Kohler subsidiary Ann Sacks show just how diverse today's trends in tile have become. Tidewater is its largest tile format to date: a cast porcelain wall tile that measures 70-7⁄8 in. by 31-1⁄2 in. (A 7-7⁄8-in. by 70-7⁄8-in. plank is also available.) The tile's surface is designed to mimic the fluidity of draping fabric. It is manufactured using up to 25% recycled materials and comes in four colors: Shell (off-white), Sand (tan), Pebble (gray), and Volcano (black). Pricing starts at about $22.50 per sq. ft.
On the other end of the scale (and price) spectrum is Scribe, a stone mosaic whose name comes from the water-jet etching used to create an intricate pattern on the surface of the stone. When grouted, the cuts create the illusion of hundreds of impossibly tiny tesserae. Face-mounted on clear Mylar, the tiles interlock to form repeating patterns without the typical grout lines between pieces. Installed with standard thinset, they are suitable for both vertical and horizontal applications, indoors and out.
Scribe tile is available in 20 different patterns and 53 different types of marble, travertine, and limestone. Made to order, it's a custom product that comes with a custom price—from $77 to $344 per sq. ft. Luckily, with details this refined, you don't have to cover a large area to make a big impact.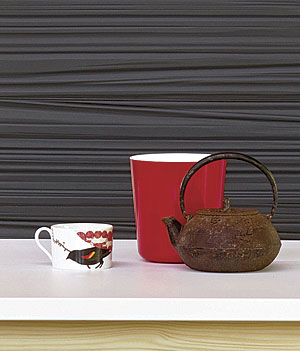 Photos: Dan Thornton
Previous:
Encaustic Cement Tile
Next:
Nawal Motawi, Tile Designer