How-To
Laying Out the Job
Follow this logical sequence to mark box locations for receptacles, switches, and light fixtures.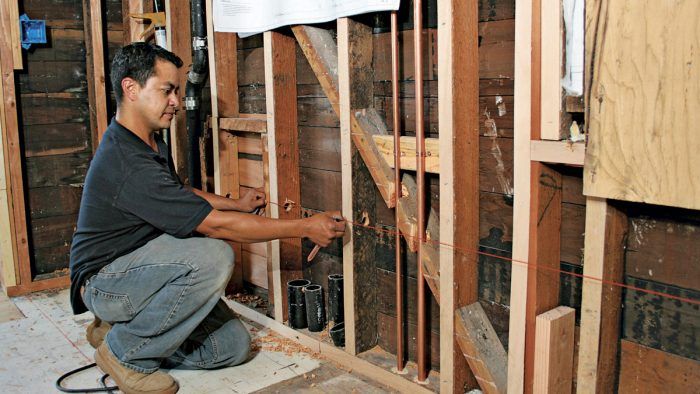 With electrical plans in hand, walk each room and mark box locations for receptacles, switches, and light fixtures. Each device must be mounted to a box that houses its wiring connections. The only exceptions are devices that come with an integral box, such as bath fans, recessed light cans, and undercabinet light fixtures 1.
Pro Tip: When marking box locations on finish surfaces, use a pencil—never a crayon, grease pencil, or felt-tipped marker. Pencil marks won't show through new paint. Also, grease pencils and crayons can prevent paint from sticking.
Mark receptacles and switches on the walls first. Then mark ceiling fixtures. If studs and joists are exposed, use a vividly colored crayon that will show up on the wood. If there are finish surfaces, use a pencil to mark walls at a height where you can see the notations easily—these marks will be painted over later. Near each switch box, draw a letter or number to indicate which fixture the switch controls.
Rough-in recap: Box locations
Whatever heights you choose to set outlets and switches, be consistent.
Code requires that no point along a wall be more than 6 ft. from an outlet. Set the bottom of wall outlets 12 in. to 15 in. above the finished floor surface, or 18 in. above the finished floor surface to satisfy Americans with Disabilities Act (ADA) requirements.
Place the top of switch boxes at 48 in. and they will line up with drywall seams (if sheets run horizontally), thus reducing the drywall cuts you must make.
In kitchens and bathrooms, place the bottom of countertop receptacles 42 in. above the finished floor surface. This height ensures that each receptacle will clear the combined height of a standard countertop (36 in.) and the height of a backsplash (4 in.), with 2 in. extra to accommodate cover plates.
Once you've roughly located boxes on the walls, use a laser level 2 to set exact box heights for each type of box.
For more on box heights, see "Rough-in recap: Box locations" above.
You can also use a hammer to establish the bottom lines of the boxes 3. Many electricians prefer to determine level with the laser, then snap a permanent chalkline at that height so they can move the laser to other rooms 4.
To locate ceiling fixtures, mark them on the floor 5 and use a plumb laser 6 to transfer that mark up to the ceiling 7. This may seem counterintuitive, but it will save you a lot of time. Floors are flat, almost always the same size and shape as the ceilings above, and—perhaps most important—accessible and easy to mark. In complex rooms, such as kitchens, draw cabinet and island outlines onto the floor as well. Those outlines will help you fine-tune ceiling light positions to optimally illuminate work areas.
| | |
| --- | --- |
| 1 Begin the layout by walking the room and marking box locations. | 2 Use a laser level to set box heights above counters. |
| 3  A hammer handle quickly establishes box heights at roughly 12 in. | 4 You can snap a level chalkline to indicate box tops or bottoms. |
| 5  Many electricians prefer to mark ceiling fixture centers on the floor. | 6 They then use a plumb laser to transfer marks to the ceiling. |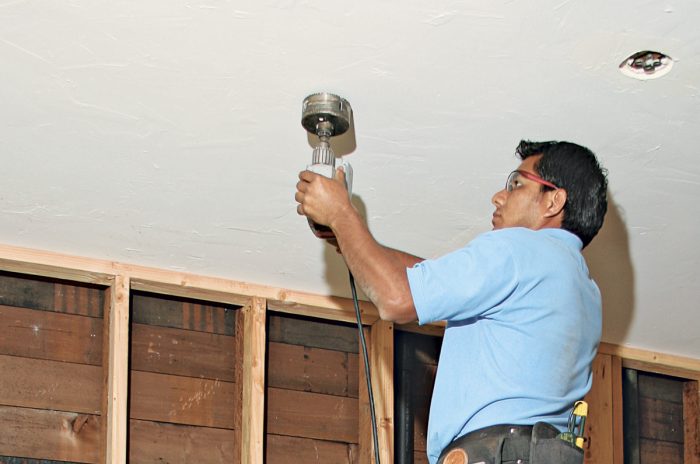 Avoiding hot wires
In remodels, there may be live wires behind finish surfaces. Use a noncontact tester to initially test receptacles, switches, fixtures, and any visible wires. Then follow up with a probe tester, if possible. The cables feeding those devices will be nearby. Wall receptacles are usually fed by cables running 1 ft. to 3 ft. above. Switches often have cable runs up to a top plate; each ceiling fixture has cable running to the switch(es) controlling it. Avoid drilling or cutting into those areas, and you'll minimize the risk of shock.
---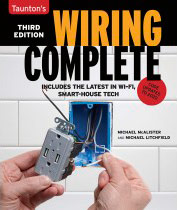 Excerpted from Wiring Complete, 3rd Edition (The Taunton Press, 2017) by Michael Litchfield and Michael McAlister
Available in the Taunton Store and at Amazon.com.
Previous:
Developing a Floor Plan
Next:
Electrical Outlets by the Numbers