Tools & Materials
Marking Tools for Common Building Materials
Learn about the best options—pencils, markers, crayons, and more—for writing notes and measurements on a wide variety of construction materials.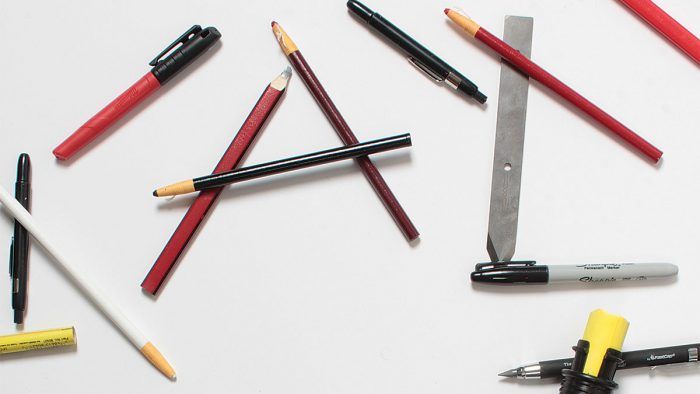 Synopsis: Carpenter's pencils and Sharpies are the trade go-tos, but there are many more options when it comes to marking tools. Builder-at-large Justin Fink runs through the options and their best applications, from railroad chalk for marking concrete, to wax pencils for making clear marks on glass, to marking knives for scribing lines on wood.
---
There's an old saying that a good carpenter never blames his tools. Well, whoever said that clearly never tried to mark accurate joinery work with a soft pencil, or lay out plates with a brittle lead, or write on wet lumber with either. Some carpenters may take pride in the fact that they use the same carpenter's pencil for every task, but I'm a little different. I take comfort in knowing that whatever I might encounter on the job site, I have the right marking tool in my arsenal. There's a whole wide world of options beyond the carpenter's pencils and Sharpies many tradespeople limit themselves to, and it's a world worth looking into.
Carpenter's pencils
Carpenter's pencils are a perfect example of form following function. Their wide, flat cross sections make them equally easy to grab in a normal writing grip or grasp in the palm in line with the pointer finger, which is common when marking framing layouts. The large lead—available in soft, medium, and hard—is also rectangular in cross section, making it ideal for both thin and wide lines. And of course, a flat pencil can't roll away, or off the edge of a scaffold or roof deck. The flat faces of the pencil also make it an ideal shim or scribing block in a pinch. European-style carpenter's pencils are also available, and come in extra-long lengths.
Mechanical pencils
Always in need of a sharp point, many finish carpenters have relied on the refillable lead of mechanical pencils to avoid the need to stop and sharpen during work. The catch, of course, is that the thinner the lead, the more likely it is to break in use. Lead sizes are measured in millimeters, and can be found down to 0.20 mm in art supply stores, but 0.7 mm is about as thin as is feasible for a tradesperson—even that will likely break often during use. Leads sized 0.9 mm and larger are favored for their balance of accuracy and durability. Much larger leads are also available. Heavier-duty 2.8-mm pencils (around $15 to $20 apiece), often called "dry markers," feature a deep-reach design— ideal for reaching into recesses to make marks—and some come with plastic holsters. Wider leads, like those found in the Fastcap FatBoy pencil shown below ($18), can be used with a regular sharpener.
Permanent markers
For most carpenters, the permanent marker comes into action when a carpenter's pencil can't do the job. Although the felt tip can wear out quickly and doesn't appreciate any sawdust, permanent markers are versatile and cost effective, and I can't imagine not having one in my tool belt. They excel at marking everything from the insulation on electrical cables to the waxy surface of an LVL, and are available in a variety of different-sized points so you can match the precision of the task to the right-size marker. Although black ink is by far the most common, don't overlook the utility of other colors. Silver and gold Sharpies, for example, are ideal for marking dark surfaces like asphalt shingles, self-adhered flashing membrane, and felt paper.
From FineHomebuilding #294
To view the entire article, please click the View PDF button below.
View PDF
Previous:
Specialty Levels
Next:
No-Wind Chalkline