How-To
Make Sure the Power Is Off
Two testers and some basic know-how are all you need to be certain you are working safely.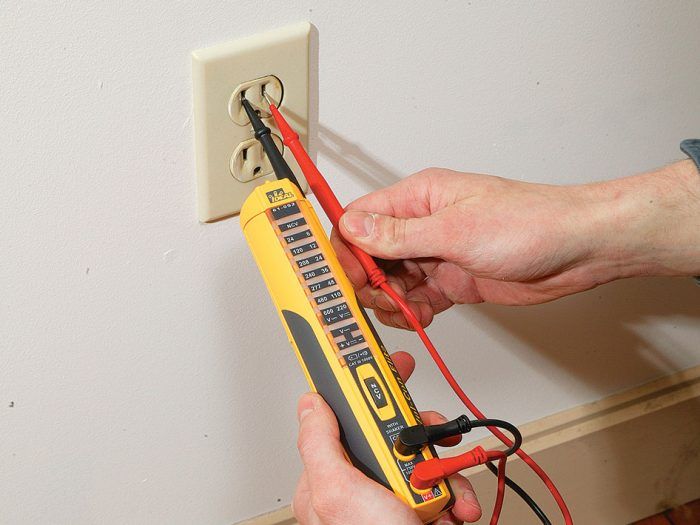 Magazine extra: Five minutes could save your life. Watch a video to learn how to properly choose and use electrical testers.
---
Household voltage can cause serious shock and even death, so the only way to work safely on wiring is with the power off. The good news is that when used as shown here, a voltage/continuity tester and a noncontact voltage tester will tell you if the power to the wires or fixtures you are working on really is off. They also can provide other valuable information about wiring and fixtures. As far as I'm concerned, these testers are must-have tools whether you're a professional electrician working on a panel, a homeowner replacing a light fixture, or a remodeler about to knock down a wall.
Two testers work together
Every trade has special tools, and the more specialized the work, the more specialized the tools. Most residential electrical projects and basic troubleshooting work can be handled by two tools: a voltage/continuity tester and a noncontact voltage tester. Used together, these two tools can all but eliminate the chance of shock or electrocution. But there's a catch. The most-expensive electrical tester you can find — complete with beeps, flashing lights, and digital readouts — won't do you any good if you don't know how to use it. Take the time to read and follow the manufacturer's instructions. Also, no matter what kind of tester you are using, remember that batteries can die and leads can loosen or break, so always check the tester on a circuit you know to be live before getting started. It's also a good idea to send in the owner's registration card so that you can be contacted if there are any product recalls. Finally, please retire the tester if and when it is worn out or damaged.
If you're new to electrical work, or just want to brush up on the basics, The national Institute for Occupational Safety and Health Web site (www.cdc.gov/niosh) offers a free publication (no. 2002-123) with some great guidelines.
Voltage/continuity testers are your main line of defense
This tester indicates whether there is voltage on a wire or a piece of equipment. Most models indicate the level of voltage as well. you can buy voltage testers and continuity testers separately, but it's smarter to buy a tester with both functions so that when voltage is not detected, the tester will automatically switch to continuity mode. Voltage can be considered the pressure behind electrical power, and it is always measured across two points: typically from hot (live) to ground, or from hot to neutral. Ground (also known as earth) potential is defined as 0 volts and is used as a point of reference.
The voltage/continuity tester has a pair of wire leads with insulated probes that terminate in metal tips. The probe tips are placed in contact with the points being tested, and if voltage is present, it will be indicated on the tester with a light, a beep, vibration, or a combination of these. A good tester allows you to slip one of the probes into a slot on the body of the tester; this way, you can read the results and keep your eyes on the receptacle at the same time.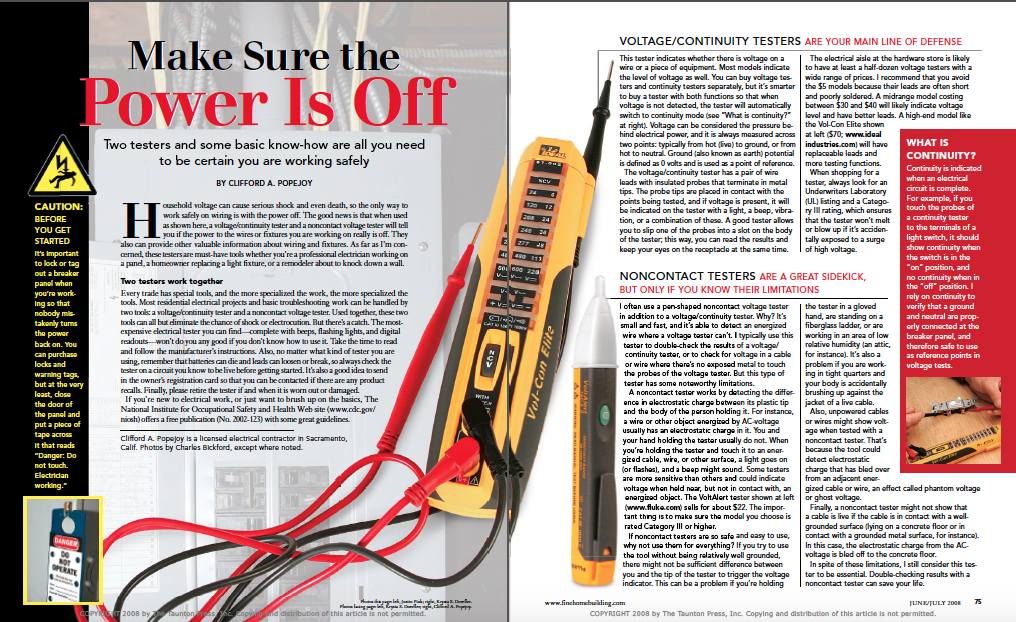 From Fine Homebuilding #196
For more photos and details, click the View PDF button below.
View PDF
Previous:
Cutting Power at the Panel
Next:
Choosing and Using Electrical Testers