How-To
Laying Out and Detailing Wall Plates
Learn how a professional framer quickly and accurately transforms blueprint dimensions into templates for walls.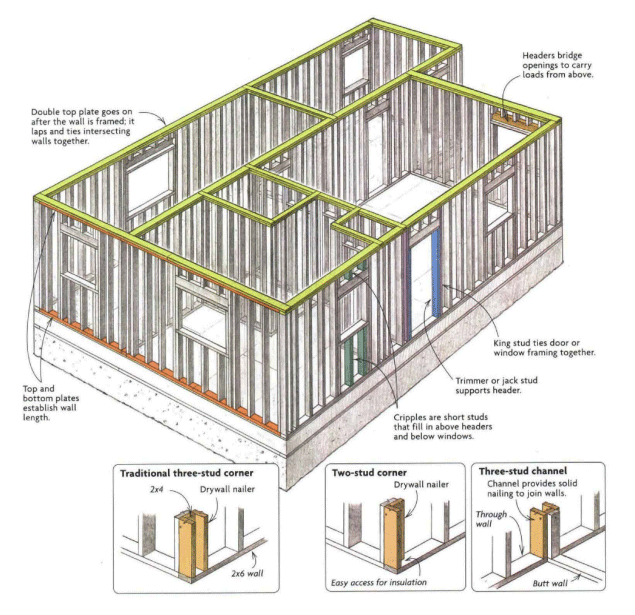 Synopsis: A well-seasoned carpenter details steps he takes to translate architectural drawings into accurate wall plates — a first step toward producing the rest of the wall framing. He includes a number of time-saving tricks.
---
As a beginning carpenter, I was so afraid of making a mistake when laying out walls that the process took me hours. Layout seemed like an exact science, one whose rules I didn't know.
Transferring measurements from blueprints to full-size markings on the floor and then cutting the wall plates to fit these markings set the stage for all of the carpentry that follows. If the walls are out of parallel or if rooms are not square, roof rafters, cabinets and even floor tiles won't fit properly.
Done correctly, though, wall layout leaves a set of clearly marked plates — templates, in a sense, that can enable relatively inexperienced carpenters to assemble the walls. Well-laid-out walls compensate for errors in the floor, be it slab or frame, and ensure that fixtures such as bathtubs fit between the walls. Once I learned the rules, learned where being off 1/4 in. matters and where it doesn't, I relaxed and then began to enjoy laying out walls.
The plans may not tell the whole story
Before beginning to frame a house, I study the plans at home. I note what the plans show and what must be inferred. There are often differences between plan dimensions and what is needed on the job. For example, plans may call for 36 in. between walls for a set of stairs. So that the stairs themselves will measure a full 36 in., I leave at least 38½ in. from stud wall to stud wall. The extra 2½ in. leaves enough room for ½-in. drywall and a ¾-in. skirtboard on each wall, enclosing 36-in. treads and risers between them.
To accommodate a bathtub, most bathrooms need to be 60 in. wide. I usually frame bathrooms 1/8 in. or ¼ in. big so that the tub can be installed with ease. Nonstandard-size tubs are becoming more common, and in these cases, the tub supplier may be a more reliable source for the tub's dimensions than the plans.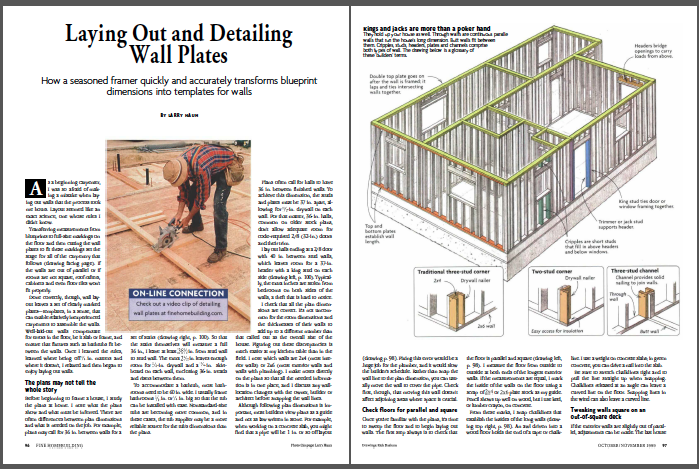 For more photos, drawings, and details, click the View PDF button below.
From Fine Homebuilding #126
View PDF
Previous:
Laying Out Stud Walls
Next:
Top 10 Tips for Wall Framing Layout on a New Subfloor