Pneumatic Framing Nailers: Why Choose Coil over Stick?
Pro builder Justin Fink takes a look at the pros and cons of each style of nailer.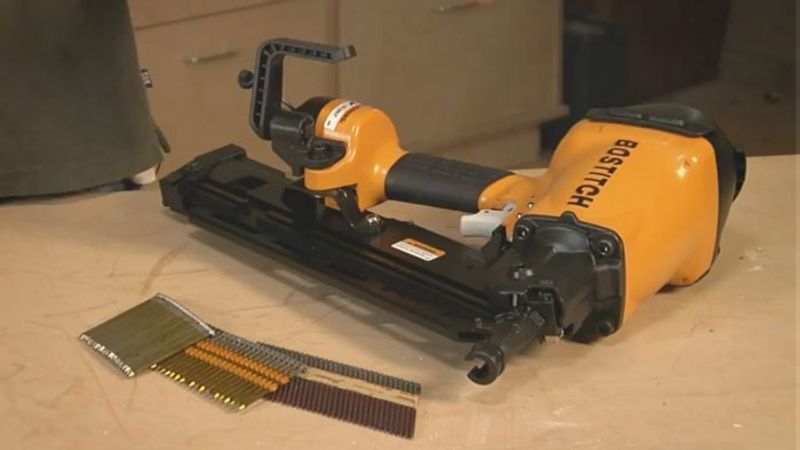 On the job site, there's nothing you can do with a coil-style nail gun that you can't do with a stick-style nail gun. So why would you choose one over the other? Let's take a closer look.
Framing nailers come in two styles: coil and stick
Coil nailers have an adjustable canister that accepts a coil of nails-up to 200 framing nails or 300 sheathing nails at a time–angled at 15 degrees and strung together by two thin wires welded to the shanks of the nails. These tools can fire a lot of nails between reloads. And their compact size offers some accessibility advantages. But a fully-loaded coil nailer can be heavy and unwieldy, especially for overhead work.
Coil nailers are not as popular as stick nailers, but they do have a strong foothold in the Northeast, and in a few random pockets across the country, like Louisiana, Missouri, and Texas. Despite having less market share here in the United States, this is what the rest of the world considers a framing nailer.
With stick nailers, you need to pay attention to the angle and collation style of the nails to make sure that they will fit the tool you're using (unlike coil nailers, which all use the same style of nails). Stick nailers have a long magazine which accommodates two sticks of anywhere from 25 to 40 nails each. The nails are collated together at an angle so that the head of each nail is nested above the head of the nail in front of it. Typical stick nailers are designed to accept one of three styles of nails:
Plastic collated nailers fit round-head nails angled between 20 and 22 degrees
Wire-weld collated nailers will take will take plastic- or paper-taped nails set at 28 or 30 degrees
Paper collated nailers will accept sticks angled between 30 or 35 degrees, commonly just referred to as 30-degree nails
Keep in mind that regional preferences, and sometimes even building codes, will dictate which nails, and therefore which nailers, are common to your area. That's especially important to remember if you're purchasing your nailer over the Internet.
Previous:
Hitachi's NR83A5 Framing Nailer
Next:
Rebuild a Framing Nailer