How-To
Rafters vs. Trusses
Compare the pros and cons of the two basic options for framing a roof.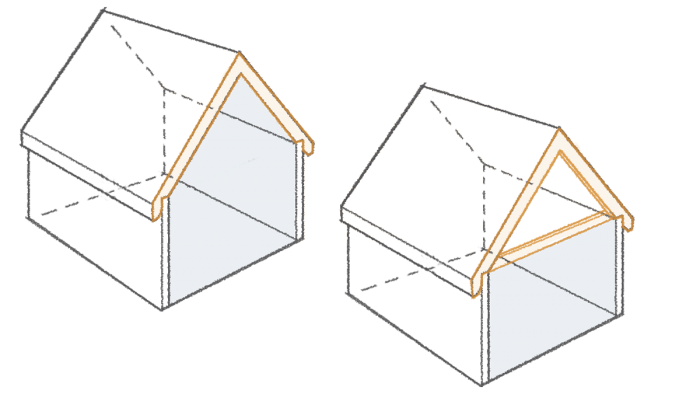 There are many factors to consider when choosing between rafters and trusses for the roof frame: the effect that the designer wants to achieve; the size and skill of the crew that will frame the roof; the budget and schedule of the job; and the amount of space available around the building.
Rafters
Use of space
In conjunction with a structural ridge, you can build rooms with cathedral ceilings. If you use a nonstructural ridge, you can make full use of the space between the joists and the rafters. The size and openness of the rooms under raftered roofs are limited by the spans of the rafters, joists, and, sometimes, structural ridges.
The crew
The layout for raftered roofs is one of the most difficult layouts in frame carpentry. The individual pieces of the frame are fairly light, however, and one or two carpenters can usually move them around and install them with
little difficulty.
Budget, schedule, and job-site conditions
On small jobs, it's often easier to use rafters. There's no lead time and no need to set up a large crew or a crane. On some restricted sites, rafters are the only option—both because there's no room to maneuver a crane and because there's no place to store trusses. In general, rafters are lighter and more flexible in use; these attributes make them popular with remodeling contractors and custom builders.
Trusses
Use of space
Engineers can design trusses that are capable of spanning very long spaces between bearing walls. This permits the rooms beneath to be large and open. Trusses can be made for cathedral ceilings ("scissor trusses"), but the effect is less spectacular than those created by rafters.
The crew
The layout for trussed roofs is usually straightforward. This does not mean, however, that installing trusses is not challenging. Because trusses have to be ordered in advance, the builder needs to have good organizational and communication skills. Trusses are large, heavy, and unwieldy. Getting them hoisted, set, and braced is a logistic challenge, which often requires a large crew and a crane.
Budget, schedule, and job-site conditions
It's not possible to say whether trussed roof systems are less expensive than raftered roof systems because there are so many variables in building design. Residential builders, however, have voted with their wallets on this issue. Accounting for about three-quarters of the roof systems in new houses, they are the heavy favorite in housing developments, even high-end developments. Large building developers are equipped for trusses; they usually have plenty of space, lifting equipment, and large crews. In these circumstances, trussed roof systems go together in a matter of hours.
Previous:
The Loads Carried by a Roof
Next:
Roof Framing Simplified