Thermally Broken Studs
Tstuds are a new energy-efficient framing product that look like vertical trusses made from two thin boards joined by a series of angled dowels.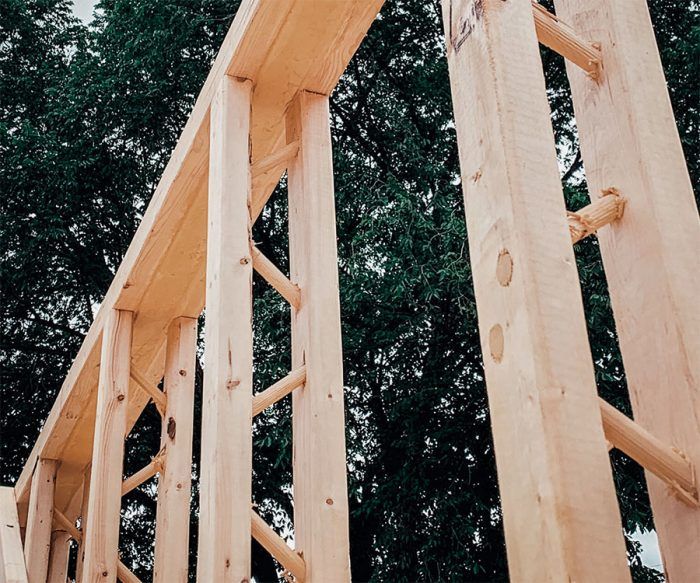 High-performance exterior walls typically handle thermal bridging at framing members in one of two ways—either the building exterior is wrapped in insulation, or the home is framed with staggered- or double-stud walls. Now there's another option: the Tstud.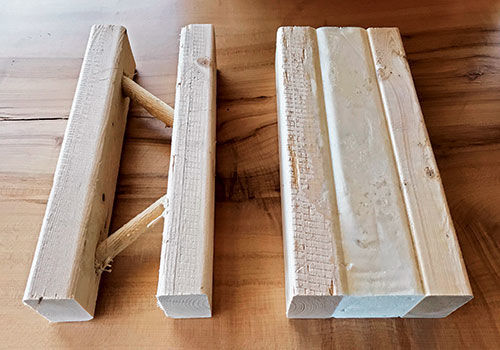 Tstuds are an alternative to solid 2×6 framing lumber designed to break the thermal bridge within the stud itself. Each Tstud has two 2x3s on the flat connected by angled wood dowels, and the space between the 2x3s is either left empty (called BareNaked) or filled with closed-cell spray foam. They can be used for pretty much any framing element in exterior walls: studs, jacks, cripples, plates, and headers. They are designed for advanced framing—24 in. on center, with single top plates and two-stud corners. But with this design, Tstuds act like engineered trusses, not solid-sawn lumber, so they need full bearing across the truss. This means, for example, that when used as bottom plates, j-bolt anchors are connected to the Tstud with a metal plate that spans the truss.
When building with Tstuds, care must be taken not to cut consecutive dowels in order to maintain structural integrity. Fortunately, the manufacturer has an excellent installation guide that addresses installation and configuration considerations.
Tstuds are not cheap. One builder I spoke with was spending about $2.50 per board foot for Tstuds, vs. about $0.50 for 2x6s. But Tstuds are not a 1:1 functional substitution for 2x6s; and because they are so new and uncommon, I expect pricing may change if the manufacturer is able to take advantage of economy of scale.
For a more in-depth look at the practicality and economics of Tstuds vs. conventional framing lumber, read my companion article, "First Look at Tstuds", at GreenBuildingAdvisor.com.
—Peter Yost, technical director at Green Building Advisor
From Fine Homebuilding #286
More about Tstuds and thermal bridging
Previous:
Straightening Crooked Lumber
Next:
Common Uses of Scrap Sheathing and Framing Lumber