Choosing Roofing Materials
Cost and durability are not the only factors to consider.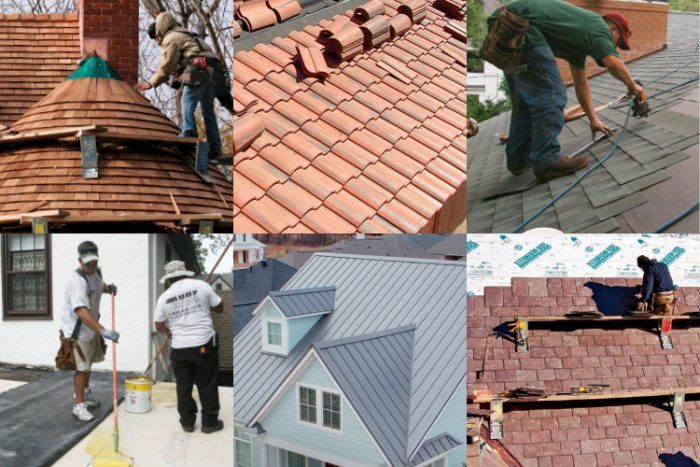 With the exception of wood roofs, which are now made with lower-grade material than in the past, today's roofing materials will last longer than ever before, and can be installed with less labor. Composite materials now take the place of most natural roofing materials, including wood shingle and slate.
The selection of a roofing material must be carefully coordinated with the design and construction of the roof itself. Some factors to consider are the type of roof sheathing, insulation, and flashing. For example, some roofing materials perform best on open sheathing, but others require solid sheathing. Some roofing materials may be applied over rigid insulation; others may not.
Many roofing materials require that a waterproof underlayment be installed over solid sheathing before roofing is applied. Underlayment, which can be applied quickly, is often used to keep the building dry until the permanent roofing is applied. In the case of wood shakes, the underlayment layer is woven in with the roofing courses and is called interlayment.
Other considerations for selecting a roofing material include cost, durability, fire resistance, local climatic conditions, and the slope (pitch) of the roof.
Cost  Considering both labor and materials, the least expensive roofing is roll roofing. Next in the order of expense are asphalt shingles, followed by preformed metal, wood shingles, shakes, and tile.
Durability  As would be expected, the materials that cost the most also last the longest. Concrete-tile roofs typically have a 50-year warranty. Shake and shingle roofs can last as long under proper conditions but are never put under warranty. Preformed metal is often warrantied for 40+ years. Asphalt shingles are warrantied in the 15-year to 30-year range.
Fire resistance  Tile and metal are the most resistant to fire, but fiberglass-based asphalt shingles and roll roofing can also be rated in the highest class for fire resistance. Wood shakes and shingles can be chemically treated to resist fire, but are not as resistant as other types of roofing.
Slope  The slope of a roof is measured as a proportion of rise to run of the roof. A 4-in-12 roof slope, for example, rises 4 in. for every 12 in. of horizontal run.
There are wide variations among roofing manufacturers, but in general, the slope of a roof can be matched to the type of roofing. Flat roofs (1⁄8-in-12 to 1⁄4-in-12) are roofed with a built-up coating or with a single ply membrane. Shallow-slope roofs (1-in-12 to 4-in-12) are often roofed with roll roofing or metal roofing. Special measures may be taken to allow asphalt shingles on slopes as low as 2-in-12 and wood shingles or shakes on a 3-in-12 slope, and some metal roofs may be applied to 1-in-12 slopes. Normal-slope roofs (4-in-12 to 12-in-12) are the slopes required for most roofing materials. Some materials, such as built-up roofing, are designed for lower slopes and may not be applied to normal slopes. Steep slopes (greater than 12-in-12) may be roofed with most roofing materials, but increased fastening specifications usually apply.
A wide range of choices
This roofing guide has a number of articles covering the pros and cons of common (and not so common) roofing materials in detail.
Here are a few of our favorites:
The Rise of Metal Roofing – Long-lasting, lightweight, and resistant to hail and fire, metal makes an ideal roof.
5 Roofs That Will Last a Lifetime – These premium products offer time-tested longevity, so your choice depends on price, appearance, and installation requirements.
Will Your Next Asphalt Roof Last a Lifetime? – We peel back the layers on a new breed of laminated asphalt shingles.
Previous:
Will Your Next Asphalt Roof Last a Lifetime?
Next:
Clay Tile