Stripping an Old Roof
Tearing off the roof is a job best left to the pros, but if you must do it yourself, here's how.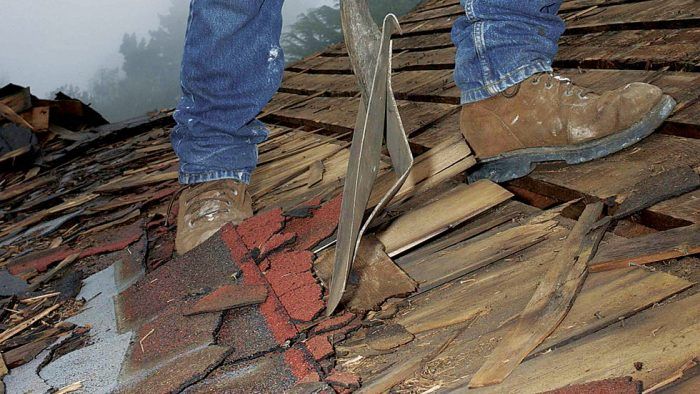 Stripping a roof is one of the nastiest, dirtiest, most dangerous jobs in renovation. If you can afford it, hire an insured contractor for this. Most roofing contractors know of tear-off crews that will obtain permits, rip off the old roof, and cart away the debris, or you might want to subcontract the job through a roofer. Professional stripping takes at most a couple of days. It's money well spent.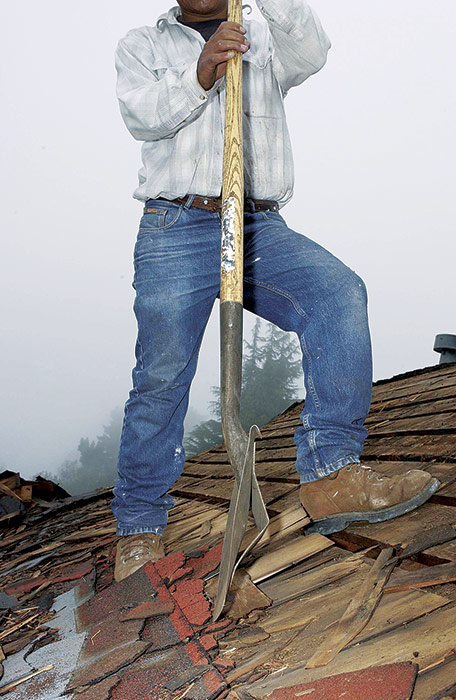 If you must strip the roof yourself, remove all roof gutters and then minimize the mess by buying a heavy tarp or roll of 6-mil plastic sheeting to catch shingles and old roofing nails. So you won't be picking shingle shards and nails from the lawn for years to come, lay tarps from the house to the Dumpster as well. To protect plants around the house, place sawhorses or 2×4 frames over them and cover with cloth drop cloths. Caution: Don't cover plants with plastic or they'll bake. Finally, lean plywood in front of windows so falling objects don't break them. When the job is done, rent a magnetic roller (also called a magnetic nail broom) and roll the lawn to locate roofing nails—before your lawn mower does it for you.
And don't forget the inside of the attic. Spread plastic tarps over attic floors, especially if there's insulation between the joists. During tearoff, an immense amount of debris and fine dust falls into an attic. Unless you catch it in plastic and remove it, you could breathe it or smell asphalt-shingle residue for years.
Other than that, stripping is mostly grunt work. Most strippers use a specially designed tear-off shovel that is an indispensable tool for removing roofing. Tear-off shovel blades have a serrated edge that slides under nail heads and a fulcrum underneath that gives extra leverage for prying up shingles and nails. It's best to start at the top and work down the roof, scooping shingles as you go. Be sure to tear off all old building paper (felt or rosin paper), too.
When you think you're done, be sure to make another pass over the entire roof to remove or nail down any stray protruding fasteners before beginning your new roof installation.
Previous:
When It's Time to Tear Off an Old Roof
Next:
Replacing a Roof: How to Strip Old Shingles and Patch Sheathing