Versatile Electrical Box
Unlike typical work boxes that have one connection method or another, Carlon's Zip Box Blue electrical boxes have a 3-in-1 mounting system so you don't ever have the wrong type for the job at hand.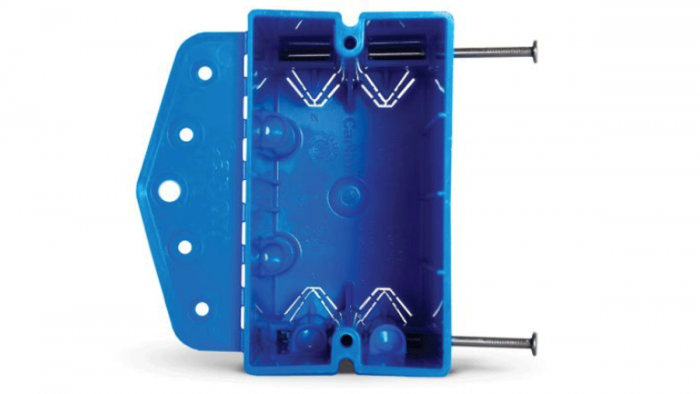 Carlon's newest Zip Box Blue electrical work box is the best thing since, well, electrical work boxes. The new, extradeep boxes can be installed in a variety of ways based on the situation. In addition to the usual captive nails like those found on most PVC work boxes, there's also a nailing fin—not a new idea, but not usually seen on a box that comes with nails. For a third option, Carlon includes angled holes inside the box so it can be screwed to the stud in either a horizontal or vertical orientation, in both new construction and remodels (the latter by snapping off the fin). The work box is available in single-gang (about $1 apiece) and double-gang (about $2 apiece) configurations, with a variety of cubic-inch capacities. Visit carlonsales.com  for details.
—Justin Fink, editorial director
From Fine Homebuilding #286
More about rough electrical work
Video: Adding an Electrical Outlet to an Existing Run – Splicing a new receptacle in the middle of a run is a simple task.
Video: How to Install an "Old-Work" Electrical Box – "Old-work" boxes make for easier retrofits of electrical devices in existing walls.
Video Series: How to Wire a Bathroom – Learn how to plan circuits, run wires, and install boxes for a new bathroom.
Previous:
Stealth Receptacles
Next:
Smart and Stylish Switches and Outlets