How-To
Nailing Basics
Despite the advent of nail guns, sometimes you still have to hit the nail on the head.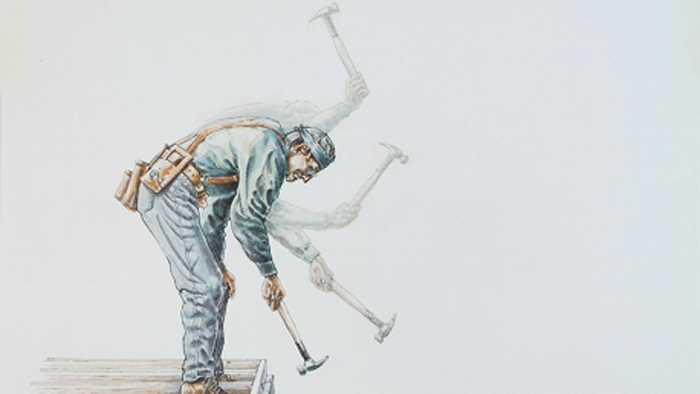 Synopsis: There are subtleties in any endeavor, even for something that seems as simple as driving a nail with a hammer. A veteran of the California tract housing boom explains, with tips on handling nail and hammer in a variety of situations.
---
When I was a small boy growing up on the Nebraska high prairies during the Depression, my first hammer was a 16-oz., wood-handle model with one of its curved claws missing. It wasn't much good for pulling nails, but at the time it was all we could afford.
Our nails were gleaned from the site where an old barn had burned to the ground. I'd find round nails as well as the cut, square type and used to straighten bunches of them getting ready for childhood building projects. We'd bang together forts and playhouses made of wooden orange crates and stray boards. They were fun to build, but they didn't stand up very well to the strong, gusty winds that blew down from Wyoming.
In 1948 I had my first job as a paid carpenter. For a dollar a day, I helped an old craftsman put together a precut house. The house was shipped by rail and hauled to the site on a horse-drawn wagon. Over the next year or so, we put it together piece by piece. I was still using a curved claw hammer, but this one had all its parts.
When the postwar building boom hit, I found myself in California with a 20-oz. straight-claw hammer in my hand. The demand for housing was so great that instead of building one house a year, we built 500. In the four decades since then, pneumatic and propane-powered nail guns have changed the way most nails are driven. But even with these quick and efficient tools, carpenters carry hammers in their nail pouches, and learning to use them is step one.
Hammers are a matter of personal preference
Early framers used the Plumb rigging hatchet for a hammer. Its perfect balance and long, comfortable handle made the hatchet easy to use for long days of constant nailing. But without claws, the hatchet was no good at pulling nails. So carpenters cut off the blade of the hatchet and welded on a set of claws. Guys started making these new well balanced wood-handle framing hammers and selling them from the trunks of their cars on job sites. Word spread, and demand grew to the point where beauties such as the Dalluge and Hart framers became favorites of carpenters all over the country.
The problem with wood-handle hammers is that they don't hold up well to a lot of tough nail pulling. I wrap several layers of electrician's tape around the top of the handle for reinforcement, but I still have to be careful when pulling nails. Steel-shank hammers such as the Estwing, with the head and handle made of one-piece solid steel, are great for nail pulling. However, some carpenters who use steel-shank hammers complain of arm and shoulder fatigue without the wood handle to absorb the shock of driving nails.
For more photos and details nailing basics, click the View PDF button below. 
From Fine Homebuilding #110
View PDF
Previous:
There's a Better Way: Third Hand Trick
Next:
Pulling stubborn nails