Unistrut Soffit Vent
This typically commercial building material makes for a modern, unconventional architectural detail.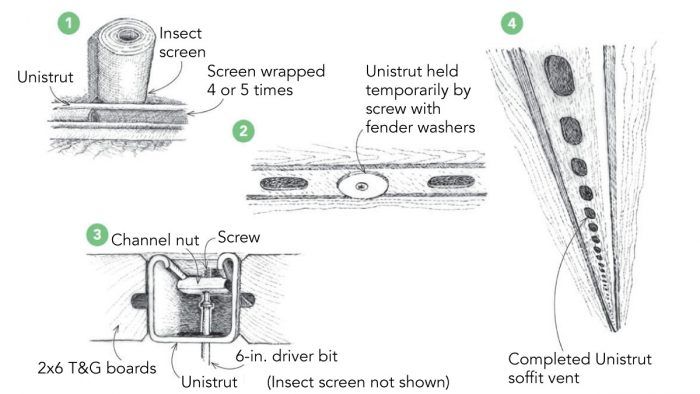 I needed a 1 5/8-in.-wide soffit vent in the overhang of a new building I was constructing. Seeing a piece of 1 5/8-in.-wide Unistrut (usually used for attaching pipes and conduit in commercial buildings) lying around, I mocked up a Unistrut vent, and the architect and client liked the idea.
We rolled lengths of 5-in.-wide insect screen into the Unistrut without a problem (1). To fasten the 20-ft.-long sections to their new home, we temporarily attached blocks to the 4×8 rafters, and anchored the strut with screws and 1 1/2-in. washers (2). Swapping these fasteners for the completely concealed ones was the most tedious part of the process. Needle-nose pliers, a long #2 bit, and many deep, calming breaths were required to finagle the Unistrut nut into its channel (3). The screen is continuous throughout the 20-ft. sections (4), with about 6 in. of overlap at the butt joints.
—Steve Pink, Portland, Ore.
Edited and Illustrated by Charles Miller
From Fine Homebuilding #282
Previous:
EZ Soffit Vent
Next:
Chimney Flashing