Ice Barriers Explained: What Materials Can You Use?
The IRC lists two options for an ice barrier, and others may be acceptable too.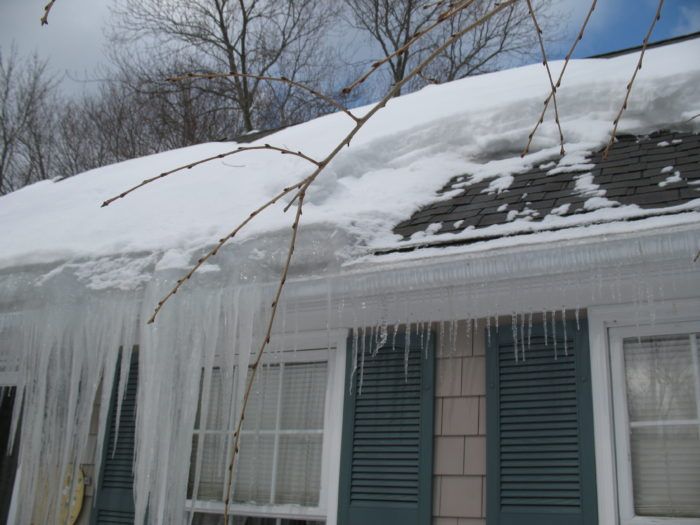 The term "ice barrier" as used in the IRC is a bit of a misnomer. An ice barrier isn't a barrier to ice forming; rather, it's a leak barrier that blocks water that backs up behind an ice dam from leaking inside the house.
Builders and roofers often refer to the membrane by product names or abbreviated product names like "Ice and Water Shield, "ice and water barrier," or "ice and water."
The IRC outlines what materials can be used as an ice barrier in section R905.1.2: "The ice barrier shall consist of not fewer than two layers of underlayment cemented together, or a self-adhering polymer-modified bitumen sheet."
I don't know of any installers sandwiching a coating of roof cement between two layers of underlayment, but that's an option. The code defines underlayment as "felt, sheathing paper, nonbituminous saturated felt, or other approved material." So the outer layers could be #15 tarpaper, #30 tarpaper, or any other underlayment material the local official approves. More likely, an installer uses self-adhering polymer-modified bitumen sheet. They're much less messy to work with than roof cement and faster to install.
Most products sold as ice barriers indeed are made from polymer-modified bitumen and comply with the building code as written. There are, however, some ice-barrier membrane materials sold that are not bituminous based. Some have a butyl or proprietary self-adhering/self-sealing layer. Those products generally obtain an ICC—Evaluation Service Report showing compliance with ICC—Acceptance Criteria 48 (AC48) Self-adhered Roof Underlayments for Use as Ice Barriers.
So before using an ice-barrier membrane, check to see that it has been tested and meets the AC48 standard and that the local building official will approve the use.
Check out the other parts of this series on ice barriers:
These articles and podcast episodes shed more light on the topic:
www.mikeguertin.com |  @mike_guertin
Previous:
Is an Ice Barrier Necessary for My Roof?
Next:
Ice-Dam Protection: How Far Up the Roof Slope?