Is an Ice Barrier Necessary for My Roof?
An IRC table lists whether or not an ice barrier is required, but not all roofing requires an ice barrier, even in ice-dam territory.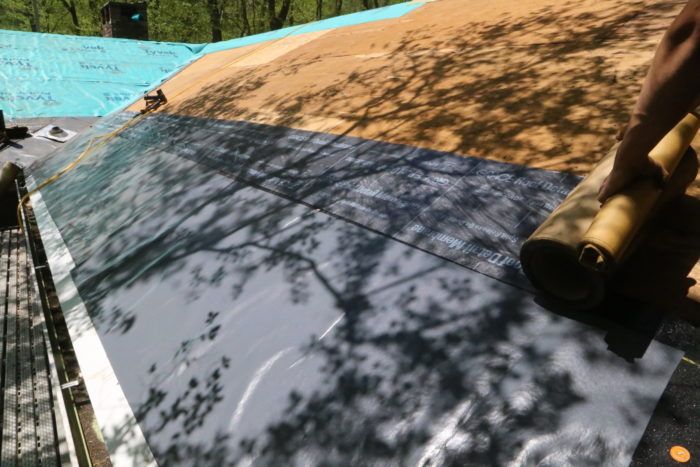 Ice-dam leak-protection membrane is required along the eaves of roofs in parts of the United States where ice dams have a history of forming. An ice dam is a thick rim of ice that originates along the edges of a roof when snow melts and then refreezes. You probably already know if you live and work in an area where ice dams occur, but you can verify whether an ice barrier is required by checking the local building code. Table R301.2(1) in your code jurisdiction's version of the International Residential Code (IRC) lists Climatic and Geographical Design Criteria.

In the block toward the upper right side of the table is listed "Ice Barrier Underlayment Required." Under the title your code jurisdiction should have filled in "Yes" or "No."
Ice barrier roof material is used to protect vulnerable areas of the roof as an added layer of protection against ice and water damage. Even if you don't live in an ice dam region, like Minnesota, Colorado, and Wisconsin, you may still consider ice barrier membrane for your home.
If you're having a roof replaced or repaired, request the builder use an ice barrier material. The membrane can also protect against tropical rain or other wet weather events, like those that are common along the East Coast.
Section R905.1.2 Ice Barriers (2018 IRC) outlines which roofing types require ice dam leak protection, what materials can be used as an ice barrier, and how far up the roof plane the barrier must be installed.
Not all roofing materials require an ice barrier. Roofing materials that do require an ice barrier are: "asphalt shingles, metal roof shingles, mineral surfaced roll roofing, slate and slate-type shingles, wood shingles and wood shakes." Though not called out in R905.1.2, PV roof shingles and building-integrated PV roof panels do require an ice barrier, and that is noted under the subsections for those materials.
I find it's interesting that concrete and clay tile roofs don't require an ice barrier.
Metal roof panels, built-up roofing, and single-ply roofing membranes also don't require ice barriers. And the code doesn't specifically list specialty manufactured roofing products like stone-coated steel and plastic roofing panels.  Most of those products will have an ICC-Evaluation Service Report that will either list the requirement for an ice barrier or refer to the installation instructions.  I checked a few products, and those that are lap-style individual shingles or overlapping panels require an ice barrier and often note following the building code requirement for ice barriers.
Check out the other parts of this series on ice barriers:
These articles and podcast episodes shed more light on the topic:
www.mikeguertin.com |  @mike_guertin
Previous:
Selecting Your Roof Underlayment
Next:
Ice Barriers Explained: What Materials Can You Use?