How to Install an Arc-Fault Breaker
Arc-fault breakers can reduce the risk of electrical fires. Watch how to swap out a standard breaker for an AFCI breaker.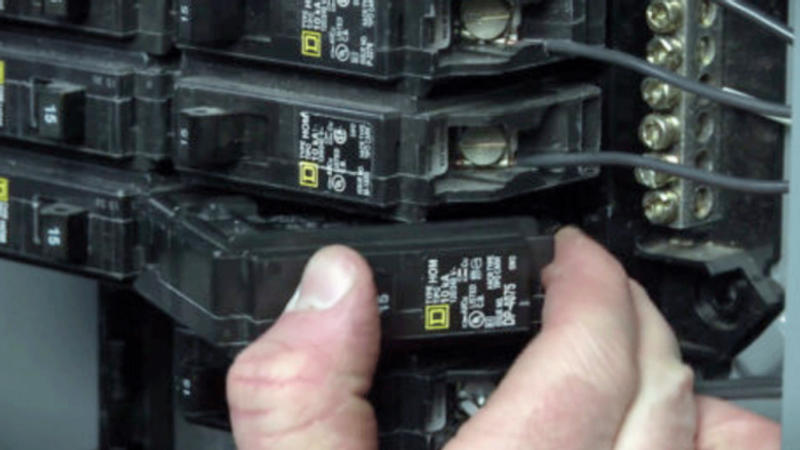 Swapping out a standard breaker for an arc-fault breaker is a straightforward process. Here's how:
Start by turning off the panel's main breaker, and test to ensure all circuits are dead. Then, disconnect the black hot wire from the breaker you want to replace, and lift up on the outer edge to remove it from the panel.
Unlike standard breakers, both the hot and neutral wires get plugged into an arc-fault breaker. Trace the disconnected hot wire back to find its corresponding white neutral wire, and follow the neutral back to the neutral bus and disconnect it.
To wire the arc-fault breaker, connect the white neutral wire to the silver-colored neutral terminal. Then connect the black hot wire to the brass-colored hot terminal. Then seat the breaker into the panel.
If your arc-fault breaker has a white pigtail, connect this pigtail to the neutral bus, just as you would a regular neutral wire. Panels equipped with a "plug-on neutral" allow arc-fault breakers to connect directly to the neutral bus without a pigtail.
To complete the installation, turn on the panel's main breaker and the arc-fault breaker. Then test out the hot-wire connection to ensure current is flowing.
For more on arc-fault circuit interrupters, check out these links:
Previous:
Installing an AFCI Breaker
Next:
Can I convert a 220v stove circuit into two 110v circuits?