Tools & Materials
Tools for Wiring Rough-In
In addition to the standard electrical tools, this is the equipment you'll need for rough-in work.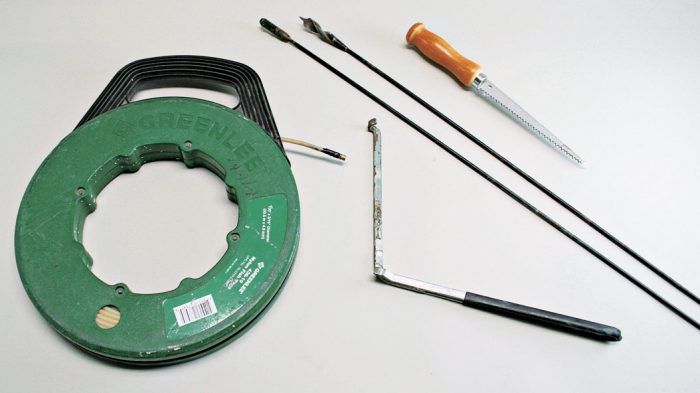 Many of the tools you'll need for rough-in wiring are the same as those discussed in "Hand and Power Tools for Electrical Work", so here we'll focus on tools that make rough-in easier and more productive. All hand tools should have cushioned handles and fit your hand.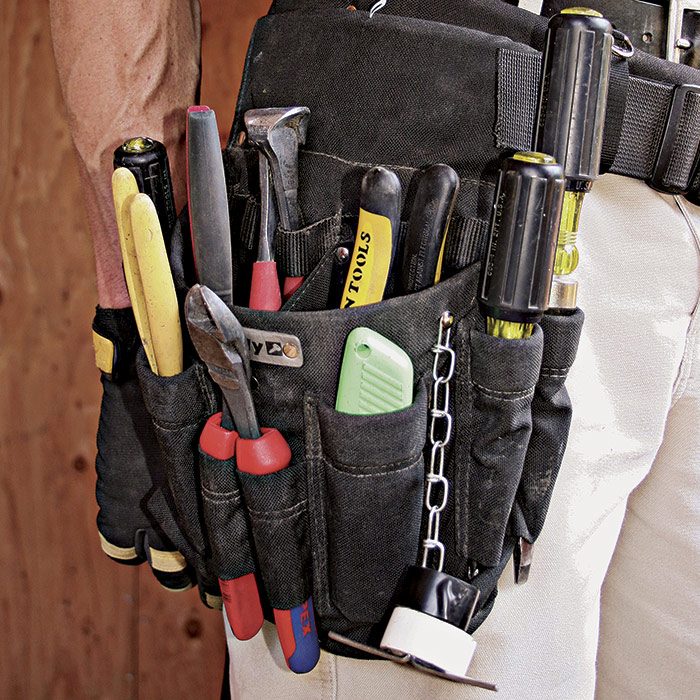 Safety tools include voltage testers (a noncontact tester and a probe tester), eye protection, work gloves, hard-soled shoes, kneepads, a dust mask, and a hard hat. Hard hats are clunky but essential when you're working in attics, basements, or any other location with limited headroom. Every job site should also have a fire extinguisher and a first aid kit visibly stored in a central location.
Adequate lighting, whether drop lights or light stands, is essential to both job safety and accuracy. If a site is too dark to see what color wires you're working with, your chances of wrong connections increase.
Sturdy stepladders are a must. In the electrical industry, only fiberglass stepladders are OSHA compliant because they're nonconductive. Wood ladders are usually nonconductive when dry, but if they get rained on or absorb ambient moisture, wood ladders can conduct electricity.
Shop vacuums, push brooms, dust pans, and garbage cans help keep the workplace clean. And a clean site is a safe site. Clean up whenever debris makes footing unsafe, especially if you're cutting into walls or ceilings. Plaster lath is especially dangerous because it's loaded with sharp little nails that can pierce the soles of your shoes.
Layout tools include tape measures, spirit levels, chalklines, and lasers. Rough-in is a misleading term because there's nothing rough or crude about locating fixtures or receptacles—layout is very exacting. For that reason, levels and plumb lasers are indispensable when laying out outlets A.
The most-used hand tools are the same pliers, cutters, strippers, levels, and screwdrivers mentioned throughout this book. It's also handy to have a wire-nut driver B if you've got dozens of splices to make up. There's also a nut-driver bit that fits into a screw gun C, but it tends to overtighten wire connectors if you're not experienced in using it. If you'll be cutting into and patching plaster or drywall, get a jab saw (drywall saw), a utility knife, and a taping knife. A flat bar (for prying) and an old, beat-up wood chisel are always busy in remodels, too.
| | |
| --- | --- |
| C) A nut-driver bit speeds up splicing, but be careful not to overtwist wires. | |
Power tools help speed many tasks. Always wear eye protection when using them. A screw gun is preferable to nailing most of the time because you can easily remove a screw if you want to reposition, say, an outlet box.
A right-angle drill with a 1⁄2-in. chuck is the workhorse of rough-in wiring because it has the muscle to drill through hard old lumber. If you will be drilling through nail-infested wood, get a "nail-eater bit"; a number of companies make them. If you use a standard 6-in.-long auger bit, the drill head and bit will fit between studs and joists spaced 16-in. on-center. It enables you to drill perpendicular to the framing to make wire pulling easier. Longer bits also have their merits: An 18-in. self-feeding auger bit D bores easily through several studs or doubled wall plates; it is also long enough that you probably won't need a ladder to drill through top plates.
To cut larger holes in plaster or drywall—say, to retrofit pancake boxes or recessed light cans—use a fine-toothed hole saw.
Use a jab saw or an oscillating multi-tool to cut individual box openings into finish surfaces. Use a Universal E-cut multi-tool blade to cut through finish surfaces. When cutting through plaster lath, alternate cuts on each side of the opening rather than cutting one side completely. This will keep the lath from fluttering and cracking the plaster. Use a reciprocating saw to cut through framing or through plaster lath to create a wiring trench.
Use a demolition sawblade to cut through wood that contains nails or screws. It'll hold up to such heavy work.
There are a number of specialty tools designed to ease rough-in. A wire reel, a rotating dispenser that enables you to pull cable easily to distant points, is worth having. Reels hold 250 ft. of cable E. A 25-ft. fishing tape—a flexible steel, fiberglass, or nylon tape—enables you to pull cable behind finish surfaces F. In most cases, however, it's simpler to use a flex bit to drill through framing in one direction.
| | |
| --- | --- |
| | F) Remodel wiring tools. From right: drywall saw, flex bit, extension, flex bit steering guide, reel of fishing tape. |
A 48-in. drill extension will increase the effective drilling length of a flex bit. Use a flex bit steering guide to keep the flex bit from bowing excessively.
---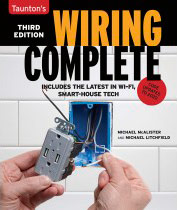 Excerpted from Wiring Complete, 3rd Edition (The Taunton Press, 2017) by Michael Litchfield and Michael McAlister
Available in the Taunton Store and at Amazon.com.
Previous:
The Indispensable Digital Multimeter
Next:
Easy-Read Wire Strippers