Tools & Materials
Deck-Building Safety Gear
As on any construction job, you'll need to protect your ears, eyes, and lungs when building a deck.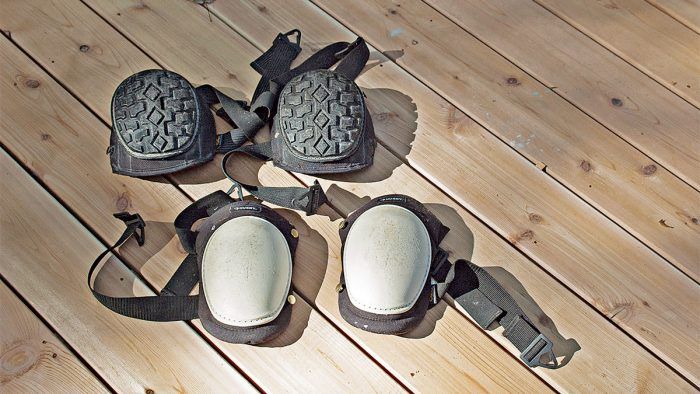 Talk to any carpenter who learned the trade 30 or 40 years ago and you'll probably have to shout. Chances are good his hearing was damaged in the days when ear protection was all but unknown. When you consider that a handheld circular saw puts out 110 decibels—almost as loud as a turbo-fan aircraft passing 200 ft. overhead—it makes sense to wear ear protection.
EAR PROTECTION. Foam earplugs that expand in your ear offer the best protection, though they also can fall out easily and are often uncomfortable. Earmuff-type protection is the next best option. Earplugs on a headband or cord are the most comfortable but offer the least protection. Whatever your choice, something is always better than nothing.
Of course, your hearing is not the only thing you want to protect. Get a bit of sawdust in your eye and you can easily imagine the effect of small bits of metal or rock. Concrete dust is caustic, as is sawdust from pressure-treated wood—both good reasons for respiratory protection. Splinters can be the very devil to remove. Why not wear gloves when hefting lumber? And how did we ever get along without kneepads? They not only protect knees from injury, but they are also just plain comfortable.
SAFETY GLASSES. Wraparound safety glasses offer the most protection. Since you are working outdoors, it makes sense to use the tinted variety and look cool while you are being safe.
RESPIRATORY PROTECTION. Here's another category where comfort clashes with effectiveness. Disposable fiber masks with elastic bands are reasonably comfortable but do not provide protection from very fine dusk. True respirators are hot and clunky but more protective.
GLOVES. Use gloves to suit the task. Hefting beams or bags of concrete calls for leather gloves. Thinner gloves act like an extra layer of skin, providing protection while allowing the use of fine motor skills.
That said, here's an unfortunate wrinkle with safety equipment: It can sometimes get in the way. For example, a respiratory face mask can fog protective eyewear, especially in the hot, humid weather common to deck building. Obscured vision while using a circular saw can be an even greater hazard. By the same token, gloves protect your hands from splinters and cuts but make it awkward to handle power tools. Exercise your own good judgment in such instances—always keeping safety paramount. Regardless, always follow safety instructions printed on the tool or in its accompanying literature. If you are uncomfortable with a tool or task, stop and seek advice on how to proceed safely.
TIP
Stiff, treaded kneepads do a fine job of protecting your knees, but they'll wreak havoc with softwood, marring the surface with hundreds of impressions. Choose smooth-surfaced kneepads instead.
More about safety:
Ladder Safety  – Follow these 5 procedures to stay safe on any ladder.
A Safer Job Site – OSHA and NAHB team up to identify the key safety issues for residential builders.
Previous:
A Deck Builder's Tool Kit
Next:
Deck-Building Ladder Safety