Deck-Stair Layout 101
This video tutorial uses a SketchUp model to calculate stringer layout.
This video uses a SketchUp deck model to provide a look "beyond the math" into how rise, run, and angle dimensions are applied to stair-stringer layout to answer these questions and more.
Beyond the math
With dozens of stair calculators like those at blocklayer.com available online, doing the math to figure rise and run for a set of stairs is a simple matter. Enter job-site dimensions, click "enter," and presto: you have an instant list of stair-layout figures. For seasoned carpenters, the hard part (doing the math) is over. It's off to the sawhorses to lay out, cut, and assemble. If this is your first stair building project, using those figures for stringer layout is another matter. Questions need to be answered:
How do I lay out for nosing?
What IS nosing?
How do I adjust for stair-tread thickness?
How are stringers cut to attach to deck framing?
Where do I start?!
Building code disclaimer
Many building codes apply to deck design and construction with numerous specific requirements for deck stairs alone. The information in this tutorial is limited to giving insight into stair-stringer layout, leaving application of local building-code requirements up to the individual carpenter.
Model deck
The complete SketchUp 3D model created for and shown in this blog post is available from the Trimble SketchUp component warehouse by clicking here. It was a fun model to create and I hope it's useful for you in planning and doing layout for your first deck-stair project.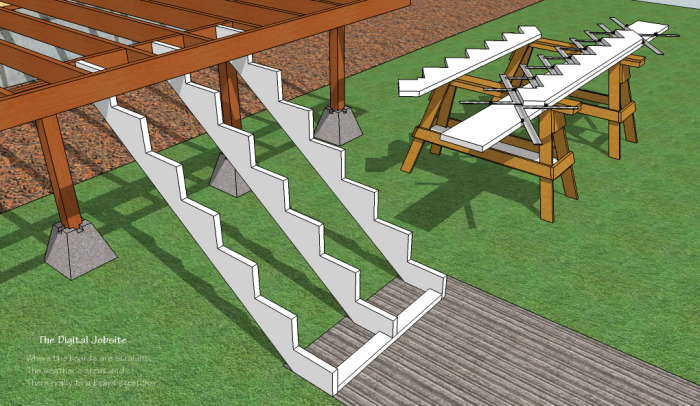 Getting down with stairs
As mentioned in this blog post, my earlier Stairmathter Series has additional stair-building and design information, geared more toward interior stairs, that you may find helpful in understanding stair-construction geometry, math, building, and design. Beyond that, the Steps in the Right Direction contains more information yet. All this info should help you get down with the low-down for stair design, layout ,and construction, or at least give you a respectable start in the process.
Previous:
Build an Elevated Deck Series: Building Basic Deck Stairs
Next:
Best Practices for Building a Deck-Stair Landing