How-To
Custom Details for a Grade-Level Deck
Dress up a small deck with a custom bench, a privacy wall, and skirtboards.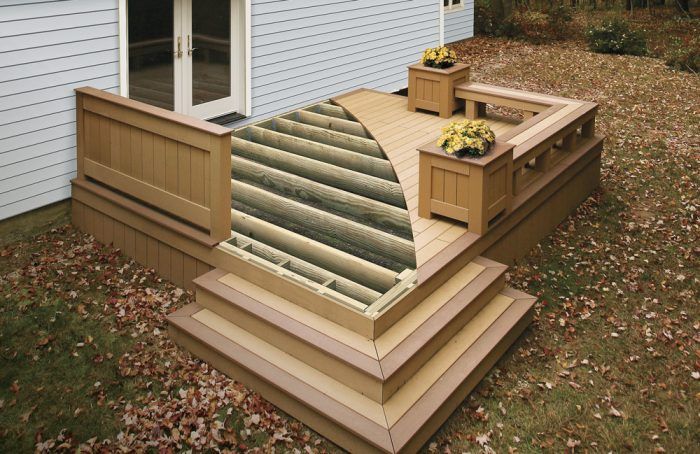 Built-in seating on a deck not only defines the perimeter of the deck, but it also provides a great place for folks to relax. We used the same decking, trim materials, and border pattern so that the bench would blend in with the rest of the deck.
| | | |
| --- | --- | --- |
| Place post sleeves before installing the bench frame. Rip trim stock with a 45° bevel, then assemble sleeves with two-part acrylic adhesive and stainless-steel micropins. | Use placeholders. To locate the first board on the seat, space all three boards with loose deck clips to produce the appropriate overhang. Set the clips, drill pilot holes along the outside, drive in the screws, and plug the holes. | Trim the edges. Cover the edge of the 2×4 frame with trim ripped to 4 in. wide and fastened with color-matched trim-head screws. |
A half-wall creates privacy off the deck for a grill, recycling bin, or hose reel. Drill pilot holes before screwing together the 2×2 frame. After attaching 1/2-in. pressure-treated plywood on one side, apply joist tape where the joints for the vertical boards will be. Space boards 1/8 in. apart, and fasten with color-matched stainless-steel screws.
---
Check Code: Decks that are higher than 30 in. off the ground must have guardrails with a top rail at least 36 in. high. Some jurisdictions measure the guard height from the surface of built-in seating; others measure off the deck surface. Check to see how your local building department applies the code.
---
Start with a simple base. Size a 2×2 frame to fit between the two trimmed-out posts, but make it 3 in. shorter than the post height to create a gap at the bottom.
Screw the panel to the posts. Raise the half-clad panel on top of 3-in. spacer blocks, and align it 1/2 in. From the post cover edges. Drive screws through the 2x2s into the posts to secure the panel. Cover the unclad side with black tape, and install vertical trim boards.
Finish with trim. Screw the same trim material used to clad the wall to the top and bottom of the panel. For contrast, cap the top with one of the darker trim boards.
---
Dress up the perimeter
Our design called for the perimeter of the deck to be enclosed by a skirt made from 5⁄8-in.-thick composite trim boards installed vertically. To create nailing for the skirt, blocking hangs from the side joist.
| | |
| --- | --- |
| Appearances matter here. To keep a consistent gap between each board, use a trim-head screw as a spacer at the top and bottom. Cut the skirtboards to reach from the top of the deck frame to grade, which can vary around the deck. | |
Photos by Charles Bickford, except product photo by Dan Thorton; drawing by Toby Welles, WowHouse.
To see how we built this entire deck, read the article:
The Complete Guide to Building a Grade-Level Deck
Next:
Building a Privacy Screen