Rethinking the Deck
After spending countless days in our homes, we've begun to view decks as a more versatile "room" of the house, with many design considerations.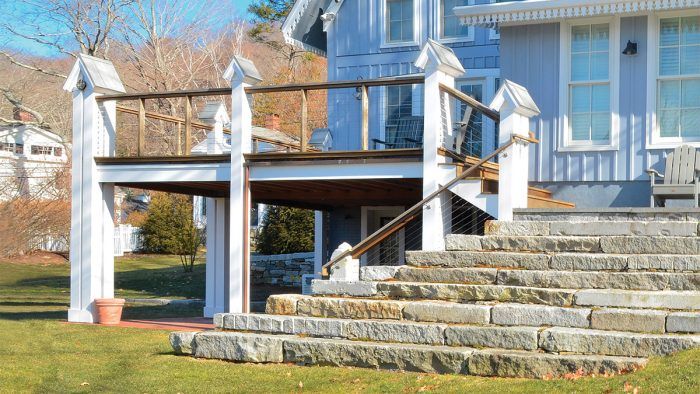 Synopsis: The COVID-19 pandemic forced many people to spend more time at home than they ever had before, which means our perceptions of our homes have evolved. The deck, once an ad hoc wood structure, can now be a versatile room in the house, if it is designed well, with these key questions in mind.
---
In 2020, we began seeing things differently. Porches are no longer just decoration for our front doors—we use them. Our terraces that were formerly employed for weekend gatherings are now enjoyed most days the weather allows. And we no longer see decks as just a way to expand our home's interior; they are fast becoming as important as any other room in the house.
For three generations, most home builders thought of decks as part of a simple binary: the outside to a home's inside. Decks have historically been used as social places, but if we have learned anything from living, working, schooling, and socializing at home this past year, it's that we use every part of the place we live in multiple ways, and the evolution of our decks will be part of that. A year of looking at our homes differently has helped us discover that our decks can be used for more than just socializing outdoors. How do we change our decks to respond to our new focus?
The good and the bad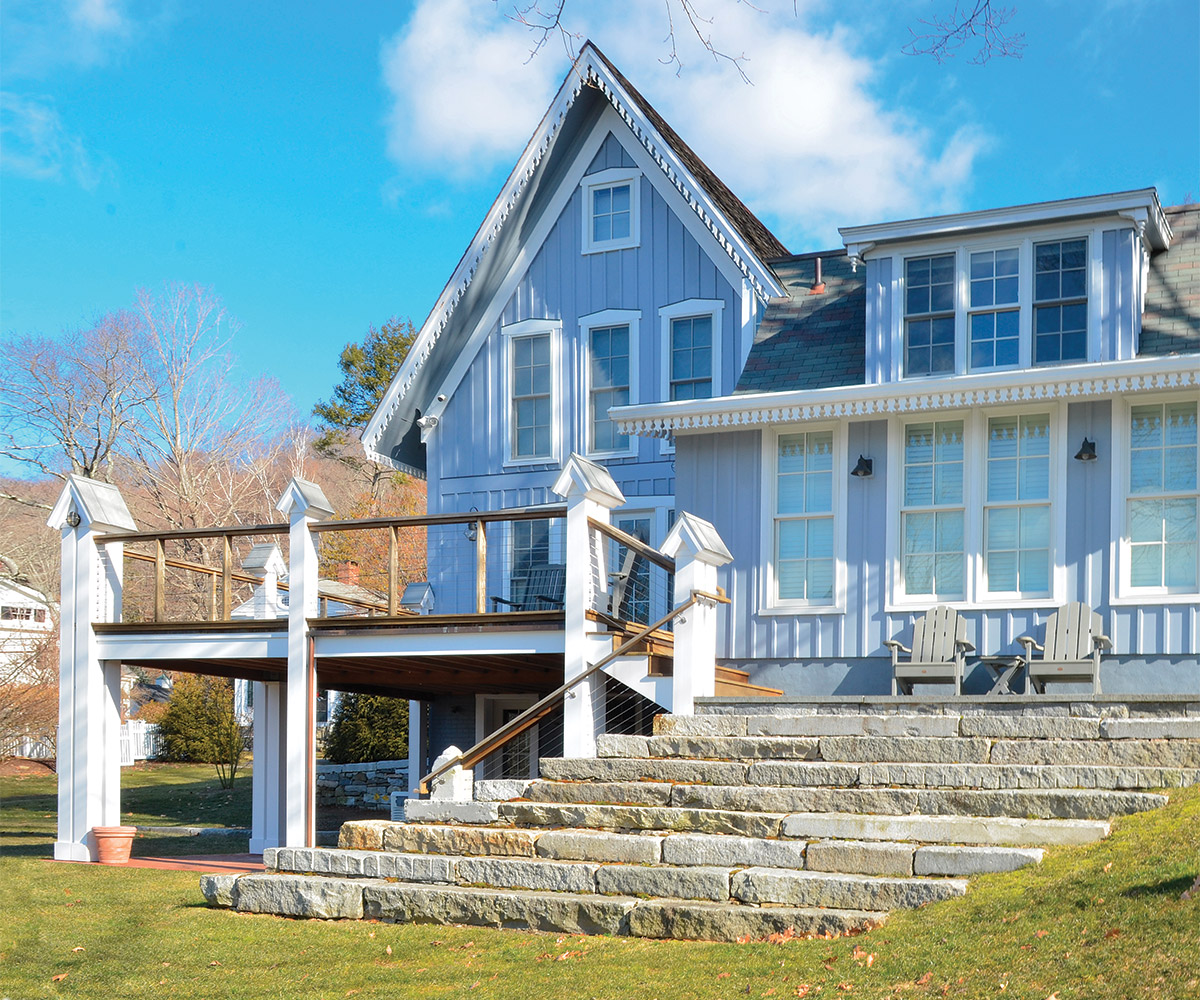 The benefits of decks are obvious. Decks are less expensive than the finished spaces inside a home, and quicker to build, plus they offer an expanded livable area in fair weather. The downsides are also clear to the thoughtful homeowner. Poorly designed decks are all around us and have been tacked on to millions of homes over generations. These crude constructions are as ugly to look at from inside the house as they are ad hoc and awkward in the landscape they're intended to complement.
As our perception of our homes evolves, these traditional decks have less worth than they've had in the past. Hanley Wood's Cost vs. Value 2020 survey showed a decline in retained value in recent years. Simply extending the floor plane off interior rooms is no longer enough.
Plus, the standard, pressure-treated lumber used to create the average deck may be relatively cheap, but it cracks, splinters, and moves in ways that are brutal to touch, or even to walk on. When things pop and crack, it's not just ugly, it's dangerous. All the artificial materials of plastics and composite woods are, well, artificial. But the beauty, soft density, and wonderful stability of teak, ipe, or ironwood come at a price (and can burn feet in a southerly exposure). Thinking about cost, exposure, and use before throwing a deck onto a home maximizes the value of what is built.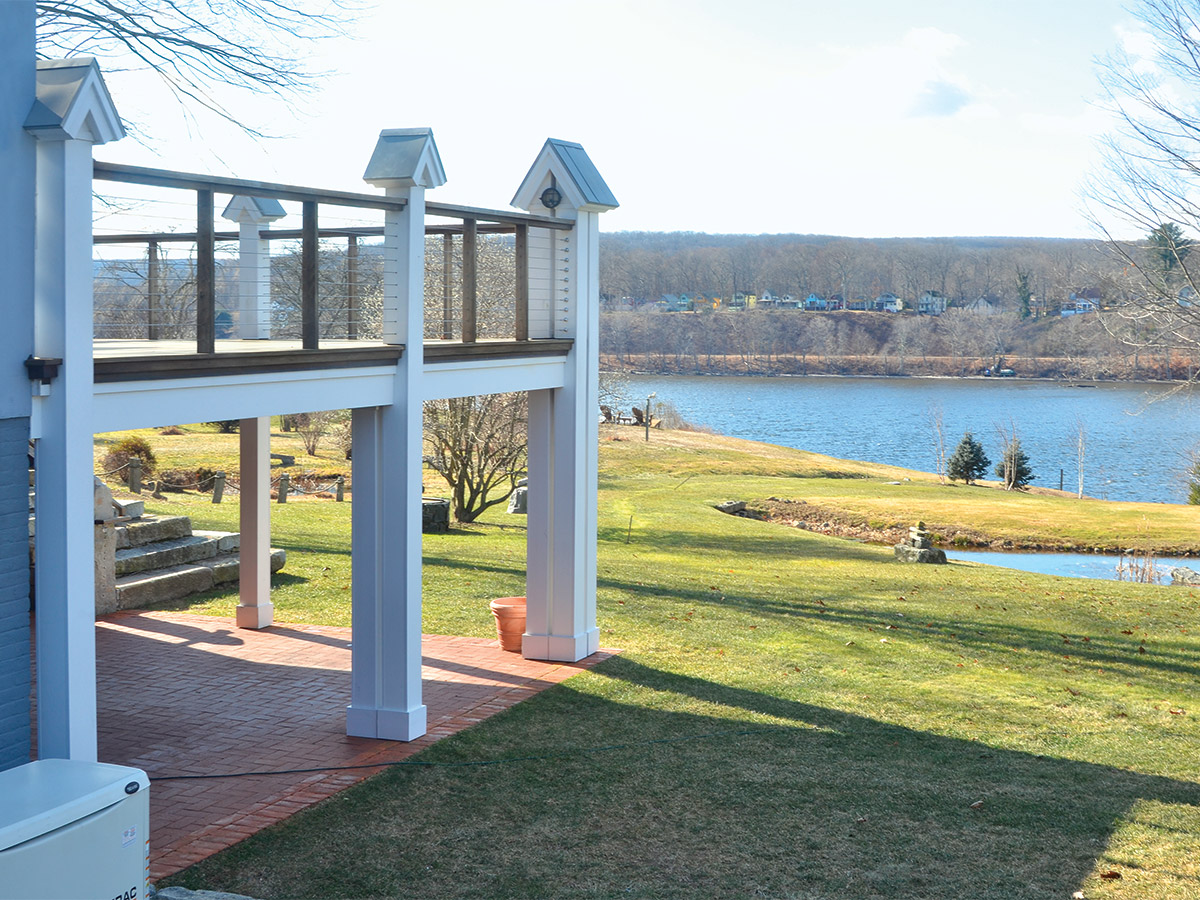 Think of it this way
The average deck was never intended to offer up the functional versatility many of us have tried to wring from them during a year of forced confinement. We have spent endless 24-hour days in our homes, rather than just using them as nighttime respites or weekend retreats. It's likely that decks will come to have the same level of thought put into their design and execution as the rest of a house in terms of how they are seen, touched, and experienced. Here are some considerations to address the possibilities:
What do you see from your deck?
If the view is a good one, railings of cable or glass can make the edge of the deck just a physical barrier rather than a visual one—and orienting stairs down in front of a view removes that barrier entirely. Conversely, if what is seen is either ugly or disrupts your privacy, solid walls or plantings can provide enclosure while connecting to the outside.
Where is the sun?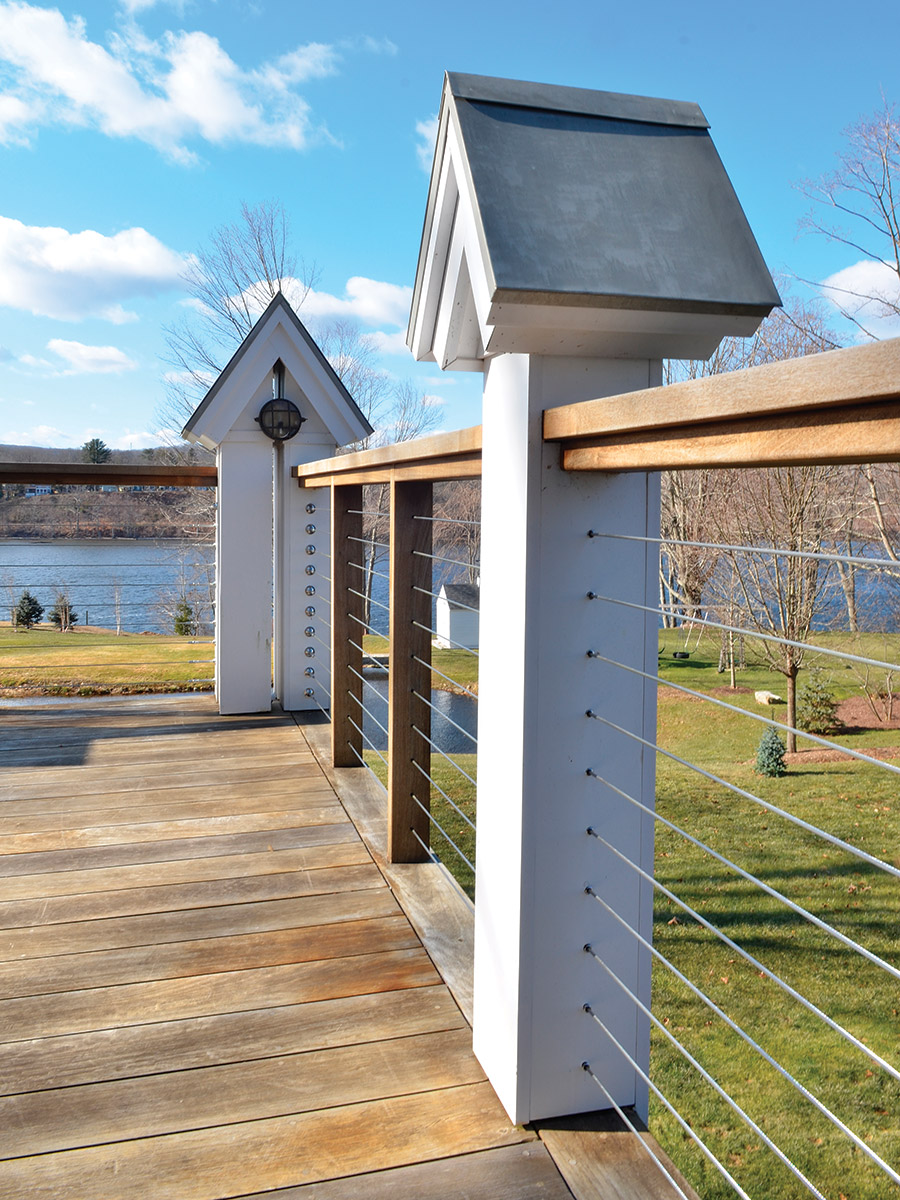 A south-facing deck will bake people in the summer and be delightful in the winter. Overhangs need to shade when the sun is high and let light in when it is low. East and west also make mornings or sunsets delightful (east for the former, west for the latter). But the absence of light makes those orientations pretty dim when sun leaves them. And northerly exposure creates mold but offers shade, a gift in southerly homes.
Do you want to see your deck when you are inside your home?
Having to constantly look at a deck you can't use in cold or inclement weather can be a real bummer. If you are creating a new deck, provide access and orientation to avoid direct visual integration to your home's interior. There are two essential ways to avoid the sad view of an unusable deck: First, orient its floor area away from windows by studying the floor plan of the home objectively. Second, where possible, drop the deck level to mitigate the deck's presence as seen from inside.
Steps are not just a way down; they open up space visually. As previously mentioned, if you can orient steps in front of doors and windows, there will be no railing system blocking your view. A landing outside the door with steps to a lower-level deck beyond opens up the view from inside. Plus, steep steps are scary and dangerous, and the classic 3-ft.-wide gangplanks that funnel people up and down single file actually inhibit connection to the yard. The typical deck that's even with or a step down from the home's floor level elevates the deck above the outside world, but it doesn't provide a great transition to it; a lower-set deck has a better relationship to the landscape and better integrates the home with it.
What will you touch on your deck?
Material—natural or painted, wood or steel, organic or institutional—can create a place that delights your eyes. If your deck is the extension of your home's interior, material choices matter. If you will rest your hand on a railing or wall top, it might justify the added cost of a denser, tighter, softer-to-the-touch material. This also applies to walking barefoot on the deck. If you sit directly on your deck, the decking itself may cry out for a material upgrade from pressure-treated wood, to avoid its warps, cracks, and screws. Denser woods, composites, or plastic products offer a smoother, flatter material that responds better to touch. All of the deck's surface materials can make it as visually rewarding as any space in your home, or as depressing as your attic or basement.
"…we no longer see decks as just a way to expand our home's interior; they are fast becoming as important as any other room in the house."
Where do you sit, and what do you do on your deck?
If you are eating, how big is the table? If you only need a table for four, it is easily moved. If there is a family table for eight, the table will block views and need a permanent, fixed area to allow it to be easily used. Where is the kitchen or barbecue? If you are working, where is the sun, the power, the shade? What you build at the sides and over your deck can control those things. Where you sit orients your eyes: the farther from a railing, the more the view is obscured. If a deck's railings can be less enclosing, and its steps can more effortlessly transition to the landscape, a deck can be part of your home's site, rather than something built over it.
Let there be light (and power). Electricity can extend the usability of decks, adding nighttime lighting, allowing workday use, and even creating comfort in the cold (heaters) or the heat (fans). Deck design can adapt to how we use decks, but the location of electricity has become critical. Integrating outlets into deck railings, floors, or exterior walls of the home is easy if you think of it before you build— retrofitting conduit and boxes is just another average-deck disappointment for those who want their deck to be a visual extension of the fit and finish of their home.
Make it fire friendly. Many of us have found great joy in leaving our screens at the end of the day and focusing on the simple beauty of a fire in a fire pit—in much the same way that we like watching the water from our homes. Wooden decks and open flame are clearly not a good combination, but UL-listed "fire features" are available that are safe (just make sure to hide the gas canister). Another option is to change levels down to a masonry terrace or patio below and set up your fire there.
Cook with gas. Just as fire pits have become more popular, so too has cooking—everyone has probably cooked more in the last year than any other year in our memory. While barbecuing is nothing new, the capability to cook outdoors on a regular, even daily basis means that any number of gas appliances and outdoor kitchens can be a determination of how our decks are designed, and what we see from inside our homes.
The respite and connection to the outdoors a deck provides are more valuable than ever before, as the COVID-19 pandemic has more consciously forced millions to be part of their homes, both inside and outside. Unless designers think about the possibilities, users regret what was not offered. It is no longer enough to just "get out" on a deck.
Fads and trends mean that today's black trim may scream 2020 in a decade, but rethinking how we design and make decks is part of a wholesale evolution in how we use our homes. Either we learn from how we now see and use our homes, or we build future renovations into the homes we create today.
Duo Dickinson is an architect in Madison, Conn.
Photos: Victoria Hill, courtesy of Duo Dickinson
From Fine Homebuilding #298
Related Links:
Next:
7 Ways to Design a Better Deck