A Field Guide for Prefab Railing
Manufactured deck railings are fast to assemble and look great.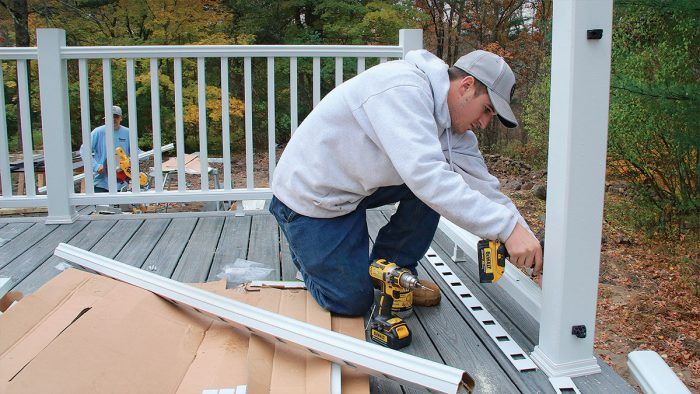 Synopsis: Award-winning deck builder and carpenter Joe Ciaraldi gives step-by-step instructions for assembling prefabricated deck railings. Using the Trex Transcend line of railings that won't rot or warp, Joe includes tips and tricks to ease the process of installing all the railing parts: posts, upper and lower rails, balusters, and post caps. The article includes an additional step-by-step for installing sloped railings, and describes the process of creating curved deck rails.
---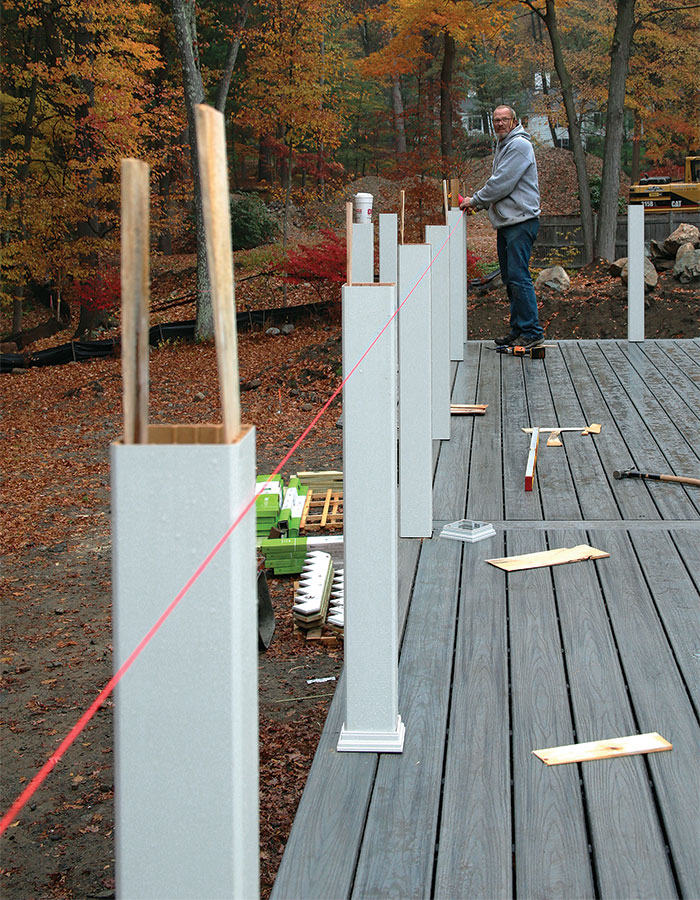 My Salem, New Hampshire-based remodeling company builds a lot of decks. Given our harsh New England weather and insistence on high-quality products, we almost always install manufactured railing parts rather than using wood. We've used several brands over the years, and all have performed well. Generally speaking, the way the various manufactured railing systems are constructed is pretty similar, but we prefer the Trex Transcend line because of the wide range of available rail and baluster styles and colors. The top and bottom rails, post sleeves, and balusters are made from Fibrex, a fiber-composite material made by Andersen Windows (used on their patio door sills, among other products). The railing components come boxed and prefinished, and installation is straightforward. Best of all, our clients like the look of the finished railings, the maintenance­-free system, and the option to integrate low-voltage lighting if desired.
A relatively simple white guardrail free of curves, angles, or sloping sections runs about $175 per section in material costs. Colors cost more, as do more complicated layouts. The railings depend on 4×4 pressure-treated posts spaced every 6 ft. to 8 ft. The rail lengths are based on the on-center spacing, so they are are actually 67-1/2 in. and 91-1/2 in. long, which is important to keep in mind when you're ordering components and installing the posts. Because Trex designed the rails to work with multiple baluster styles, you'll find that baluster kits include style-specific matched inserts that snap into the universal top and bottom rails to space the balusters. We're careful to accurately order all the parts plus one or two extras of each because it usually takes a few days for our local lumberyard to deliver an order.
For more photos and details, click the View PDF button below:
View PDF
Previous:
Manufactured Deck Railings Make for an Easy Installation
Next:
Build an Elevated Deck Series: Assembling Deck Railings