Design
How to Produce Deck Plans
Scaled drawings will help you clarify your design ideas, avoid mistakes, and get one step closer to building your dream deck.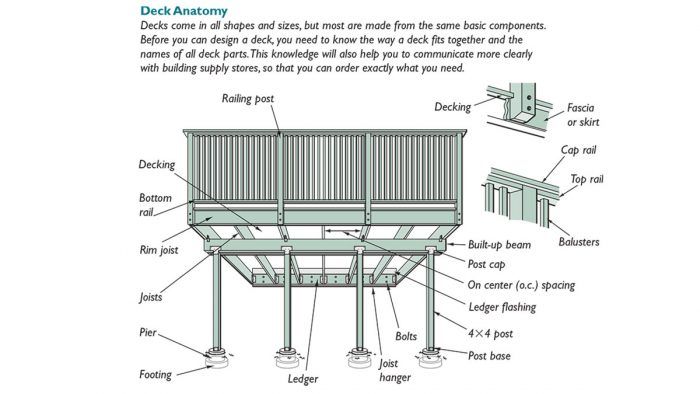 A set of plans—or prints—is the map that everyone involved in a building project uses to arrive at a common destination. Putting all the dimensions and details down on paper removes most of the guesswork and minimizes the chances for misinterpretation. Getting your ideas down on paper (or on screen) helps you to clarify your thoughts about the design; sometimes problems become obvious only when they are taken from the concept stage and translated into actual lines on paper. And of course, scaled plans will also be required by most local building departments before you can obtain a permit for construction.
So who should produce these plans and do the design work on your deck? Here are your alternatives:
You—No one knows better what you need and besides, designing a deck can be fun.
An architect—Architectural services can be expensive, but may be necessary for difficult or complex situations.
A designer—Although designers charge less than architects and should be adequate for most decks, they may be harder to find.
A contractor—Contractors are usually experienced, but may offer only simple designs.
The truth is, you should be able to design your own deck. As the homeowner, you're the one who best knows how the deck will ultimately be used. All you need is a little tutoring in the planning process, along with some reassurance that your ideas are viable, practical, and relevant. And a deck is an excellent way to hone your design skills.
Admittedly, not everyone has the facility, experience, or inclination to mentally manipulate three-dimensional ideas. This process comes naturally for some folks, only with practice for others, and not at all for a few.
Of course, if you still feel the need for professional help with your deck design, you have several options. Architects have the most resources to offer and are an obvious choice, but design fees can eat significantly into the overall project budget. However, if you are planning an extensive or complicated deck that must blend with local architectural styling, then an architect's help may be a necessity. If you do choose to work with an architect, find one with plenty of residential experience and references from clients with projects similar to yours.
Designers who are not licensed architects may be better suited to help you with your deck. Some may work exclusively for a specific contracting company; others may be part of an independent design company. Depending on the locality, designers may be subject to certain legal limitations, such as project size or the issuing of engineering specifications.
Many contractors do design work at a nominal cost. Although most contractors will design only for projects they will actually be constructing, some may be willing to provide a design on a fee basis. If you do decide to hire a contractor to design your deck, look for those who specialize in deck design and construction; they should be able to present a portfolio full of past deck projects and plenty of good ideas. Another source may be landscape contractors who get involved in exterior projects such as decks and fences.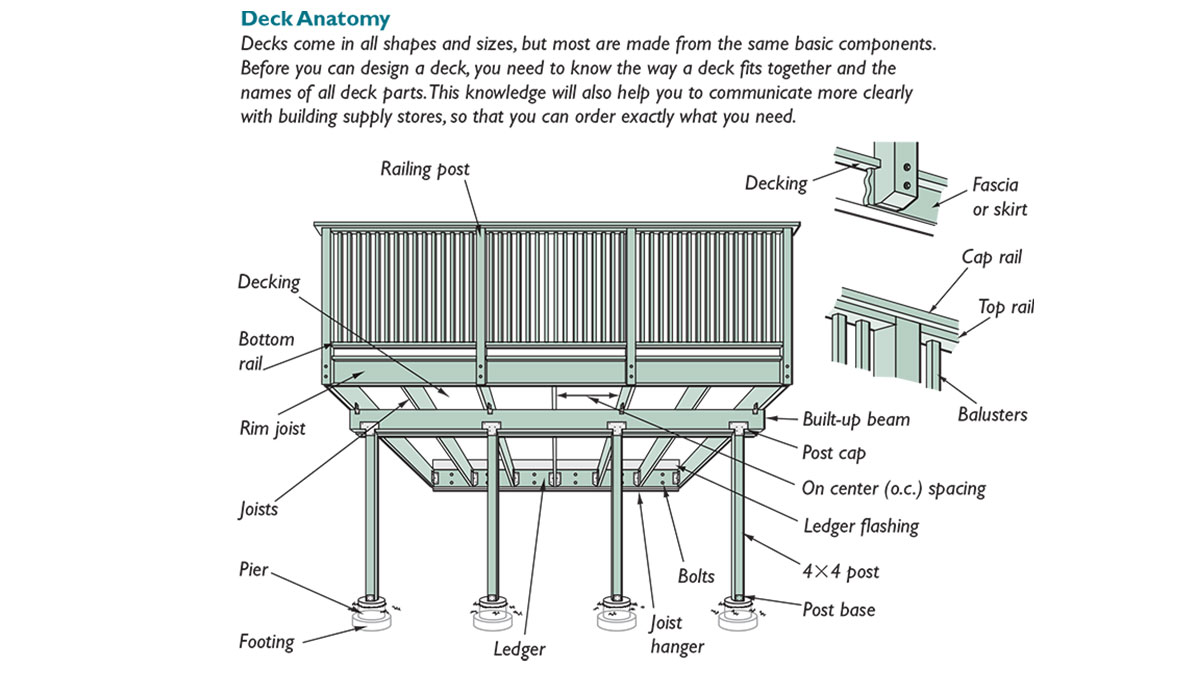 The design process
Before starting to draw, you should prepare a written list of all the general and specific requirements—some obvious, some not—for your deck. Carefully observing your daily habits will help you clarify which of these requirements are essential to you and which are pipe dreams influenced by fashion. For example, many times when I'm working with clients on a design, they'll describe a particular feature that they'd like on their deck, but can't tell me why that feature is important to them. Often as not, they want that feature because they "saw it in a magazine." While this may be justification enough in some cases, the feature may lose its luster once the extra expense or wasted space has been scrutinized.
The list of what you expect from your deck might begin with simply wanting a comfortable place to relax at the end of the day or a safe and visible play area for growing children. If you like to drink coffee and listen to the birds in the morning, this might call for a smaller, more private deck rather than one suitable for entertaining large groups on the weekends. Do you hope to increase the value of your home for resale, or is this deck fulfilling your immediate personal needs? Is there a crumbling patio or an ugly oil tank that needs to be hidden? If you live in a rainy area, do you intend to be able to use the deck when it rains? Will your deck require lighting for nighttime use?
Previous:
How Big Should Your Deck Be?
Next:
How to Create a Site Plan