How-To
Decks That Stand Up to Wildfire
Use these fire-resistant materials and smart landscaping strategies to help your deck survive.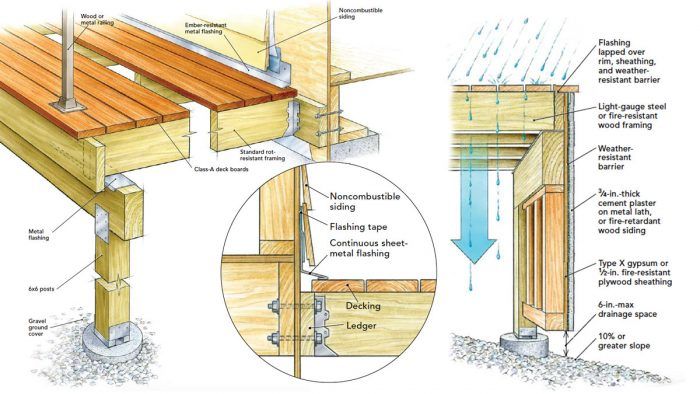 Synopsis: Living and working in a dry part of Texas, architect Paul DeGroot is very familiar with International Code Committee's Wildland-Urban Interface Code, which governs exterior construction in wildfire-prone areas. Because decks are typically wooden structures, they are frequently the bridge that carries wildfire to the house. DeGroot details three progressively more fire-resistant methods of deck building that can minimize the chances of a forest fire spreading to a house.
---
Think about it. In the event of a wildfire, a deck is a giant surface that's likely to get peppered with wind-borne embers. If the deck catches on fire, the house is probably next. Not even brick or stucco siding can prevent a deck fire from shattering the glass in patio doors or windows and igniting a home from within.
With the spate of disastrous wildfires across the country in recent years, local building and fire codes may demand fire-resistant decks on lots that border undeveloped land at risk for wildfires. Fire marshals and code officials know these locations collectively as the wildland-urban interface (WUI). According to a 2013 report by the International Association of Wildland Fire, 46 million homes are situated in WUI zones. Particularly in the Rocky Mountains and the Southwest, the spread of housing into low-elevation forested land has resulted in nearly every urban area having a large ring of WUI. Multitudes of decks are already in harm's way, and more are being built all the time.
Code requirements vary with jurisdiction
The most comprehensive code written to reduce the hazard to life and property from fire in wildland settings, including preventive measures pertaining to decks, is the International Code Council's International Wildland-Urban Interface Code (IWUIC). Based on an area's terrain, fuel type (trees, grasses, etc.), fuel abundance, and the number of days that critical fire weather occurs annually, the IWUIC defines fire-hazard severity classifications of moderate, high, and extreme. Local jurisdictions (building or fire departments, for example) use this information to map their particular zones of wildfire risk.
Where in force, the IWUIC requires ignition-resistant construction for a home's exterior components, including decks and other projections. The details depend on the fire-hazard severity, the water supply, and the distance between the home and vegetative fuel (known as defensible space). Although the ignition-resistant construction specs are divided into three categories—class 1 (most resistant), class 2, and class 3 (least resistant)—the requirements for decks are identical in classes 1 and 2. Class 3 permits all deck types.
California's Office of the State Fire Marshal developed its own requirements for wildfire zones, which are in section R327.9 of the California Residential Code. Individual jurisdictions in the state have adopted these specifications verbatim or with modifications that are more restrictive. California divides land into three levels of fire hazard severity: moderate, high, and very high. The code applies to all unincorporated land designated as State Responsibility Areas by the state's Board of Forestry and Fire Protection. It also applies to any areas deemed by cities and local agencies as Very High Fire Hazard Severity zones or Wildland Interface Fire Areas. Unlike the IWUIC, the California code only regulates the top decking surface.
For more detail and photos, click the View PDF button below.
View PDF
Previous:
Deck Building Don'ts