Prep a Deck for Finishing
Sanding a deck prior to finishing is an effective alternative to using chemical cleaners.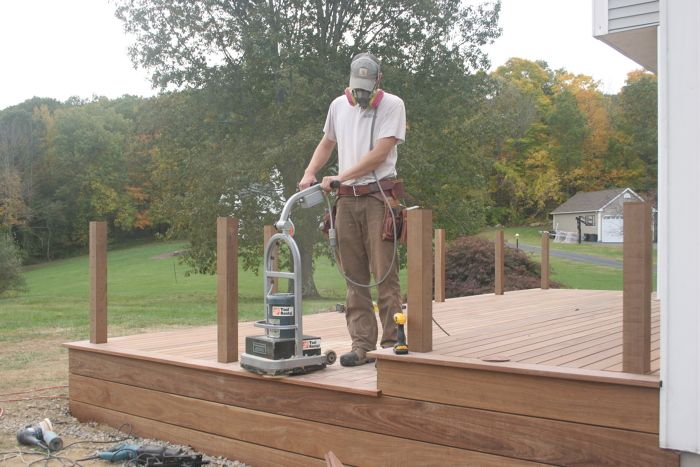 There are a lot of products sold for prepping a deck to be refinished. Fine Homebuilding has run several articles on this topic: Deck Refinishing and Choosing the Right Deck Finish are two recent ones. In my view, most deck cleaners have a common shortcoming: They soak the deck with water, adding a day or so of drying time to the project. Additionally, the cleaners used end up flooding the ground below. While I'm sure those chemicals have been vetted for environmental safety, wouldn't no chemicals be better? It's typical to wash the cleaners off with a pressure washer. Using a pressure washer can be tons of fun, especially on a hot day when the cool mist is welcome. It's also handy for removing wasp nests from under the eaves. But overzealous use can easily damage decking already softened by the cleaners.
Since you'll probably have to make a trip to rent the pressure washer in any event, how about renting an entirely different tool and skipping the cleaners and the water show? I've used a U-Sand floor sander on existing decks with great results. It's also effective at cleaning up new wood decking prior to finishing. And sometimes you end up having to sand a deck damaged by a pressure washer. The U-Sand is slower than a traditional, heavy-duty floor sander, but it doesn't use a belt or drum that can get away from an inexperienced user and damage the deck (or floor, for that matter). The U-Sand has four 6-in. random-orbit heads, and it floats across the surface. Most of the sanding dust is collected in the machine's bag.
Choose your abrasive based on the condition of the deck. If it's gnarly, start with 36-grit or 40-grit paper, and grind it flat. Make sure the fasteners are set below the surface so they don't tear up the pads. (If it's really, really gnarly, with lots of cupped boards and splinters, you probably ought to replace the decking.) Work your way up to 120-grit paper. I don't like to sand any finer than that, preferring to leave some tooth to the decking so it isn't slippery. With new decking, you can start at 80-grit paper. To reach underneath railings, use a handheld random-orbit sander. Once the decking is sanded to your satisfaction, apply the finish following the manufacturer's instructions.
One word of caution: Pressure-treated decking sold before December 31, 2003, was most likely treated with CCA. CCA was a great preservative, but like so many old-school building products that worked well, it carries an environmental burden. CCA stands for chromated copper arsenate. That means it's got both chromium, a heavy metal, and arsenic, a primary poison. There's no reason to panic, and EPA doesn't currently recommend special measures except wearing a dust mask when sanding and then washing your hands before eating, drinking, or smoking. In fact, the EPA suggests that regular refinishing of CCA-treated decking is a good way to prevent its chemicals from leaching out. And if you refinish annually, you won't need to sand much at all.
This blog was sponsored by Olympic.
Previous:
Pro Tips for Deck Refinishing
Next:
How to Rescue an Old Cedar Deck