How-To
Adding LED Lights to Deck Stair Risers
Install low-voltage stair lights for safety and style.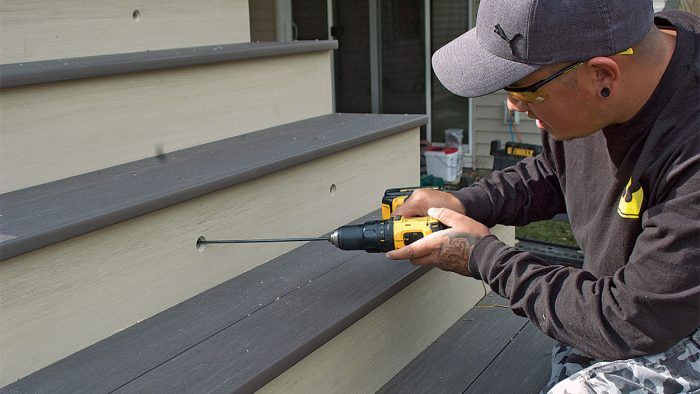 It's not every day that safety combines so nicely with aesthetics, but adding LED lights to stair risers is a finishing touch that does just that. The small LED fixtures put light exactly where you need it—right on the tread. At the same time, they add a pleasing bit of glamour to the deck. The number of lights per riser is up to you, but plan on a minimum of one every other riser for adequate stairway illumination. Usually these lights come in complete kits with everything you need to install them. If you can't find them locally, Amazon.com or other online retailers are a good place to look.
Thanks to a specialty bit that comes with the lighting kit, these LEDs install in a couple of hours. The two-level bit bores an access hole for the cylindrical fixture. Once you feed in the leads, the fixture glues in place with just a touch of caulk. Wired in a series, the lights can be quickly connected to the LED transformer and dimmer control so you can control stair and post lights with one click of a remote. Here's how to install them.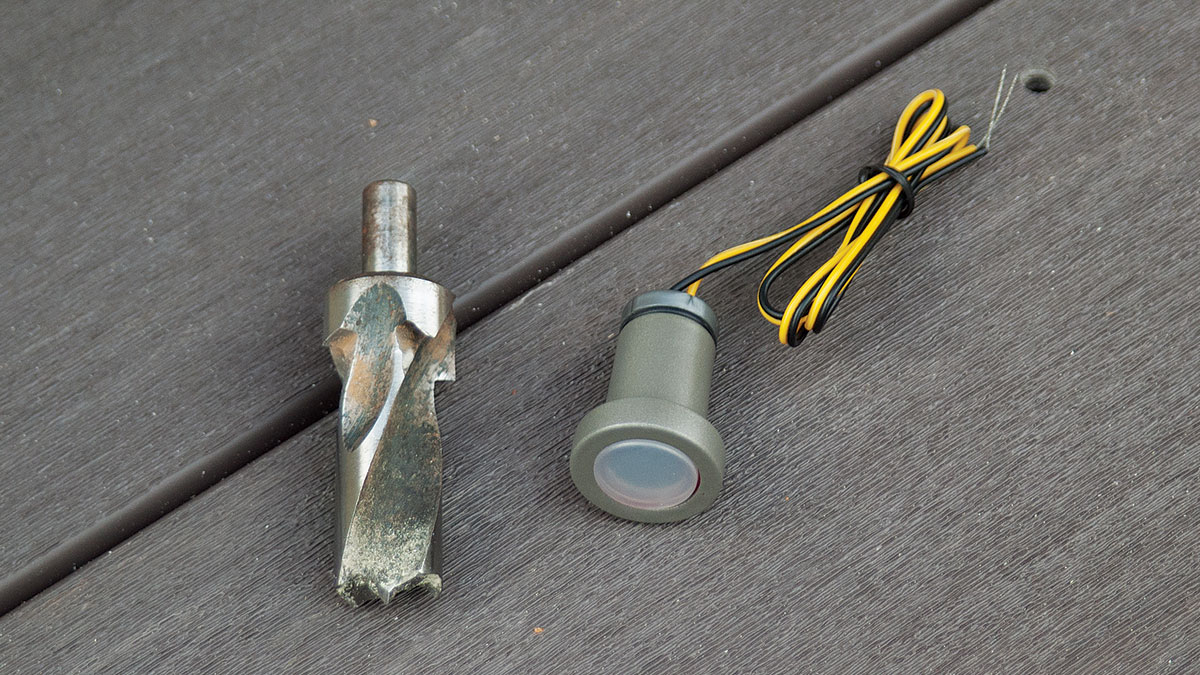 1. Gather the stair-lighting hardware. This type of LED light fits flush into the riser. What makes that possible is a clever bit included in the lighting kit that bores a hole just the right size for the fixture housing, then bores a hole for the fixture trim so the light pushes in flush with the surface.
| | |
| --- | --- |
| 2. Bore holes in risers. Mark the location for each light. Adding lights to every other riser provides adequate illumination and keeps the stairway from looking busy. Two lights spaced evenly in every other riser do the job. Use the specialty bit to bore the tiered hole for each light. | 3. Drill wire access hole. In some cases, your light might be located directly in front of a stringer. If so, use a long 1/2-in. bit to drill through the stringer so you can feed wires to the back of the stairway. |
| | |
| --- | --- |
| 4. Push in the wires. Twist the ends of the wires together and gently feed them into the riser. | 5. Add caulk. Before pushing the light into place, add a bit of caulk as an adhesive. |
| | |
| --- | --- |
| 6. Push in the light. Press the light into the riser until its rim is flush with the surface. | 7. Let caulk dry. Cover the light with masking tape to stabilize it while wiring. Leave the tape on overnight to allow the caulk to set up. |
| | |
| --- | --- |
| 8. Run cable. Staple a two-wire feeder line—the main cable to which the leads from the lights are attached—behind the stairway. Leave some slack in it so you can easily make connections. | 9. Trim the leads from the light. Trim the lead from each light, leaving enough wire to easily reach the feeder line. |
| | |
| --- | --- |
| 10. Splice the leads to the feeder. A crimp-on connector joins the leads to the feeder line. You simply clip the connector onto a feeder line and then push in one of the leads. No stripping is necessary—the connector bites into the wires as you crimp it with pliers. Once crimped, the connection is permanent. | 11. Make connections at the LED transformer and dimmer. Install the LED transformer and dimmer control within reach of a GFCI receptacle. Connect the feeder lines, plug in the transformer, and use the remote switch provided to test your installation. |
Previous:
High-Quality Deck Lighting
Next:
Deck Lighting