Tools & Materials
Deck Lighting
Feeney DesignRail Lighting Kits snap in fast and brighten the whole deck.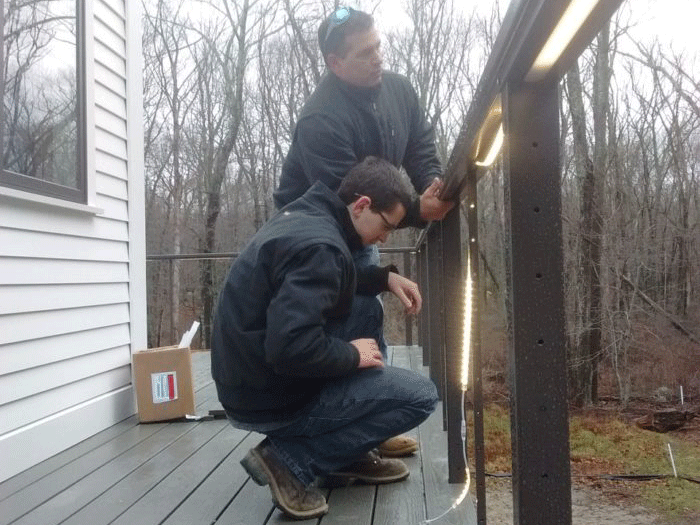 Before the deck soffit was installed, I ran low voltage leads from two transformers under the deck into the hollow DesignRail posts. After the top rail was installed, Ryan, Nick, and Mr. Haynes spent a couple mornings plugging the DesignRail LED lighting strips together and feeding them through the subrail.
| | |
| --- | --- |
| Ryan measures and cuts the lens while Nick snaps them in place to cover the LED light strips. | Nick and Mr. Haynes link the LED strips together before peeling the release sheet off the back and adhering the strips inside the subrail. |
The distances between the posts and pickets didn't precisely match the LED strips, but the guys did their best to use short and long lengths so the lights portions centered as best as possible.
I energized the transformers while they installed the lights so they could make sure the lights illuminated before moving on to the next strip. As each strip was plugged into the previous, they removed the release-sheet and bonded the self-adhesive backing to the subrail.
As each section of lights was installed, the guys snapped the translucent covers into the subrail channel.
Previous:
Adding LED Lights to Deck Stair Risers