How-To
Building Box-Style Stairs
Faster to frame than cut stringers, wraparound stacked boxes make a lot of sense for short, wide deck stairs.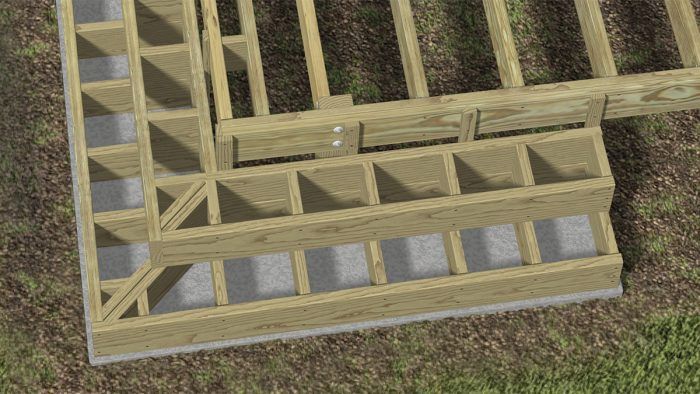 The main stairs of this grade-level deck are a focal point of the deck and wrap 5 ft. around one outside corner, so they had to look good. I had two framing options for the stairs: stacked boxes or cut stringers. Stacked boxes made more sense for this project because they're faster to frame, they're self-supporting, and they provide a more stable and straight base for precise trim. Box frames also make the most sense for short, wide stairs. For more than three risers, box-stair frames aren't as efficient a choice because they use more lumber than cut stringers.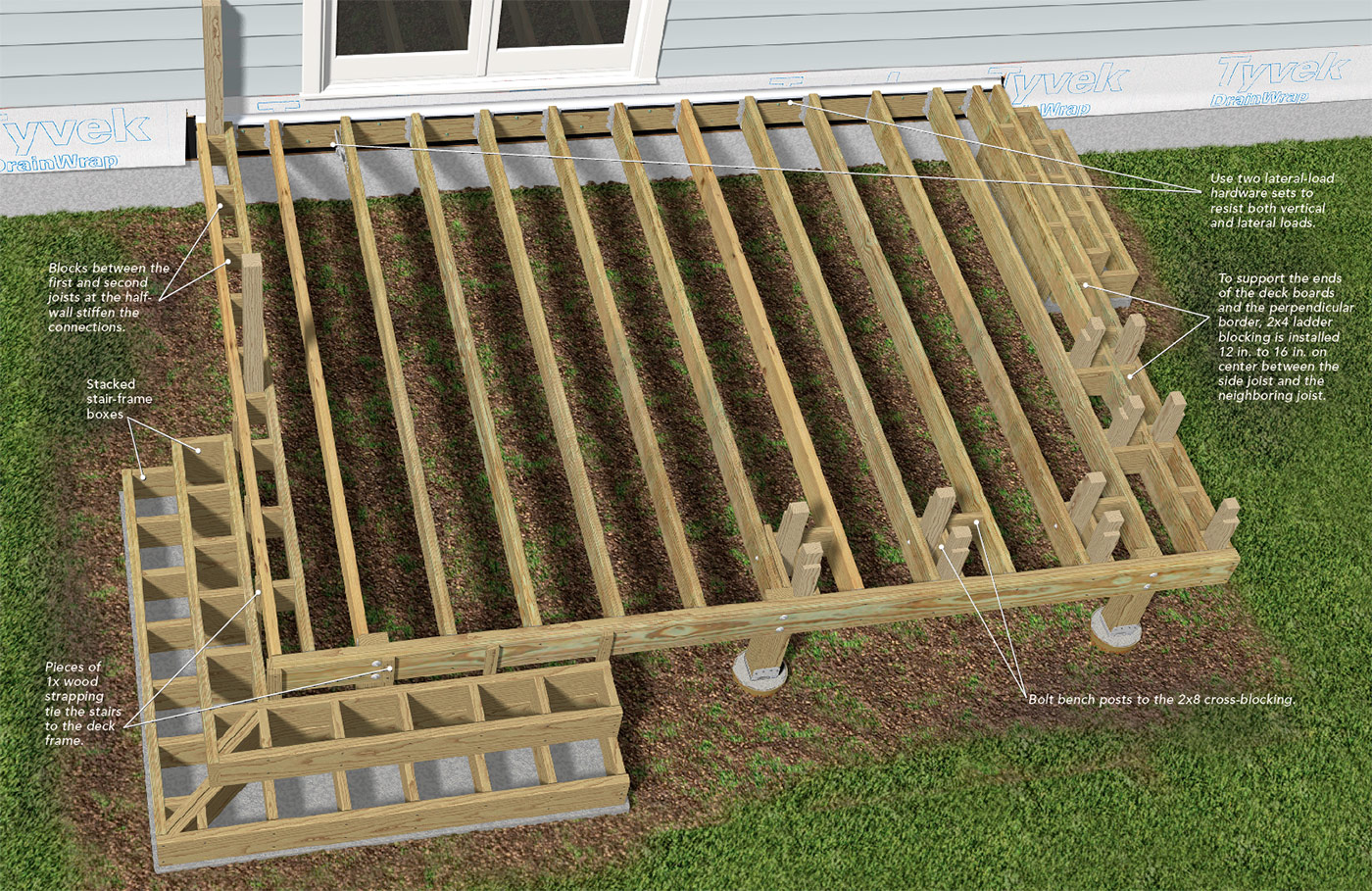 | | |
| --- | --- |
| Solid support. The decking manufacturer calls for closer support spacing (12 in. on center) when decking is used for treads. Some manufacturers call for supports to be as close as 8 in. on center. | Stack boxes for stability. Build the bottom box frame twice as wide as the top. Diagonal blocking at the corners provides nailing for the mitered treads. This design locks the boxes together so that the outside corner is less likely to open up over time. Tie the boxes together and to the deck frame with 1x straps that match the thickness of the deck skirt, then push the boxes into place. |
| Blocking and posts for bench seats. Nail 2×8 blocks to support the posts on the deck perimeter. Clamp a jig made from 1x to each post to set it to a consistent height. | After tack-nailing the posts to the blocks, check for plumb, and attach the posts with through bolts, such as the FastenMaster ThruLok bolts used here. |
| | |
| --- | --- |
| Check Code: The IRC calls for decks to be designed to resist both vertical and lateral loads. The most common method of satisfying this code requirement is to use two lateral-load hardware sets per deck to provide a mechanical connection through the house's rim to interior floor joists. | |
Finishing the Stairs
The horizontal trim board that runs across the top of the skirt also serves as the top stair riser, so this was a good time to install the stair risers and treads, which feature the same border treatment as the main deck.
| | |
| --- | --- |
| Trim board hides top screws. The skirt's top screws are covered by the horizontal trim board, which becomes the top riser at the stairs. The seamless transition results from the vertical 1x used to hang the stair boxes, which is on the same plane as the skirtboards. | Keeping fasteners hidden. Install the tread boards with the same attention to movement as with the deck boards. At the riser, special half-clips anchor the inboard side of the tread. |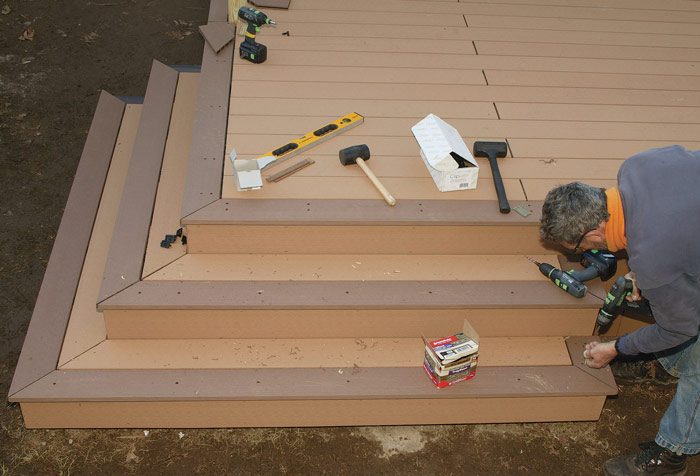 Photos by Charles Bickford. Drawing by Toby Welles, WowHouse.
Previous:
Boxes Instead of Stringers
Next:
Curved Deck Stairs