How-To
Deck Boards Done Right
Keep an eye on the stringline, and have a handful of spacers and a board straightener within easy reach.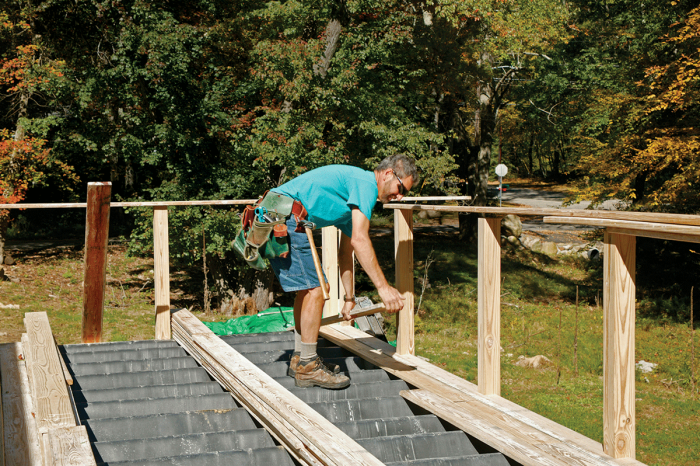 Synopsis: When it comes to decks, Mike Guertin has built enough of them to make it look easy. In this article, he outlines the basic process he uses to build a deck. Guertin's first step is to protect the deck's joists because even pressure-treated wood can be vulnerable to rot. He also prefers to work from the rim toward the house, which allows him to be sure that full-width boards are placed at the posts, where they are most visible. Guertin uses deck spacers to keep the deck-board layout even, and he is sure to use blocking to support the decking if it changes direction. This article includes a sidebar on the advantages to using an auto-feed screw gun for deck work and a sidebar on board straighteners.
---
On the face of it, building a deck looks like an easy project, and for the most part, it is. There are lots of ways to plan and install deck boards, and it seems as if I've tried most of them. Over the years, I've refined a process that works for me. Depending on the deck, I might vary the process a bit, but for the most part, I follow the same practice: Order deck boards, manage joint layout, lay down boards with correct spacing, and attach the decking with neatly aligned screws. At each step, I try to work efficiently because it's easy to get bogged down if you're not careful.
First, protect the joists
I used to assume that pressure-treated deck joists would last forever, but they can rot, especially boards made of incised hem-fir or Douglas fir whose treatment penetration doesn't reach the core of the lumber. Deck fasteners act as wedges and split the joist tops. This splitting might not occur initially if the joists are still wet, but it's inevitable that over repeated drying and wetting cycles, the joist tops will crack. Capillary action draws moisture between the deck boards and the joist tops, and that moisture settles into the cracks. Add bits of debris into the mix, and it's just a matter of time before decay takes hold like a cavity in a candy lover's tooth.
One simple way to help the joists resist water damage is to protect the tops with a strip of builder's paper or roofing membrane cut at least a half-inch wider than the joist. The material sheds water that gets between the deck boards away from the joist. I first saw this technique when dismantling an old porch floor. Even though the decking had reached the end of service, the 80-year-old Douglas-fir joists were in nearly perfect condition; each was capped with a 3-in.-wide strip of #30 tar paper. Where the tar paper had failed, the joists were rotted. Many manufacturers sell plastic, rubber, and self-adhesive strips just for this purpose. Instead of buying material, I often cut my own joist caps from roll ends of tar paper and synthetic roof underlayment that I've saved. With the joists protected, I can start installing the decking, using the layout I planned.
Board lengths should reflect deck size
When a deck is short enough, I order boards to span the full length. This works well for decks that are 12 ft., 16 ft., and even 20 ft. if you can find long boards. When I'm framing the deck, I often downsize it slightly (15 ft. 10 in. instead of 16 ft., for example) so that a full-length board will have enough overhang at the ends for a clean trim cut.
When a deck is larger than stock lengths can span, I plan for the joints to fall in a sequence at least 4 ft. apart (drawing p. 45). The decking looks better, and it's easier to keep decking straight when joints are spread throughout the field of boards. I also avoid boards shorter than 4 ft. at the ends for appearance's sake. Rather than just ordering a mountain of single-length boards and cutting them as needed, I select a combination of lengths to match the overall deck length. For a 22-ft. deck, I might order 16-ft. and 12-ft. boards (half a 12-footer is the makeup); on a 42-ft. deck, I would work with 16-ft. and 10-ft. boards.
For more detail and photos, click the View PDF button below.
View PDF
Previous:
Establishing a Deck-Board Layout
Next:
Decking Over a Roof