Design
Deck Design Considerations
Think about these essential factors when designing a new deck so it fits the site and meets your needs.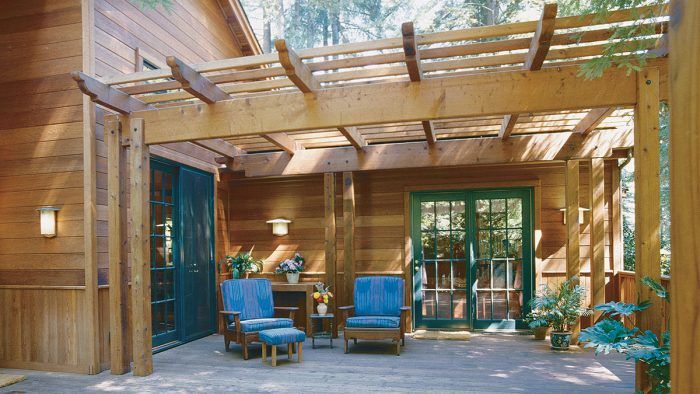 Having been involved in the design of my own construction projects for many years, I have learned that design is a very subjective undertaking. However, there are a host of routine, objective factors that must be considered in every deck design—exposure concerns such as sun, wind, and weather; functional considerations such as traffic patterns and connection to the house; and ultimately, the aesthetics of shape, contrast, and color.
Siting for climate and exposure
The influence of local weather conditions—your microclimate—needs to be considered when you locate and design your deck. Temperature and light can be controlled with the flip of a switch inside a house, but not on a deck. A deck serves as a transition area between the environment we maintain inside our homes and the external world, so consider carefully how the external elements will affect your use and enjoyment of it.
The position of a deck in relation to the daily path of the sun is one of the most critical considerations. If a deck is too cold or hot to use comfortably, then it won't be used at all, no matter how great the view. For good reason, every deck that I've built in Alaska has avoided the northern and cooler side of the home. Most decks in far northern climates are situated on the southern and western sides of the house to capture the afternoon and evening sun, the times when decks are at their peak use. In colder climates, even shade from trees is unwelcome.
In warmer climates where decks can be used year-round, the primary goal may be just the opposite—to provide shade by location. This may mean situating the deck on the eastern side of a home to take advantage of shade in the late afternoon or early evening. In very hot climates, the north face of a building would be the coolest side at midday.
Because decks may experience completely different temperatures over the course of the day, you must also carefully consider when and how you will optimize heating and cooling on your deck. For a deck with a southern exposure, trellises or awnings can be used to block the sun when it is high overhead, but are less effective when the sun is lower in the sky during mornings and evenings. While this may not be a problem in the winter months, it can cause significant overheating in the summer.
Sometimes a deck can be designed to make the best of both sun and shade—for example, a deck that wraps around a corner of a house. Moveable screens are useful for shading small areas, while a fixed overhead trellis or awning can provide shade for larger areas. Trellises can be designed to provide maximum shade at certain times of the day while letting some sun through at other times. And trellis posts can be used to support additional sun-blocking screens to the west, so the deck can be enjoyed in the early evening.
Wind changes direction and strength frequently and can be a particularly difficult element to design for. Wind-shielding options include using well-anchored screens and large plantings, as well as locating the deck on the side of the house opposite the prevailing winds. Two other features that I find helpful in windy areas are changes in level and railings that have few or no openings. By combining these two features, you can create small protected areas on lower deck levels and block the wind with an adjacent high-level deck and railing. Of course, if you need as much breeze as you can get to cool things down, then elevating the deck, moving it away from wind-blocking structures, and making the railing as unobtrusive and open as possible will all help.
If you get lots of rain during the warm months when deck usage is high, you may want to add a partial overhead structure. (A full roof would make the structure a porch; in either case, foundation design must address the extra load.) If you need to clear the deck of snow during the winter (particularly important in areas where a full winter's snow load can exceed the deck's structural capacity), you must consider where the snow will go and provide a railing design that will make snow removal easier. This may mean having a railing section that can be removed to facilitate snow removal.
In detail
Most interior hallways are between 3 ft. and 4 ft. wide, but deck walkways that are the same dimension tend to look and feel fairly narrow, especially when they're elevated. I like to make connecting walkways and almost all smaller areas of a deck at least 5 ft. to 6 ft. wide. I like exterior stairways to be 4 ft. wide, although a 3-ft. width will work on little-used stairs. Remember that deck railings and handrails tend to be somewhat bulky and intrude quite a bit on narrow spaces—one of the reasons I like to add plenty of width to stairs and walkways.
Doors and traffic patterns
While climate and other outside factors certainly influence where you choose to locate your deck, you also need to consider how the deck relates to the inside of your house. If eating on the deck requires you to haul food halfway through the house, you can bet there won't be many picnics. If a parent inside can't keep a watchful eye on youngsters playing outside on the deck, the kids will end up staying indoors. A deck is—or should be—an extension of the house, a transition area between a "wilder" natural setting (albeit some lawns are wilder than others) and the more-protected indoors. A deck with easy and obvious access will entice guests to wander out at parties, or simply encourage you to step out and check the weather or admire the view. If a deck isn't to become a seldom-used hideaway, it should be a fully integrated, but outdoor, part of the house.
Obviously, a door (or doors) leading from the house to the deck is a necessity. Some smaller decks serve only bedrooms, but most decks serve many purposes and people, so the door will usually be located in the living, dining, or kitchen areas. When locating a door, think in terms of walkways that route traffic naturally around the perimeter of a room, rather than directly through it.
With luck, you may have an existing door in the right location. If there isn't a suitable door, consider creating an exterior walkway or boardwalk or adding a narrow, connecting deck to an existing door. This can be a good solution on some elevated decks because it may eliminate the extra stairway needed to connect a too-distant door with the new deck. Almost invariably, however, it's worth the trouble to add a new door rather than live with a door that is poorly located.
As for the actual door, the one I prefer for deck access is a full-glass, 5-ft.-to-6-ft.-wide patio unit with one hinged door and one fixed panel. In more moderate climates, a French door (where both halves open) can help make the deck seem more of an extension of the interior space. To avoid air leakage at the door, I always choose a hinged type with compression weather-stripping rather than a sliding door; recently, however, some sliding door manufacturers have alleviated the infiltration problem by using different hardware and weatherstripping.
Just as access from the deck to the house is an important traffic consideration, access to the lawn or yard also needs some thought. Stairways should be located so that frequently used areas off the deck are easy to get to. If the deck is large, this may mean having more than one stairway. Analyze existing traffic routes and important work areas to be sure you will have the necessary access to such areas as driveways, garages, clotheslines, trash collection, gardens, and dog houses.
While stairways and paths are the most common ways to provide access to a deck, a ramp may be useful in some instances. Although not required in most residential construction, a ramp will certainly be appreciated by a friend or relative confined to a wheelchair. And a ramp can also make it easier to wheel heavy garden carts, barbecue grills, or bicycles onto the deck. However, ramps can be slippery in wet or winter climates and should be considered an adjunct to, not a replacement for, a set of stairs.
Architectural considerations
Now that you've determined the functional characteristics of your deck design, you need to consider the "look" of the deck and how it will blend with the existing style of the house. Some of the factors to take into account are contrasts and continuity, as well as shape, elevation, and materials.
In detail
Level changes are a great way to introduce contrast and interest. They can punctuate transitions from one function to another. Varying levels can also help introduce changes in style (as from wood decking to a rock walkway), or provide a great place for accessories. Level changes also allow a deck to follow the contours of the land, preventing a hillside home from having a deck that towers high above ground level.
Contrasts. How can we best blend the functional and aesthetic to produce a visually successful deck? In his book The Good House, architect Max Jacobson writes that good design "is the production of harmony through the orchestration of strong contrasts." In my experience, good designs are full of contrasts: short and tall, open and enclosed, dark and light. Colors can be warm or cool. Spaces can be wide open or secluded. Railings can be bulky and solid or unobtrusive to the point of near invisibility. In fact, planned contrasts can actually be wonderful solutions to necessary compromises. Just as the deck is a transitional space between indoors and out, sections of the deck serve as transitions to other deck areas, and these transitions offer opportunities for introducing contrast.
Why is contrast desirable? Because differences sharpen our experiences and let us adjust our environment to our momentary needs. We can choose warm and sunny or dark and cool. We may want a maximum of social interaction or seclusion. At the very least, decks should have small areas that are more isolated than others, such as a hidden bench in a strategic location, screened by a level change or greenery.
| | |
| --- | --- |
| Although the wooden posts and wrought-iron railing contrast in size, texture, and color, they complement each other and match the rustic setting. | A large landing (rather than a set of steps) directly outside of an exterior door creates a contrast in deck levels without adding a lot of extra foundation work. |
In detail
Changes in materials are another great way to introduce contrast and interest. You might connect two wooden decks with a small stone walkway, for example, or incorporate copper post caps into your railing. The same materials installed in a different direction or stained a different color will also attract attention and can be a useful technique to signal a level change or a set of stairs. Foundations provide another opportunity for contrast. Instead of standard wooden posts, consider concrete columns or a partial wall system veneered with brick or stone.
Continuity. Another important consideration is continuity. New elements must make sense in the context of the existing structure. Tongue-piercing and pink hair may not seem out of place on a city street anymore, but in a very formal situation—in another context—these styles still raise eyebrows.
While perhaps not as novel as pink hair, decks are a relatively recent architectural creation. Though a deck on a contemporary home rarely seems out of place, adding a deck to an older house demands special considerations and restrictions. This may mean that the deck be somewhat understated and conservative in design or located in the back of the house to minimize visual discontinuity with other homes in the neighborhood.
Be sure the mass or heaviness of your deck matches the mass of the house. A deck with large, exposed foundation timbers and posts will not be a good complement to a small and refined cottage. If the deck's foundation is going to be highly visible, then create continuity by matching deck materials to those used in the house. For example, a brick-veneer house might be well served by a deck that incorporates brick in the foundation or railing columns or features a brick walkway. A deck for a Victorian home could include a railing design that mimics an ornate trim detail from the house. If attaching the deck directly to the house creates too much visual and stylistic confusion, then perhaps a freestanding deck connected with a walkway would be a better solution.
| | | |
| --- | --- | --- |
| For some decks, promoting continuity is preferable to creating contrasts; this log railing perfectly complements the log house. | Matching the style of an existing structure is important. This substantial covered deck over a sunroom perfectly complements the heft and vintage of a traditional Victorian home. | The steel-pipe railings match the contemporary styling and trim color on this Seattle home, and don't interfere with the view from inside (although they may not meet code in all areas). |
If your deck is to seem a natural part of your house, it must reflect the house's "personality." Colors used on the deck should match or complement those used on the house or house trim. Visual elements of the house—for example, horizontal or vertical lines of siding—can be repeated on the deck. A strong feature such as a round window can inspire a visual "echo" in a curved element on the deck. Railings and accessories—benches, screens, trellises, built-in planters—are two easily manipulated features that significantly affect the final appearance of your deck. However, use discretion in your quest for contrast and continuity; the finished result should look inspired and subtle, not overdone or heavy-handed.
An overhead structure offers another way to create continuity. As I've mentioned, a trellis is a good choice when sun must be blocked; in cloudy regions, a simpler, more skeletal structure can be used to suggest a protective ceiling overhead without actually blocking the sun. A trellis can help create a feeling of enclosure for an intimate deck and also serve to extend the house form outward. The trellis can be simply a few posts and beams forming an outline over part or all of the deck and provides a great place to hang baskets of flowers.
Lighten Up
A deck can have a major impact on the amount of light available to any room under it. This may not matter in an unused basement, but it will have a significant effect on a frequently used living area. Sometimes shade is desirable, but if creating a cool, dark space sounds uninviting, then consider some alternatives. One solution is to build a freestanding deck 10 ft. to 12 ft. away from the house, then connect the deck to the house with a boardwalk or bridge. This type of deck will require more foundation work and probably a lot of extra bracing. Another solution is to simply leave off the decking in some areas and protect the openings with railings. A third solution is to replace some of the wood decking with thick sheets of Lexan™ or other tough plastic. A matte finish will still let light through but won't show as much wear as it ages. The plastic should be installed so that it can expand and contract without cracking. A glass supplier can help with appropriate thickness information and installation details.
Shape. The shape of a deck can help correct deficiencies in the house's appearance. A very vertical house or one with a tall side can be visually lowered by a deck that uses strong horizontal elements in the railing and foundation. A short deck perched high on long foundation posts accents the height of the house. A long ranch house can be shortened visually by a deck placed at the middle of the house, whereas a deck situated at one end would only exaggerate the house's length.
A rectangular or square deck is certainly the easiest to build and is often the best choice for a simple deck of small size. But if I'm building a larger deck that has changes in level or serves multiple functions, I'll often incorporate angles to add interest. This may mean simply cutting the two outside corners at 45 degrees, or it may mean setting one side of a deck at an angle. Keep in mind that chopping off corners should be done with some discretion as the effect can quickly become chaotic-looking and will not be in keeping stylistically with older, more formal homes. Adding angles also increases foundation and framing complexity and doubles the number of corners in the railing design, both of which may significantly affect the amount of labor required (and the cost).
More about deck design:
Deck Design Tips – Railing designs and deck-board patterns can improve the view from (and of) your deck.
Previous:
7 Ways to Design a Better Deck
Next:
Deck Design Tips