How-To
Deck-Fastener Options
How much time, trouble, and money does it take to install deck planks? It all depends on the fasteners you use.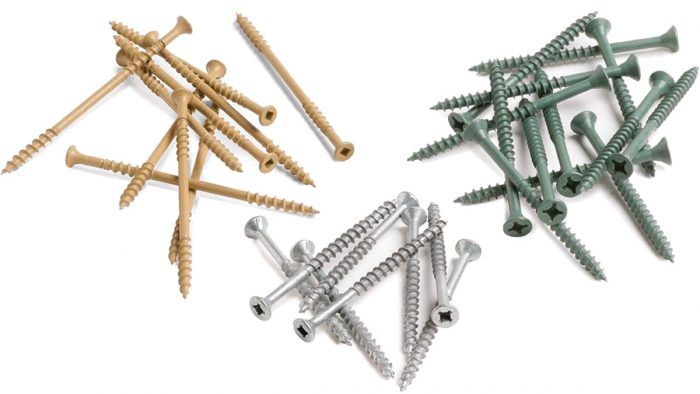 Synopsis: The traditional hot-dipped galvanized nails used to fasten decks certainly aren't extinct, but they are beginning to get competition from modern screws, brackets, and plastic-based fasteners. This in-depth look includes big names — EB-TY, Tiger Claw, Deckmaster, and TrapEase — as well as the lesser known fasteners such as Shadoe Track, Ipe Clip Extreme, Deck-Tie, Dec-Klip, Invisi-Fast, Razorback, and more. You'll learn about the cost, quality, and corrosion resistance of the various options, as well as materials compatibility and a description of each fastener's pros and cons.
---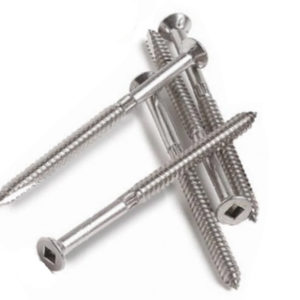 Fasteners used to be a minor cost in the large scheme of building a deck. Buried beneath the price of concrete footings, framing lumber, top-notch planks, and a high-quality stain or sealer, galvanized nails were the standard choice, almost an afterthought. With the average deck costing several thousand dollars, a few boxes of nails were just a drop in the bucket.
Needless to say, things have changed over the past decade. The preservatives used for pressure-treated lumber have been altered, hardwood and synthetic decking have swept the nation, and decks are so popular that they now boast better than a 100% return on investment. It's no surprise that these changes have created a market in which deck fasteners are as important, and sometimes as expensive, as the planks they will secure.
The affordable galvanized nails of the past, although not extinct, are competing with specialized screws and hidden fasteners designed for premium-level projects. Today, there are three basic fastener categories to choose from: top down, edge mount, and undermount.
The total cost may surprise you
Modern fasteners are anything but cheap. Let's say you have a 20-ft. by 40-ft. (800 sq. ft.) deck with joists spaced 16 in. on center and plan to fasten 2×6 planks with screws; you will need roughly 3,000 fasteners. With the average deck screw ranging in price from 5¢ to 15¢ apiece, using top-down fasteners will cost you from $150 to $450.
If you install an edge-mount deck fastener such as EB-TY, Ipe Clip, or Tiger Claw, you aren't just buying screws. You often are investing in a complete kit that includes hardware, compatible driver bits, and wooden plugs to hide the screw holes in the first board. For the same 800-sq.-ft. deck, an edge-mount kit costs from $336 to $952.
Undermount systems like Invisi-Fast or Deckmaster typically cost even more because you're paying for larger pieces of metal. Prices range from $448 to $1,648 to cover the same area.
Making sense of corrosion, compatibility, and fastener coatings
Corrosion resistance is important whether you choose to secure decking with nails, screws, or hidden fasteners. Even the seemingly innocuous plastic hidden fasteners such as EB-TY and Ipe Clip require the use of metal screws.
Lumber manufacturers have discontinued the old CCA (chromated-copper arsenate) wood-preservative treatment and have replaced it with arsenic-free treatments such as CA (copper azole) and ACQ (alkaline copper quaternary).
Although these new compounds pose less of a health hazard, their high copper content (about 6 times more than CCA) leads to corrosion in fasteners made of brass, lead, mild steel, aluminum, or zinc. Unless there is a protective coating or a physical separation, the fasteners will deteriorate.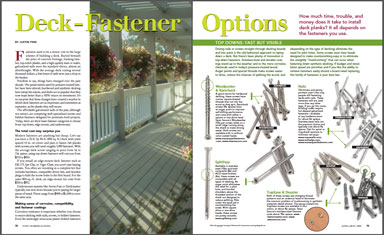 For more photos and details on deck-fasteners, click the View PDF button below. 
View PDF
Previous:
Buyer's Guide to Deck Hardware
Next:
New Deck Screws That Drive and Drill Fast