How-To
Deck Railing Systems
Manufactured deck railings offer options in metal, composite, vinyl, and capstock.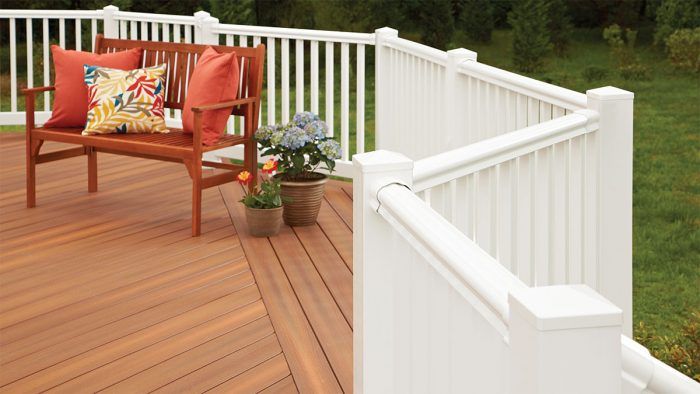 It used to be that most pressure-treated decks were surrounded by pressured-treated railings nailed together almost as an afterthought. serviceable and cost-effective, these railings looked Ok until they went through a few seasons in the weather, after which they'd look more like a hog fence than the crown on your beautiful outdoor space.
Pressure-treated decking and railings are still the most popular, but the incredible array of engineered deck boards that have hit the market in the last few decades has brought with it elaborate railing systems made from the same materials by the same manufacturers. these engineered railing systems include rails, balusters, posts or post sleeves, and assorted accessories.
The initial beauty of these systems is that they match the decking product you've chosen. they also share the same low-maintenance characteristics, which you'll appreciate if you've ever spent a Saturday scrubbing and sealing a 100-ft. run of pressure-treated balusters and rails. Yet another plus is that the manufacturers of these railing systems have already contracted third-party testing facilities to get their products code-approved. (Avoid any railing-system company that hasn't done this.)
Components for railing systems are packaged by type—you order just what you need in the way of rails, post components, and balusters. Most systems include the requisite fasteners, and all include installation instructions ranging in quality from a single sheet to printed pamphlets and online videos. None of the railing systems discussed here are that complicated to install, but there is a learning curve. After a little practice, though, you should be able to install a complete 6-ft.-long system in under 30 minutes. sure, armed with a chopbox and pneumatic gun, you could possibly smack together a similar length of pressure-treated railing in a little less time, but consider the aesthetics of the final result.
A wealth of options
Engineered railing systems are available in the same materials as engineered decking—metal (generally aluminum), vinyl, composites, and capped composites—and all have their advantages in terms of cost, appearance, and maintenance. Vinyl railing systems are lightweight, but colors are usually limited to lighter hues. While vinyl is generally the least expensive of the engineered materials, vinyl railings still cost more than simple, site-built wood railings. Aluminum railings are available in a wide variety of colors, but they cost more than vinyl. Also, while their powder-coated surfaces are tough, site-cut edges can corrode in salty environments. (Unlike paints that adhere to a surface, powder coats are applied electrostatically, then heat cured.) Heavy composite railings—made from a fusion of wood fiber and plastic— come in deep, rich colors, but they've been outshined lately by the current darlings of the deck-board business: capped composites. The most expensive railings out there, these have an outer layer of a vinyl-like material that can be embossed and striated with wood-grain patterns.
For more detail and photos, click the View PDF button below.
View PDF
Previous:
Manufactured Deck Railings Look Good, But Do They Last?
Next:
2 Ideas for Custom Railings