Tools & Materials
Digging Deck Footing Holes
Depending how many holes you have to dig (and how deep), you might consider a power auger or other mechanized digger rather than doing the work by hand.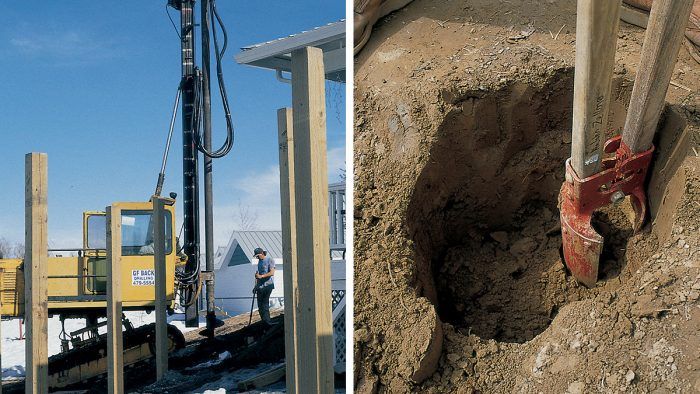 If you need just a few holes not much deeper than 2 or 3 ft. or not too big around, then a good sharp shovel and a post hole digger will be the only tools you'll need. Throw in a pair of boots or shoes with stiff soles to keep your feet from getting sore. And remember that big rocks should be moved by rolling, not lifting, even if it means digging a bigger hole. But if you have quite a few holes or they need to be deep, then consider mechanizing the process. There are a couple of options that can help save your back (and your spirit).
Power augers
The first option is to rent a handheld gasoline-powered auger. The one-person model is fine for small fence post holes, but the two-person model is essential for larger holes. I've found though that even in ground that doesn't have too many rocks, a 12-in. diameter bit is really about the upper limit for two people to handle. I've also found that a power auger is not a user-friendly tool; I almost prefer digging these holes by hand. Be prepared for some abrupt stops as you hit roots and snags, and this tool really gets heavy when you're lifting it out of the hole with an auger full of dirt. It may be quicker than handwork, but not necessarily less painful.
Drill rigs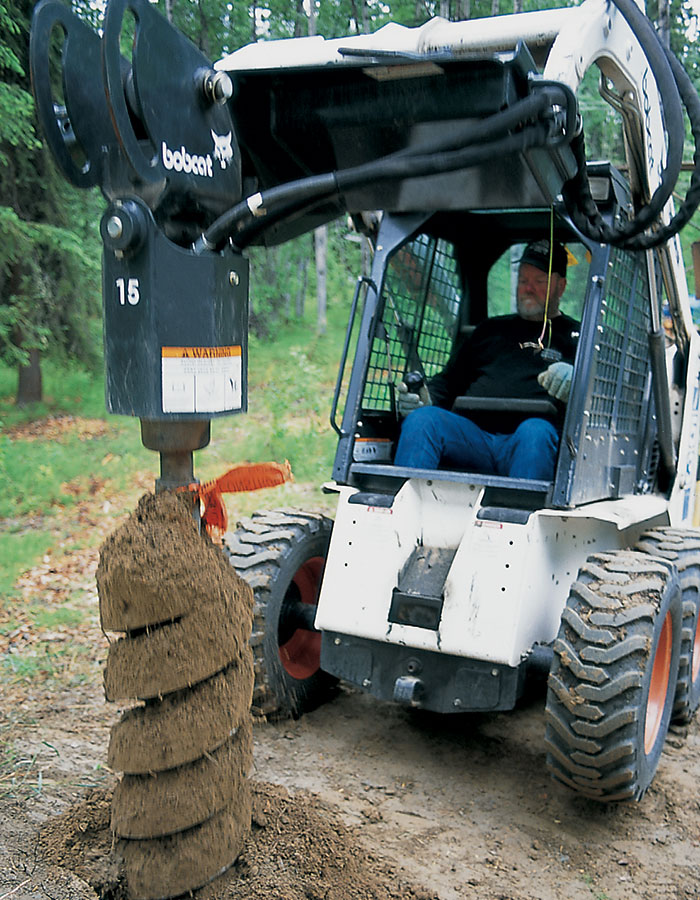 My favorite option is to hire a local fencing installer to come over with his drill rig. Depending on the contractor I contact, I'll get a small, self-contained unit with plenty of mobility to get around obstructions or a slightly less maneuverable one mounted on the back of a vehicle. Drilling holes on moderate slopes isn't a problem because usually both vehicles have four-wheel drive. These rigs can drill up to about 24-in. diameter holes that are up to 5 ft. deep if there's not too much rock. Prices in my area run about $125.00 per hour, but it only takes an hour or so (plus travel time) to drill the holes for an average-sized deck.
If you have a steep site, lots of rocks, or some other onerous complication, then check in the yellow pages under electrical contractors or drilling companies. They'll have track-mounted machines that can do 30-in diameter holes as deep as you'd ever want them for a deck, though these services cost twice as much as the small rigs. If it's the only way to get the job done, however, the cost differential is well worth it.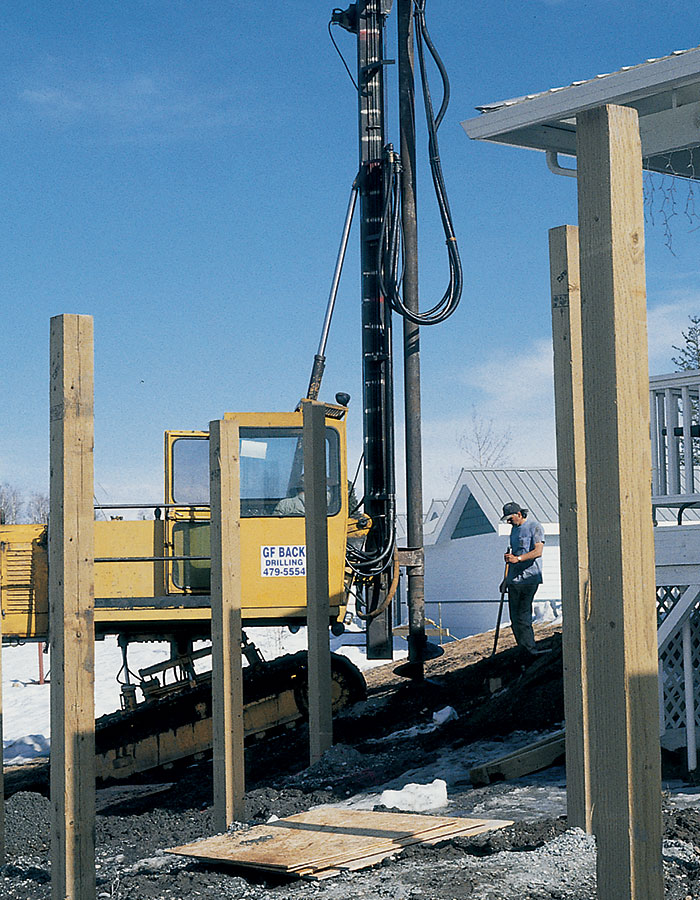 No matter how you drill your holes, a few inches of loose dirt will be left in the bottom of the hole. Try to remove as much as you can with the post hole digger, and then compact whatever's left. I do this with a 234 or a 434 that is long enough to reach the bottom of the hole and still allow me to grab it without bending over. I pound the board up and down until the bottom of the hole feels solid. Fine soils will compact better with addition of a little gravel.
This is also the time to add a thicker layer of gravel if needed for drainage, and this gravel can be compacted the same way. A 6-in. to 8-in. layer of gravel will allow for easy compaction and aid drainage. Adding a little water to the gravel until it is moist, but not puddling, is important for solid compaction. But avoid too much water; you'll just make mud, and that won't compact at all.
| | |
| --- | --- |
| In addition to a shovel, a post hole digger will make hand-digging for deep pier holes easier. | Compacting dirt or gravel in layers during backfill will discourage future settling. |
Previous:
Deck Footings Done Right
Next:
Don't Forget to Flatten and Pack Your Deck Footing Holes