How Far Can a Deck Joist Span?
The latest building codes include deck joist span tables, but cantilevered joists can make calculations tricky.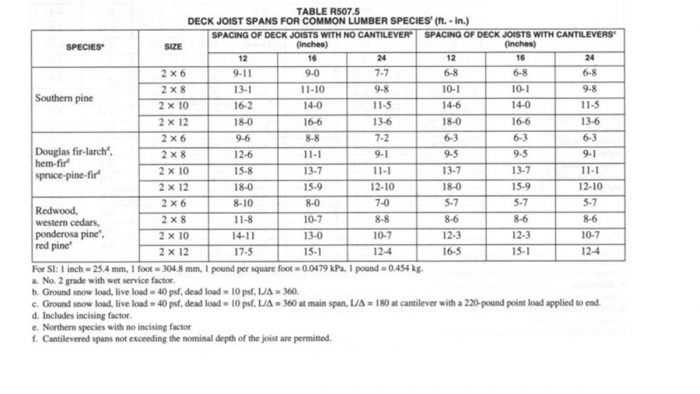 I asked my local building official how he checks a deck plan to make sure the joist size and spacing combination will meet requirements of the building code. He goes to the 40 lb. live load floor joist span tables in chapter 7 of the state residential code (based on the 2012 International Residential Code). And that's just what many deck builders, designers and inspectors have probably done for years. Here's the problem: Those tables are intended for interior floors, not decks. Decks get wet and may be framed with incised treated lumber so spans may have to be adjusted.
Until a few years ago, the IRC didn't have deck joist span tables. But the 2015 IRC included a new one (Table R507.5) that will make it easy for deck builders to spec a joist size for a given span and joist spacing. The table includes spans for common lumber species used for deck framing like southern pine, Douglas fir, hem-fir, redwood, western cedar and other species. The table accounts for wet service conditions and an incised lumber reduction for species commonly incised for pressure treatment penetration.
The table has two column sections — one for joists without a cantilever and one for joists with a cantilever. Span entries are listed for 2×6 through 2×12 joists and 12 in., 16 in., and 24 in. on-center spacing.
The illustrations (one for cantilever joists and one for flush rim-beam hung joists) point out where joist span measurements are taken from — the saddle of the ledger mounted joist hanger to the center of a dropped beam or saddle of the hanger on a flush beam.
Deck Cantilevers
Section R507.5 notes that deck joists can cantilever up to 1/4 of the joist span. But you'll notice when you look at the portion of the span table for joists with cantilevers that the joist span for decks with a cantilever is often less than the span for the same sized joist without cantilevers. The next subsection requires solid blocking over the beam when there is a cantilever.
Even if your local code jurisdiction hasn't adopted the 2015 IRC, most building officials will look favorably on an ICC sanctioned code provision. So run the table by your building official for approval before using it.
Editor's Note: The cantilever portion of the 2015 IRC joist span table is awkward to use. The ICC replaced the cantilever portion of the table in the 2018 IRC with a maximum overhang length making the table similar to that in DCA6. Use either the 2018 IRC deck joist span table or the joist span table in DCA6 to size joists and cantilevers.
More on decks:
Critical Deck Connections — A look at the forces at work on a deck and the hardware designed to keep things in check.
Deck Joist Span Calculator — Span tables don't cover your deck load requirements? The American Wood Council has two handy online calculators that can handle a range of specifics.
Ultimate Deck Build 2016: Critical Connections—Part 5: Stairs — The connection between stair stringer and deck comes down to a simple strap-style hanger, but locating and properly securing that hanger is where the bulk of the work will be focused. In this video series, learn how to properly connect and build stairs.
Previous:
How to Install Joist Hangers
Next:
Get Your Deck Joists Right