How to Install Joist Hangers
Joist hangers are almost always required when building a deck—here's how to install them correctly.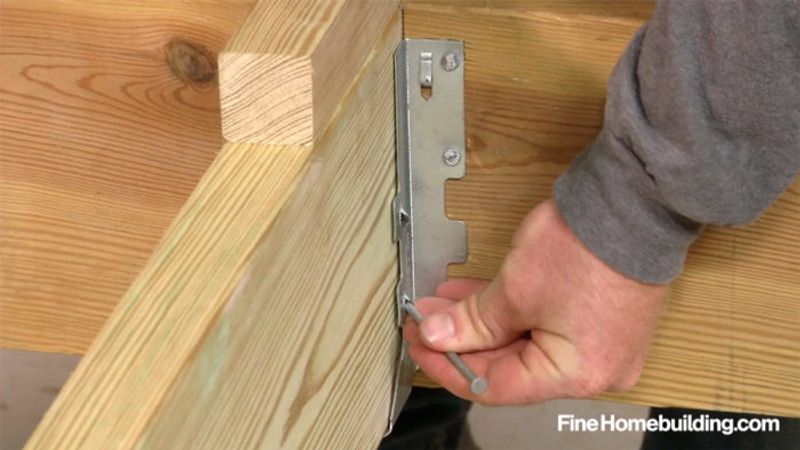 With each passing year, there seems to be more and more metal hardware required in home building. And even if it's not required, it's often best practice to make your connections with metal. The good news is that not only are connector manufacturers improving the safety of our homes, now they're helping with aesthetics too. Some hardware can now be used to add style. Or, on the other hand, you may be looking for more subtle, hidden hardware. Well, that's available as well. What's not new, but ubiquitous, and something every builder needs to know how to work with, are joist hangers. When it comes to building decks, joist hangers are nearly always used.
Video Transcript:
Begin with a joist hanger sized for your joists—this is typically marked on the packaging—along with the correct fasteners to use when installing.
The joist hanger in this video calls for 10d common, galvanized nails.
To install, start by aligning the top plane of the joist with the top of the rim joist. We're using a scrap of wood screwed to the joist as a brace to hold the joist in position while we fit the hanger, but you can also use a nail bent over to form a hook.
With the joist in place, snug the hanger up under it, squeeze the sides of the hanger tight to the wood, and hammer the two prongs into the rim to temporarily hold it in place.
Fasten the rim side first­, nailing through all the predrilled holes on both sides of the hanger. If space is too tight to swing a hammer, a pneumatic palm nailer can be used.
Finally, toenail into the joist through the predrilled angled holes into the rim joist. Be sure to put a nail in each of the holes on both sides of the hanger.
Then, remove the guide block, and the installation is complete.
Previous:
Build a Grade-Level Deck: Joists and Hardware
Next:
How Far Can a Deck Joist Span?